PUBG is very well optimized, but sometimes it has serious stuttering issues. If this happens to you, don't worry, this issue has been reported multiple times, and right now exists several tips and tricks that could help you fix the problem quickly.
Note: Some of these methods will only reduce stuttering and some degree because it all depends on your GPU. Make sure you meet the minimum requirements of PUBG.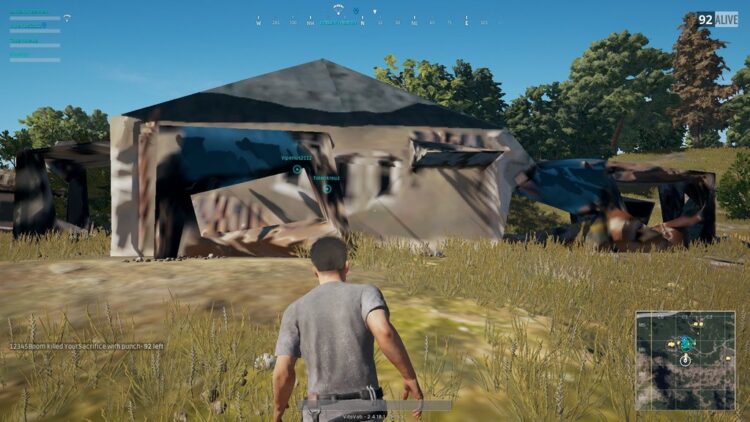 Minimum Requirements
Like is said in the first note, you need to make sure that your computer meets the minimum requirements to run this game before starting to change things or use hacks.
For, that you can visit the PUBG support page to check the minimum requirements.
If you are not sure about your computer specifications, you can use an automated tool that tells you if your computer meets the PUBG requirements. On this page, you only need to click on the button "Can You Run It" and follow the instructions. After all, it will show you a score and tell you if your computer can run the game without problems.
https://www.systemrequirementslab.com/cyri/requirements/battlegrounds/15571
Method #1: Run PUBG in Windowed Mode
This is the first tip that I will give and also the most used because it has fixed stuttering issues on PUBG for multiple users.
You can try to play this game in windowed mode, to do that, launch the game and open the settings. Once there, navigate to the Graphics section and there open the menu Screen Mode, in there choose the options Fullscreen (windowed).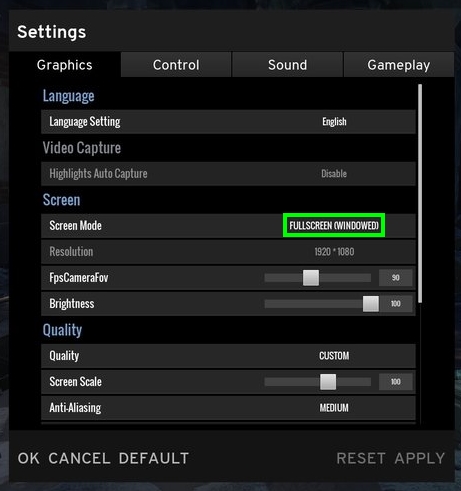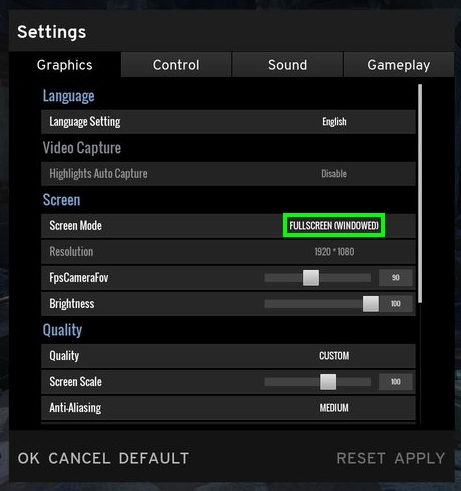 That's all; after those steps, your game will on windowed mode but covering all your desktop, so it will be like it was in fullscreen, but only that this time you can see the taskbar.
Method #2: Disable Fullscreen Optimizations
Since Windows Vista, there has been added a feature that optimizes your game and programs when you run them in fullscreen.
This feature name's Fullscreen optimization and is enabled by default in all your games and programs. If you have this PUBG stuttering issues, you can try to disable it for this game following these steps:
Open the Steam client
Navigate to your Games and right-click on PUBG, in the menu select Properties
In the window that opens, navigate to the LOCAL FILES tab and there click on the button BROWSE LOCAL FILES

There you will find your game installation folder, right-click on the file TslGame.exe and in the menu select Properties

Click on Apply to save the changes and launch PUBG
This time wouldn't notice any stuttering issue on the game
Method #3: Disable Steam Input
On Steam was an added new feature that lets you modify the in-game controllers' buttons that cant change using the settings. This feature is useful when you play the game using a controller, but if this isn't your case, you can try to disable to fix the stuttering issues.
To do that, follow these steps:
Launch Steam and go to your games Library
Rightclick on the PUBG game and select Properties
Close the Windows and launch PUBG; hopefully, it will fix the stuttering problems.
Method #4: Lower Game Quality
If you haven't been able to fix this issue already, you may need to sacrifice specific cool effects and graphics quality to make this game runs smoothly on your computer.
You can do that from the in-game settings like this:
Launch PUBG and open the settings
Scroll down and under the section Advanced Settings, change the quality to the lowers possible in the Overall Quality setting
Click on Apply to save the changes and then come back to PUBG, and this time would not see any stuttering
Method #5: Change Power Plan
This is an easy fix that you can try on Windows 10. There are some power options that you can choose, and you may see them more often on laptops. Although those options may seem like most useful on portable laptops, for desktops, they also play an essential role.
If you choose the option Power saver in a desktop, it will lower your CPU frequency to save power, and that could slow down your computer. Here the advice is to choose the option High performance to fix the stuttering issues on PUBG. You can do that following these steps:
Press the keys

Win

+

R

, and in the window that opens type the command control, then press Enter to open the Control Panel
Now, launch PUBG, and hopefully, this issue will be fixed successfully
Method #6: Disable GAME DVR
On Steam forums have been reported some hack that let you fix the PUBG problems once for all; it involves changing some values in the Registry Editor, so if you want to try it, make sure to backup your system.
Press the keys

Win

+

R

, and there type regedit, then press Enter to open the Registry Editor
Now, navigate to the following path: HKEY_CURRENT_USER\System\GameConfigStore
There create a new DWORD value with the name "GameDVR_Enabled" and set the value to 0
Then, navigate to this other path: HKEY_LOCAL_MACHINE\SOFTWARE\Policies\Microsoft\Windows\
There create a key named GameDVR
In this key, create a DWORD value with the name "AllowGameDVR" and also set the value to 0
Restart your computer to save the changes and then launch PUBG to verify if the issue has been fixed
Method #7: Update Graphics Card
This is your last option if you haven't been able to fix the stuttering issues so far. Updating your graphics cards could help your hardware to work appropriately and also could fix some compatibility matters that you could have.
Sometimes these updates can fix several problems because they are aware of these issues; that's why you need to follow these steps to update your graphics card.
Depending on if you have an NVIDIA, AMD or Intel Graphics installed your computer, and you can use a driver update that will download for your the latest version available
For this occasion, I will be using Driver Booster.
Driver Booster will start detecting your GPU, and then it will show you the latest update with the release date
When finished, restart your computer
Finally, launch PUBG, and after all the tips, solutions and hacks that I teach you so far, you will be able to run this game smoothly and without any stuttering problem
So far, those were the best tips, solutions, and hacks that users have reported to help you fix these issues on PUBG. If you haven't been able to fix the problem, you can leave a message below, and I will answer you the soonest I can.
Here, you have another PUBG related issues that could help you: