Do you want to play PUBG on your PC, but when you launch the game, you see a message that says: DX11 feature level 10.0 is required to run the engine. Well, you are not the only one because this problem has been reported multiple times on PUBG forums.
PlayerUnknown's Battlegrounds (PUBG) is a popular game, although it has two disadvantages that put it at a disadvantage against competitors. The first is that it is a paid game, and the second is that it has minimum requirements to play much higher, so you need a more robust and expensive computer to play smoothly.
That's why, after some time, users began to experience some problems. After an update, a warning message starts to appear on a computer that tells you the following: DX11 feature level 10.0 is required to run the engine.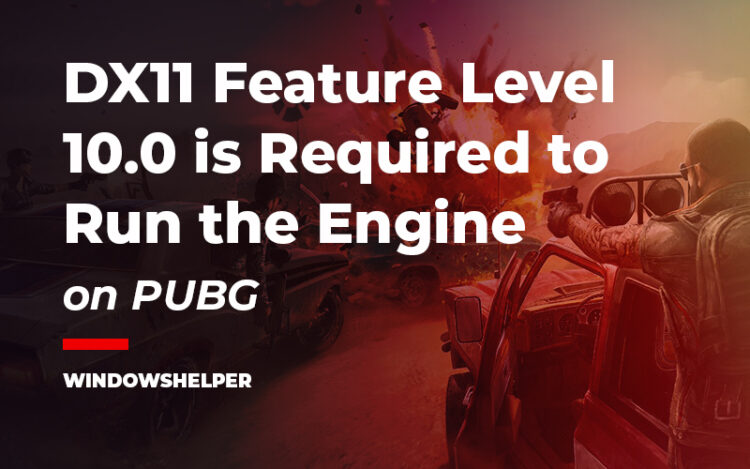 What is the DX11 feature level 10.0?
In summary, this DX11 line alludes to the DirectX11 version that you have installed by default if you have Windows 8 or 10.
Now, about the feature level 10.0, this is the hardware requirements that your graphics card needs to support to be able to run DirectX11 or newer versions like DirectX12.
After knowing the facts, when the message appears while you want to play PUBG, it could mean that your graphics cards don't support this DirectX11 version or that you have some missing files or corrupted data in your installation.
But, before starting to perform methods and fixes, you need to verify that your graphics card supports the feature level 10.0
Check DirectX and Feature Level 10.0 Support
To check if your graphics card supports the feature level 10.0, you don't need to visit your manufacturer website and search in the specs and features page because Windows has a builtin utility that will tell you this information.
From that utility called DirectX Diagnostic Tool, you can also verify which is the version of the DirectX that you have installed on your computer. Without further more, follow these easy steps to verify this information:
First, you need to open the Run window, to do that press the keys

Win

+

R

In the text box, copy this command dxdiag and then hit Enter to open the DirectX Diagnostic Tool
A window message will appear, there click on the button Yes and wait until the utility appears
Once there, you need to navigate to the Display tab
Finally there, check the right section called Drivers and scroll down until you find the Feature Levels line.
Now, you need to verify that the feature 10_0 appears in there.

Summary: On the DirectX Diagnostic Tool, you have to check the feature level 10_0 and your DirectX version. If those things are verified correctly, you can continue with the next solutions that I will leave you.
Solution 1: Update Graphics Card
You have verified that the feature level 10.0 is supported on your graphics card, but you still see the warning message when you want to launch PUBG? Well, that could mean that your current GPU drivers don't know how to use that feature, and you need to update those files to be able to run appropriately DirectX11.
To update your graphics card, you have multiple choices, you can try some driver updater like Geforce Experience for NVIDIA, but you can also try to download the latest drivers from the manufacturer website.
If you are in a hurry, you can try to update your graphics card quickly from the Device Manager following these steps:
On any Windows version, you can open the Device Manager by running the command devmgmt.msc
Once opened, you need to navigate and then expand the section Display Adapters
There, make sure to right-click on your graphics card that is used to render your games and not the integrated graphics. In the menu that opens click on the option Update Driver

Now you only need to choose the option Search automatically for drivers and let Windows update your graphics card.

Hopefully, this time, when you restart your computer and launch PUBG, the game will start working without problems.
Summary: Update your graphics card and restart your computer to enable the feature level 10.0
Solution 2: Update DirectX
From Windows 8, you have installed DirectX by default because it was the latest API from that moment, and some popular games need it to run correctly and also some programs.
To update this DirectX version, you can't use an installer anymore, like in the previous version on Windows 7. To update DirectX, you need to update Windows, and your DX version will be updated altogether.
In summary, you need to open the Windows Update utility and install all the latest available updates. If you need some help to perform this process, you can follow these steps:
First, you will need to open the Start Menu and there search the word Windows Update
In the results, depending on your Windows version, click on the option that says Windows Update settings or Windows Update
Once you open Windows Update, you need to install all the available updates or click on the button Check for updates

When you finished, you need to restart your computer and then try to launch PUBG to verify if the DX11 feature level 10.0 has been fixed correctly
Solution 3: Install Directx9
To run PUBG you don't need to install DirectX9 because if you already have installed DirectX11, that's all you need to run the game properly, but in some cases, some files are corrupted or missing, and you won't be able to fix this issue updating DirectX from the Windows Update.
This solution has been reported from the PUBG forums, and therefore, you can try it as well to check if this fixes the issue.
Click here to visit the Directx9 download page.
To download the file, click on the orange button Download and save the file to your computer
Now the installer will start looking for missing or corrupted files on your computer and will download and install those files automatically

When finished, you need to click on the Finish button and restart your computer
Surely this time when you launch PUBG you wouldn't have any problem to play the game
Wrapping Up
PUBG is one of the most popular games right now, so when there are problems like the warning message 'dx11 feature level 10.0 is required to run the engine', multiple users will start looking for answers in the support forum.
This process could take some time while PUBG answers your issue, but luckily with this post, you will be able to fix this problem by yourself and quickly.
Thanks for visiting the blog, here you have some other PUBG related issues that may interest you: