You recently install Bioshock 2 Remastered and continue playing for about 10 minutes, and then, a crash kills all your gameplay, and you don't even have time to save it? Well, this is a massive error, all users from Windows 7 to Windows 10 has experience the annoying constant crashes ad even freezes in the game.
I was one of them, and I tried several ways to fix this issue, and that's why I will leave below some of the best methods that I find, and that works.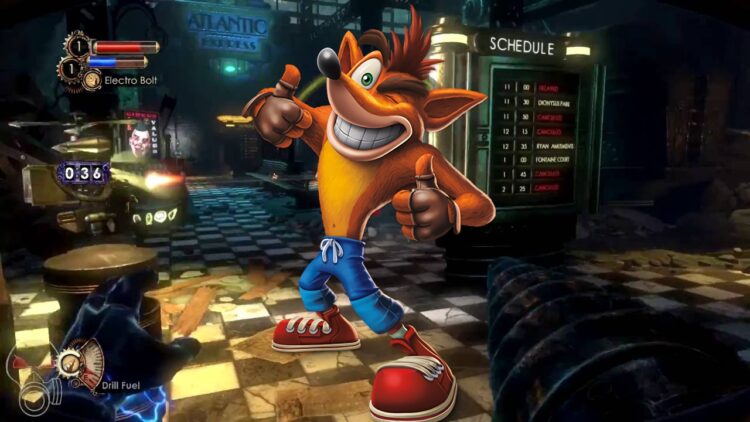 Method #1: Steam Fix
This will be the first method that I will give you, but it is somewhat advanced and involves several steps. I found this guide on Steam some time ago and works like a charm, and it fixes the problem for good.
Note: I try this guide only on an NVIDIA GPU, if you have an AMD GPU, you need to find the appropriate settings.
Visit Github and download NVidia Profile Inspector
Unzip the file download and then double click on nvidiaProfileInspector.exe
When the programs open, open the dropdown menu Profiles and there select Bioshock 2 Remastered
Now, you will see all the profile settings below, and you need to change the ones I mark shown in this image

Once done, click on the button Apply Changes at the upper right and close the program
Once in the File Explorer open the folder BioshockHD and later the folder Bioshock2
There, double click on the file Bioshock2SP.ini
In the Notepad, under the section [Engine.RenderConfig] change the following lines:

UseVSync = False;
UseMultithreadedRendering = True;
UseMultithreadedRendering=0;
UseVSync=1;

Now, under the section [ShockGame.ShockUserSettings] change the line: VSync=False
Save the changes in the Notepad and close it
Now, you can open Bioshock 2 remastered as usual and try to play the game, and surely you will see no more crashes.
I know that these an extensive method, but it is the one that works on my computer, but if you still see crashes, you can try the other methods below.
Method #2: Update Graphics Card
The following piece of advice that I will give you because it will fix several problems on your computer, including the crashing on Bioshock 2 Remastered.
You can visit your GPU manufacturer to download the latest version, or if you have Windows 10, you can use Windows Update to find them.
Windows will start to search for available updates for all your devices also including the system itself
You can also use and automate software that will download the latest drivers for your GPU, and I recommend you Driver Booster.
Download Driver Booster from the following website.
Now it will start to scan all your installed devices and then it will show the available updates
Wait for Driver Booster to install the latest driver for your GPU and later open Bioshock 2 remastered to verify that there are no more crashes
Method #3: Change Game Resolution
You may want to play this game with the highest resolution because your GPU has the power to do so. But actually, Bioshock 2 Remastered has several problems that could crash your game, and some users have reported that they successfully fix this issue by reducing the game resolution.
You want to know how to do this, follow these steps:
Open the game and then click on Settings
There you will your current in-game resolution, move the slider to the left to reduce it and click on Apply
Then, try to play Bioshock 2 Remastered again, and hopefully, the issue will be fixed
Method #4: Update Bioschock 2 Remastered
Bioshock developer has acknowledged this issue, and they try to fix it in the patch updates that they released. At the time of writing these articles, there has been published several bug patches that fix several problems in the game.
Maybe when you read this, there is another patch that you could install on your computer that could fix the constat crashes on the game. So, if you buy the game from Steam, try to check for updates periodically to fix this problem.
Method #5: Disable Steam Overlay
On Steam, there is a useful overlay that lets you use different features. These features come in handy when you are streaming or recording your video game, but on Bioschok 2 Remastered could the reason why your game is constantly crashing.
You can disable Steam overlay following these steps:
Open the Steam Client
Go to your Games Library
Method #6: Reinstall the Game
You have followed all the tips and methods that I give you above, but your game still crashes? Well, you have the ultimate choice, reinstall the game.
I know that sounds a little hard, but it could fix any problem with your game data. You can do this following these steps.
Open the Steam client and go to your games Library
Confirm the action and wait for Steam to uninstall the game
Once done, restart your computer and open Steam
Now, go to the Games Library and install the game as usual
So far, those were the best tips and methods that you can try to fix this crashing issue on Bioshock 2 Remastered. If you have another way to fix this, let me know in the comments section to add it to the post, I know I would be helpful to the community.
Below I will leave other articles about some other Steam issues: