NVIDIA is the leading manufacturer of graphics cards in the PC sector. If you want to get the best performance, especially when playing, it is necessary to install the latest version of NVIDIA drivers so that Windows can recognize and use it and, besides, to have tools such as GeForce Experience.
However, once these drivers have been installed, you will have seen how several NVIDIA processes are running on your computer, one of those processes is causing problems recently.
These processes and services, for the most part, can be disabled or closed to prevent them from continuing, although it isn't advisable to do so since, in addition to that sooner or later they will automatically run again, you can make your system start to malfunction and have stability problems
NVIDIA Container is one of the main processes, and you will see more in the Windows task manager. As the name implies, this is a necessary process of controllers and is mainly used to store other processes or other tasks. By itself, this process does not help much, but it is vital for other processes and individual tasks to run smoothly.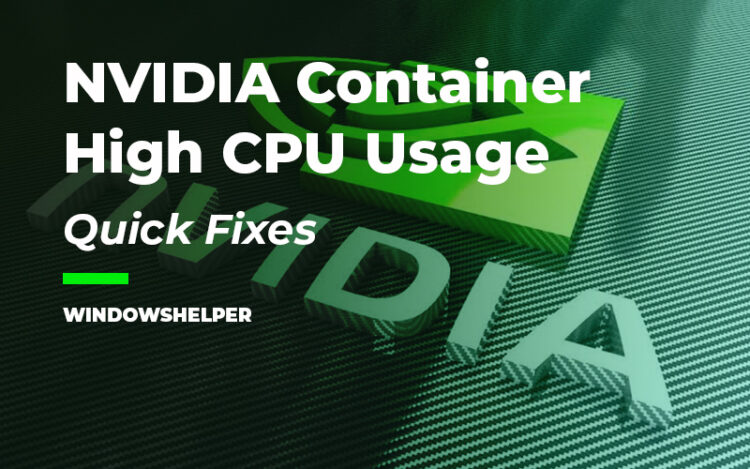 Nvidia Container High CPU Usage
The latest Nvidia drivers, with version 430.39, are generating high CPU consumption, and users reported that the Nvidia Container part of the driver is using between 10% and 20% CPU capacity. There are already some quick fixes that you can use if this problem occurred to you, but Nvidia confirmed that he was able to replicate the problem and they are already working on fixing it.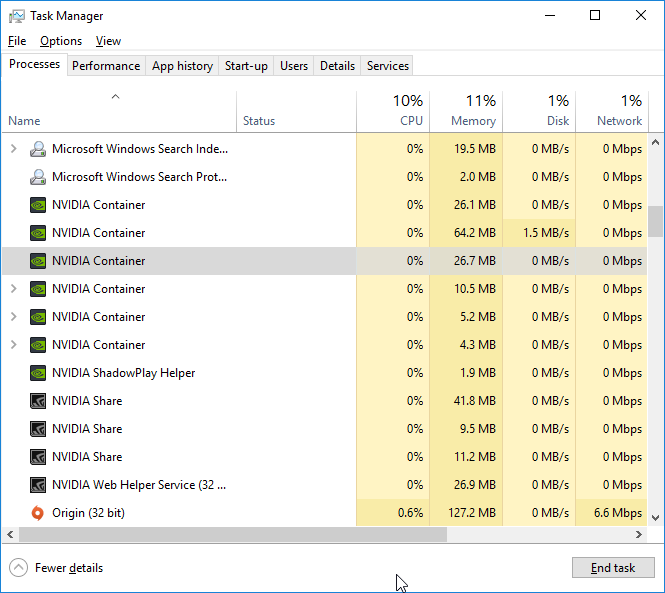 This could mean that a hotfix for GeForce drivers might arrive shortly if the Nvidia software team manages to isolate the nvdisplay.container.exe problem, but in the meantime, you can solve it yourself.
What does this file do? nvdisplay.container executable is part of Nvidia's telemetry collection, and even if you select to install only the GPU driver, the software will create the files and folders anyway and could cause CPU overload.
There is a high chance that you have not realized the problem if you do not manage the Task Manager, but if you noticed that your CPU cooler is accelerating more than usual, the drivers of your graph could be the problem.
Solution 1: Remove DisplayDriverRAS
The problem has already been reported in Reddit and the brand's forums, but by deleting some folders from the Nvidia installation folder, users said that the issues were fixed.
The process will continue to run, allowing the operation of the PC not to change, but the CPU consumption will drop. For this, you must:
Open Task Manager using the keyboard shortcut

Ctrl

+

Shift

+

Esc

, right-click on the Nvidia Container or nvdisplay.contain.exe process, and select End Task.
Open Explorer and navigate to C:\Program Files\NVIDIA Corporation\Display.NvContainer\plugins\LocalSystem
Find the DisplayDriverRAS folder and delete it
Browse to C:\Program Files\NVIDIA Corporation
Delete the DisplayDriverRAS folder
Restart the computer
Solution 2: Roll Back NVidia Drivers
NVIDIA recommends to rollback drivers when you find problems with the newest release until a bug fix or patch is released.
https://www.nvidia.com/object/driver_rollback.html
If you continue having problems with the NVIDIA Container service after following the steps above, you can try rollback your NVIDIA drivers on Windows 10:
Once you open the Device Manager, navigate and expand the section Display adapters
In the window that opens, choose to tell window why you are rolling back your drivers and then click on Yes
When the process finished, you can restart your computer and then verify if the NVIDIA process is working correctly
Solution 3: Uninstall Geforce Experience
Some users have reported that the NVIDIA Container high CPU usage sometimes appears when you have installed Geforce Experience on your computer.
Geforce Experience installs some services and schedule tasks that may be the reason for the high CPU resource consumption on Windows 10. One quick solution is to uninstall this program from your computer following these steps:
Press the keys Win + R and type the word control. Then press Enter to open the Control Panel
There, you need to scroll down and select the program Geforce Experience. Finally, click on the button Uninstall and continue with the uninstallation process.

Wrapping Up
Nvidia is one of the best GPU manufacturers and sells a lot of their graphics cards, so when something went wrong with their software, it affects all the users.
Hopefully, with this trick I share, you will be able to fix this error quickly. The other way is to uninstall the driver and use an earlier version if you don't want to delete folders or wait for an Nvidia hotfix that should arrive soon.
Recommended reading: