Fix Avast Service High CPU Usage: Avast is the best free antivirus that you can have installed on your computer, configuring it will not take much time, and in a blink of an eye, you will be safe from viruses and malware.
Avast usually always works without problems, and it is one of the most recommended antiviruses for low-end PCs. Still, in some cases, users have reported high CPU usage from the Avast Service.
The process Avast Service is part of the components of this antivirus, and it usually doesn't need to use too many resources.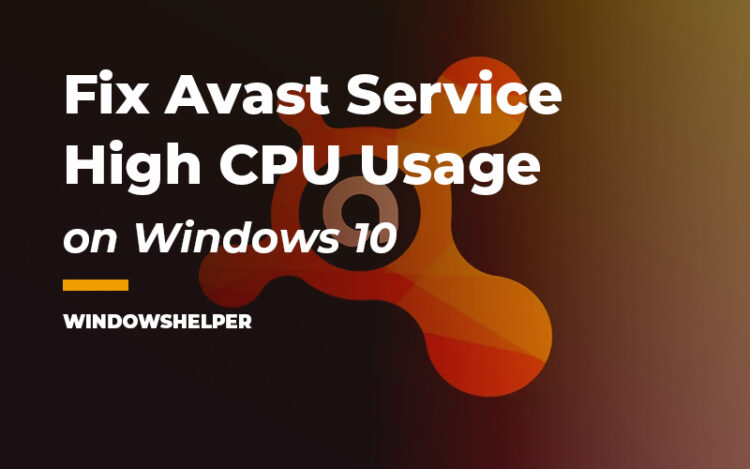 Why Avast Service is Using Too Much CPU
The reason why this service is using too many resources from your computer could be varied, and some of them are complex.
Maybe there is another antivirus or program that is affecting the operation of Avast. It is not recommended to have two active antiviruses on the computer. It may also be affected by some other program (usually a security program), such as anti-spyware or firewall.
Maybe the Avast Service is using too much CPU because, at that time, it is scanning the hard drive for viruses. The task is probably activated automatically because it is scheduled for that. You can choose to disable scanning programming.
Avast is configured for maximum security; that is, it will thoroughly scan all files and changes made to the computer, which can cause it to consume much more memory and CPU.
How to Fix Avast High CPU Usage
Like I said above, there could be multiple reasons why this service is using too much CPU, but if need to fix this situation, you can follow the next solutions that I will leave below.
You can try to follow them in order because I will leave them from easiest to the hardest one.
Solution 1: Uninstall Avast Cleanup
If you have installed Avast with the default settings, you may also installed the Avast Cleanup tool.
This tool is continuously scanning your computer to show you later some of the resources and programs that you can remove to free space or improve the performance.
Avast Cleanup is helpful, but some users have pointed it as the reason why the Avast Service is using too much CPU. Therefore you can try to uninstall this feature following these steps:
First, you need to navigate to the Windows Taskbar where is located the Avast icon and right-click on it. In the menu, click on Open Avast user interface

Now, you need to open the menu at the top of the window

Wait until Avast uninstalls the Avast Cleanup Tool and then verify that the service is working correctly without using too many resources
Solution 2: Change Avast Scan Frequency
Avast is one of the best security software, and it will always scan your computer to be able to protect from viruses and malware that could harm or steal your data.
This antivirus has a defined scan frequency that you can change from the Avast user interface because you usually never change this setting, but when you face problems with the Avast Service, you can try to change this frequency following these steps:
First, you need to navigate to open the notepad as an administrator. Open the Start menu and there search the word notepad
Now, open the menu File and then click on Open.
Navigate to the following path: C:\ProgramData\AVAST Software\Avast and there open the file avast5.ini
In this file, you will see various parameters, scroll down to the bottom of the file and add the following line:

[GrimeFighter] : ScanFrequency=999

Save the file with the keyboard shortcut Ctrl + S
Close the notepad and restart your computer. This time when you see Avast Service in the task manager, it should be working correctly.
Solution 3: Update Avast
Avast is always releasing new updates for its security software because there are thousands and thousands of threats that attack various antivirus like this one.
You should always update Avast when it is requested, but if you want to perform this process, you can follow these steps:
Navigate to the taskbar and there right-click on the Avast icon. Then in the menu, click on Open Avast user interface

Now you need to click on the menu located at the top
Finally, you will see the version of your application, and you check if there is any update clicking in the button Check for updates
Avast will automatically install the latest version and then restart your computer
Solution 4: Repair Avast Antivirus
If you haven't been able to fix the high CPU usage from the Avast Service, there is one last method that may help you.
Avast incorporates a builtin repair utility that can reinstall components and repair any error in them. You already saw that utility in solution #2, but you can try this process again from the Control Panel following these steps:
First, you need to open the Control Panel. To do that press the keys

Win

+

R

. Type the word control and hit Enter
There you will see all your applications installed, scroll down, and select the Avast Antivirus. Then click on the button Change

You will open the Avast Antivirus Setup, and there you can choose the remove some components or only repair the antivirus clicking in the button Change

Avast will start scanning your current setup and correct any problem. When it finished, you need to restart your computer and then verify if the Avast Service isn't using too many CPU resources on your Windows 10 Task Manager.
Wrapping Up
So far, those were the best tips and solutions that can help you to fix the Avast Service high CPU usage issue on Windows 10. If you need more help or have any questions, you can leave a message below.
Also, if you cant fix this problem with anything, you can try to post your problem in the Avast forums. Surely someone will able to help you.
Here you have some related articles that may interest you: