For a while ago, users from different countries have been complaining on Facebook about an error in their access to the most popular video-sharing website. It is the unbearable 500 Internal Server Error that appears when trying to watch YouTube videos. What can you do to fix it?
Users around the world have reported problems when they want to watch YouTube videos. This occurs more frequently since last year.
The error is none other than the already known "500 Internal Server Error", which appears on the YouTube page when you want to watch a video. No matter the operating system or the browser, the error does not discriminate Windows, Linux, or Mac.
In addition to the technical name of the error, YouTube publishes this ironic text in English:
SORRY, SOMETHING WENT WRONG. A TEAM OF HIGHLY TRAINED MONKEYS HAS BEEN DISPATCHED TO DEAL WITH THIS SITUATION.
This error means that you can do nothing to fix this issue because it something happening on Google servers, maybe some maintenance or server problem, but that doesn't mean that you can try some solutions to try to fix this issue.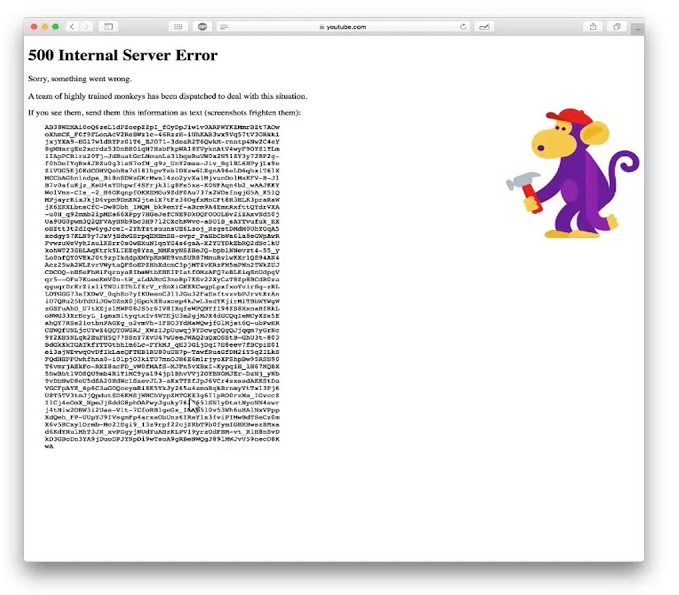 Method #1: Incognito Mode
This is a quick workaround that could help you to fix this issue quickly. When you have problems watching some videos with your account logged, you can try to use the incognito mode to load all the Youtube website files from scratch and hopefully fix this issue.
Regardless of the browser that you use, incognito appears always on the menu.
See this image from google; you can see the incognito when clicking on the Customize and control Google Chrome menu (three dots icon):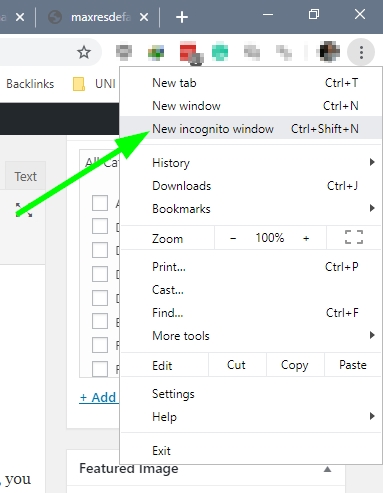 Method #2: Refresh Youtube
If you haven't successfully been able to fix the issue already, you could try to reload the page that you can't reach with the F5 key.
If that doesn't work, you can try this other shortcut: Ctrl + F5. This command will reload the same website but downloading all the cache and files from scratch. With this, you will be able to load the last version of Youtube when everything has been fixed correctly.
Method #3: Clear Browsing Data
The 500 internal server error has not been fixed yet? Don't worry, and there is another solution that you can try.
Web browsers stores several data about the website you visit, including Youtube, which helps it to load the same webpage faster. Sometimes when you faced this error, it is because Chrome is trying to load some old server that doesn't exist or work anymore, and therefore you end this error mentioned above.
You can try to clear the browsing data on your browser following these steps:
Open Google Chrome and press the keys

Ctrl

+

H

On the left side menu, click on Clear Browsing Data
A new window will pop up, there navigate to the Advanced tab
There select all-time on the time range dropdown menu
Then, try to revisit Youtube to verify that the internal error has been gone
Method #4: Use Another Browser
This is another workaround that will involve the use of another browser to watch Youtube. If you have a smartphone at hand, try to open Youtube, and if everything is working great, the problem could be the browser you are using.
The most popular browser to watch videos on Youtube is Chrome because it is faster, but some alternatives are as good as Google Chrome and could help you to fix this issue quickly.
You have Mozilla Firefox, which is an open-source web browser that has been around for years and also Opera, which is another browser that you may know for being the most lightweight browser for smartphones.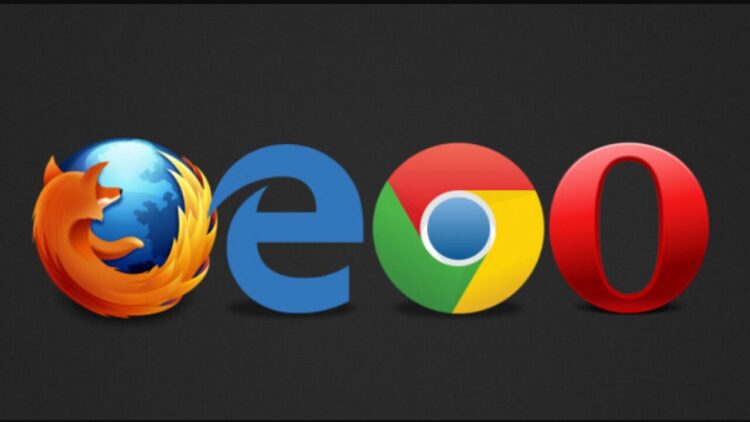 You can try to download any of those browsers or even try with Internet Explorer or Microsoft Edge. This last one has the proper compatibility to watch videos on Youtube, so give it a try.
Method #5: Restart Router
This is one of the lasts tips that I will be leaving you to fix this 500 internal server error on Youtube.
If you want to connect to the internet, you will need a router or modem to be able to do so. This router will be the one that gives you the IP and connects your computer to the world, but sometimes it can have some errors that prevent you from accessing a specific website.
Some of the errors are the Internal Server Error, and you can try to fix it by restarting the router following these steps.
Disconnect your ethernet cable or wifi connection on your PC
Turn off your router and unplug it from the outlet
Wait an approximate of 30 seconds and plug the router again to the outlet

Turn it on and then wait until all the lights stop blinking, now connect your ethernet cable to the computer
Finally, try to visit Youtube; hopefully, this error will be fixed, and you will be able to watch your videos without problems
Method #6: Reset Router (Advanced)
Your router has some unique configurations that you can change that will help you to block some websites and even some computers to access your internet connection.
You may never have touched these settings, but there is a possibility that some settings were blocking Youtube, and that could be the reason why you can watch videos. You can think that is the reason when you can watch Youtube videos on any computer or device connected to the same router.
To troubleshoot this error, you can try to reset your router following these steps:
Note: This method will reset all the settings on your router, and your wifi configuration will be set to their original default.
Grab a clip or something that like that
Go to the back of your router and find the reset button, introduce the clip and press the button for about 10 seconds until all the lights in the router turn off

Now, your router has been reset, it will start blinking again but this time with all the defaults settings
When the router stops blinking you can try to visit the same Youtube page, surely this time there wouldn't be any problem
Wrapping Up
Youtube has an extensive library of videos that you can watch and enjoy; even you can listen to music on this platform, but when an error like 500 internal server appears, you may get frustrated because you can access your favorite site.
Luckily, with the information I leave you above, you will be able to fix the issue successfully and continue watching your favorite videos without problems.
Here, I will leave some other Youtube related issues that may help you: