On some occasions, Windows may show you the following error message "Power surge on USB Port" with the following description "USB Device has exceeded the power limits of its hub port."
The problem occurs due to a lack of power. This is insufficient, and Windows shows this message to let you know.
Generally, the error occurs in laptops, which, when returning from a suspension or hibernation where they have been previously turned off under the concept of energy-saving, finally cause this error.
In the case of desktop computers, as a general rule, it indicates that the power supply of the computer does not give enough power to the PC.
Although the error may be seen as something wrong in your hardware, some other factors and issues could pop up this error, and on this post, I want to leave some solutions.

Method #1: Run Troubleshooter
When you find some issue with your USB devices, you have a powerful utility that will help you to troubleshoot the problem automatically or give you more information about what is wrong.
Hardware and Devices troubleshooter can help you with this problem, and you can run it on Windows 10 following these steps:
Once there, scroll down and click on Update & Security
On the left, you will see several options, scroll down and click on Troubleshoot
Now, on the right, scroll down and click on the Hardware and Devices button
Finally, click on the new button that appears: Run the troubleshooter

This utility will show up and automatically will start analyzing your USB devices, then it will ask you which is the device with the problem, select it and click on Next
Then, you only have to wait until the troubleshooter fixes the issue
Method #2: Troubleshoot Hardware Issues
If the troubleshooter has not been able to fix the issue, you might need to troubleshoot your USB devices.
Some of these devices are the keyboard, mouse, webcam, etc. You need to disconnect all your devices and then connect each one by one. With this technique, you will troubleshoot, which is the device that is showing the power surge on the USB port error.
Once you find the problematic one, you can try to plug the same on other computers or laptops. In this way, you can verify that the device is working correctly on different computers, and you come back to your computer to try the next methods.
Method #3: Reinstall USB Controllers
You have performed the steps I mention in the method above, and you find that your USB device is working correctly on another computer, so the problem is on your computer.
Something that you can try to fix this issue is reinstalling the USB controllers because there could be corrupted in some way that shows you the power surge error.
To reinstall these controllers on Windows 10, follow these steps:
Open the Run window with the keyboard shortcut

Win

+

R

There, type the command devmgmt.msc and press Enter to open the Device Manager
Once there, go to the section Universal Serial Bus Controllers
Rightclick on all the devices under this section, and in the menu, select the Uninstall device. Recall that this step will disconnect all your USB devices automatically, if you have a USB wifi adapter, you will lose the internet connection temporarily.

Once done will all the devices, restart your computer
When Windows starts, it will install all the missing USB controllers with the proper drivers and, hopefully, that you would fix this issue successfully.
Method #4: Use Another Power Supply
This error mentions that your computer or laptop doesn't have power enough to be able to work correctly. That could mean on computers that you Power Supply cant give the appropriate power to all your devices.
If you have another Power Supply that you can use on your computer, you can try that to check if that is the problem.
If you don't have one, you can calculate the amount of power wattage that you need on your computer on the following page.
https://outervision.com/power-supply-calculator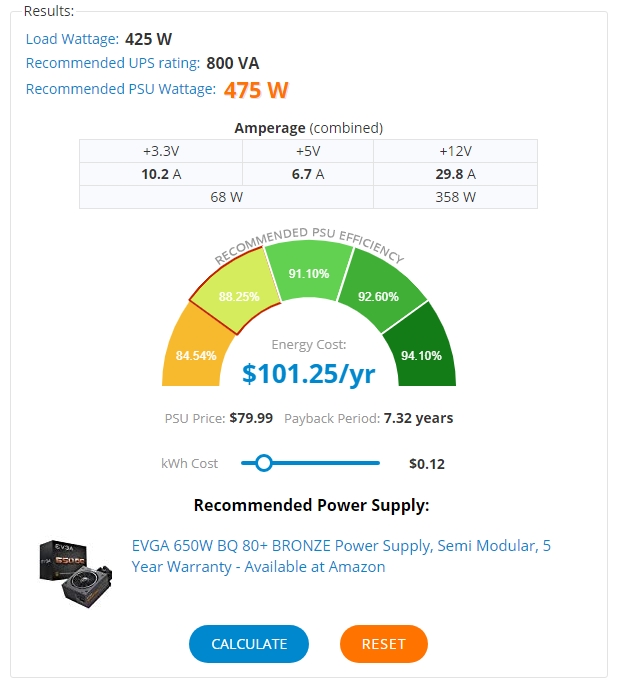 There you can fill all the details about your CPU, GPU, devices, and then it will show you the wattage required from you PSU. To know your PSU wattage, you can check it in the back on your computer, something like this:
Method #5: Update USB Controllers
Windows always use generic USB controllers because they work in almost all cases, and there is no need for an update.
But in your case, you can try to update these USB controllers to fix this power surge issue. You can try this downloading the drivers from your motherboard manufacturer, but that could be a long process, and maybe you even never find those drivers.
For that issue, you can try to use a driver updater that surely will find the latest drivers for your USB controller.
One of the most used for this task is Driver Booster, and you can download it from here. Once you install the program it will show you a SCAN button when you click on it, it will start scanning your USB controllers, and then it will show you the latest drivers available.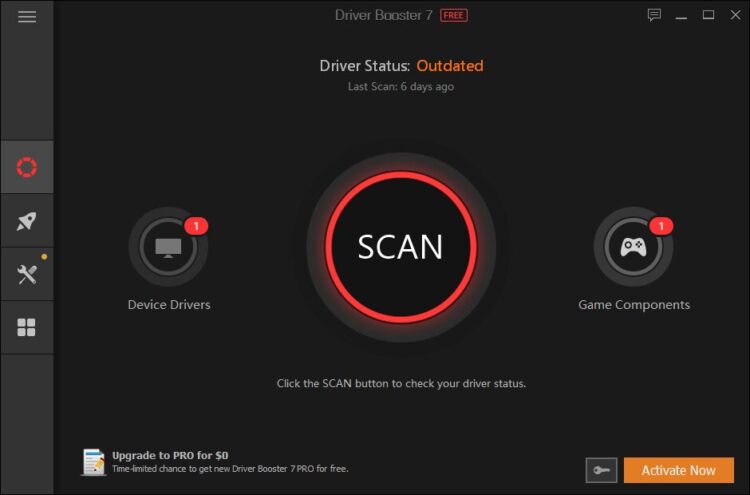 There you can also see the release date of the new drivers and the old ones. Once you are ready to install them, click on the button Update Now at the top, to also update all your devices like GPU in the process.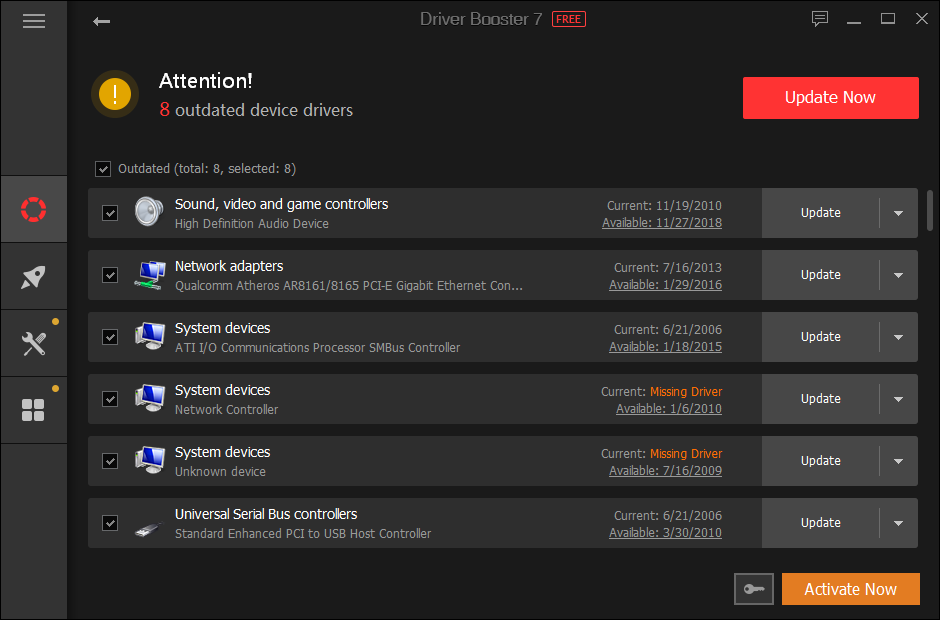 When the process finishes, restart your computer to apply the changes, and then the problem power surge on Windows 10 will be fixed successfully, and you will not have more issues like this.
Wrapping Up
Although you may think that the Power surge issue could mean something wrong in your computers like damaged power supply or devices, sometimes with tips like the ones above, you will be able to fix it quickly.
Remember that if you have any questions or need more assistance, you can try to reach me in the comment section below. You can also try to post your case in the forums of your motherboard manufacturer.
These are other articles about some USB issues that may help you with this: