You are experiencing some performance issues, and when you open the Task Manager, you see a process called CTF Loader taking a lot of resources? Well, in this post, I will talk about this process and how to disable it.
Many users wonder what this process does, so valuable and so harmful. CTF Loader is the name that shows the process that runs at Windows startup, although it can have two sub-processes.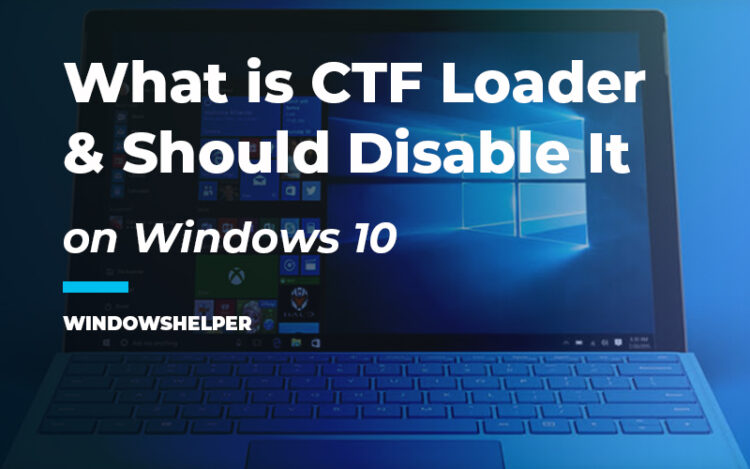 What is CTF Loader?
CTF Loader runs under the file CTFmon.exe that loads Microsoft Office to activate the text input processor of alternative user input and also the Microsoft Office language bar.
That's mean that this process is needed when you want to use the Handwriting feature or use the Touch keyboard. Both tools are preinstalled on your computer, and you can use them and activated them at any time. That's why this process keeps running on your computer at startup.
Therefore, there are few reasons to remove CTFmon.exe, and it is not recommended because you won't be able to use those tools anymore, and besides, this will only save you 8MB of memory.
Should I Disable It?
CTF Loader can be a harmful process ( CTFmon32.exe ) when a virus has infected your system and replace this file to bypass your security software.
Otherwise, you should not disable this process because it doesn't impact your performance. Still, if you notice some wrong behaviors like high resource consumption, you can try to disable it following these easy methods.
Method #1: Disable CTF Loader Service
This is the easiest way to disable the CTF Loader process from the service.
CTF Loader runs trought a service called Touch Keyboard and Handwriting Panel Service, and you can disable it like any other service following these steps:
First, you need to open the Services window. Press the keys

Win

+

R

and type the command services.msc. Now hit Enter to open the Services utility
Once there, scroll down until you find the Touch Keyboard and Handwriting Panel Service. Double click on it
Click on Apply to save the changes and restart your computer
The next time your starts, the CTF Loader will be disabled
Method #2: Task Scheduler
This method is a secure way to disable this CTF Loader without removing or disabling any service. I recommend trying to perform this process instead of the first one to avoid any problem.
To perform this process, you will need to open the Task Scheduler. You can search it in Windows, or you can run the command taskschd.msc to open it
Once opened, you need to navigate trought the following folders Task Scheduler Library>Microsoft>Windows>TextServicesFramework
In the Edit trigger window, uncheck the box Enabled and click on OK to save the changes. Now you can close all the windows and the Task Scheduler. Restart your computer, and this the CTF Loader will no run on your computer.
Recommended: Virus Scan
Like I said at the beginning of the post, you should never disable this process because it will no have any impact on your memory, performance, or disk. But in some cases, you may have been infected with some virus that uses this file to attack your system.
Therefore I recommend you to follow these steps to fix this issue correctly:
https://www.malwarebytes.com/
Click here to download Malwarebytes
On that website, you only need to click on the button Free Download and save the file to your computer
Now run the file to install Malwarebytes like any other program
Once installed, run Malwarebytes. In the window, go to the section SCAN
Wait until the processes finish to fix this issue. Malwarebytes, in this kind of scan, search for viruses or malware on your core Windows services like CTF Loader. Therefore, this security software will be able to fix this problem quickly.
Wrapping Up
Like I said in the beginning, CTF Loader should not be disabled in any case; you only need to do that when you want to verify the file is a virus impersonating a Windows core process.
If you need more help or have some particular situation on your computer with this process, you can contact using the comments section.
If you want to learn more about Windows processes and services, here I leave some related articles that may interest you: