Do you want to play Fortnite, but when launching the game, you see an error code 20006? Well, you don't need to worry anymore because, with this tutorial, you will be able to fix it quickly and continue playing Fortnite.
Fortnite is a video game developed by the companies Epic Games and People Can Fly. The game was anticipated and announced in 2011, but his released date was July 25, 2017. This is a zombie game in which human-controlled survivors will cooperate online to keep their fortresses safe from attacks in waves of the walking dead, who are trying to conquer the land.
Although this game was developed for more than five years, it also has the error that prevents the users from playing the game, and one of those is the error code 20006. The message is as follow:
Couldn't start the game
Please help us by reporting this issue.
Error code: 20006 Cannot Create service
EasyAntiCheat can check online for a solution
If you haven't been able to fix this issue, on this post, I will leave some of the best tips and solutions to this problem in Fortnite.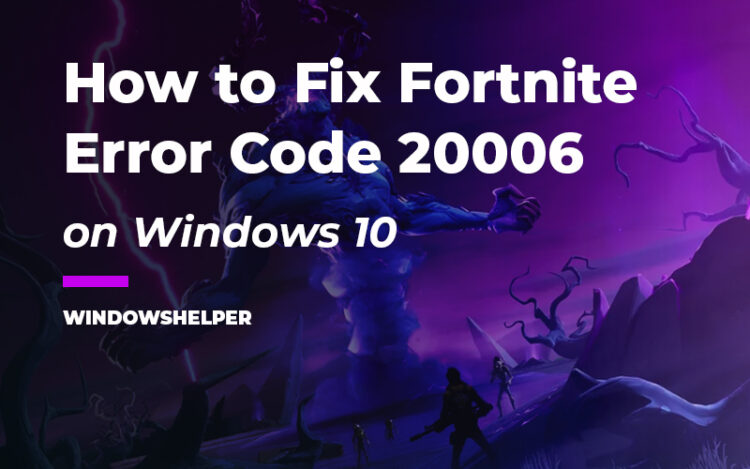 What is EasyAntiCheat?
Well, as the name implies, this is the security software that prevents hackers from user non-legal software on the game, like aimbots.
Therefore when you have a problem like this error on Fortnite, you can try to reinstall it first to fix the issue.
Solution 1: Reinstall EasyAntiCheat
This was the first, and one of the most recommended tips to fix this Fortnite error code 20006 quickly.
Like the message says, the problem is something wrong with the EasyAntiCheat file. Therefore you can try to reinstall it following these steps:
You will need to open the File Explorer and there navigate to the Fortnite installation path. You can usually find that folder in the following path: C:\Program Files\Epic Games\Fortnite
Once in there, you need to open the folder Binaries and then Win64
In this Win64 folder, you will find some folders, open the one that says EasyAntiCheat and there double-click in the file EasyAntiCheat_Setup.exe
This file will open the EasyAntiCheat installer, there open the dropdown menu, and choose the option Fortnite. Then click on the button Repair Service

Wait until the installer finishes the process and you can try to launch Fortnite to verify if the error 20006 has been fixed
Solution 2: Rename EasyAntiCheat.sys
When this error appears on Fornite, some Reddit come with an excellent way to fix this problem quickly. It seems that sometimes the EasyAntiCheat file on the Windows system gets corrupted, and therefore, a way to fix it is by renaming or removing the file. To do that you can follow these steps:
You will need to open the file explorer and there navigate to the C:/windows/system32/drivers
Windows will ask you admin rights before opening the Windows folder, and there you only need to click on Yes, but if you don't have an admin account, you won't be able to enter this path.

Finally there, you need to find the file EasyAntiCheat.sys file and rename it to something like EasyAntiCheat.sys_old
Now, you can open the Epic Games Launcher, and from there, start Fortnite. Surely this time you wouldn't see any error
Solution 3: Repair Fortnite Files
The two previous solutions should fix the problem quickly and without any further to do, but in some cases, the error code 20006 persists, and that why you may need to reinstall Fortnite.
Luckily the new and shiny launcher like Steam or Epic Games includes a built-in feature that lets you scan your game files and repair any corrupted or missing data in it.
This could be your last option but to verify your game data follow these easy steps:
First, you need to confirm that Fortnite is entirely closed from the Task Manager. To open it, press the keys

Ctrl

+

Shift

+

Esc

. There find Fortnite and click on the button End Task
Once you verify that Fortnite isn't running, you need to open the Epic Games Launcher
On the left side menu, click on the section Library
Wrapping Up
This Fortnite launcher error code 20006 is one of the recurrent on forums and videos because it affects multiple users across the world. Hopefully, this community is big enough, and there have been reported several fixes to this problem that I show you above.
If you need more help or find any trouble following these steps, you can contact me using the comments section below.
Anyway, I will leave you some Fortnite related issues that may help you or give some ideas to fix this error: