You recently see a warning message on your antivirus that says something about a threat blocked with the name IDP.Generic? Well, that s quite common, and in this post, I will talk about this issue.
Antivirus is a program that helps protect your computer against most viruses, worms, Trojans, and other unwanted invaders that can infect your computer.
Among the main damages that these programs can cause are loss of microprocessor performance, file deletion, data alteration, confidential information exposed to unauthorized persons, and the uninstallation of the operating system.
Over the years, viruses, malware, and other threats that haunt you every time you access the internet or connect an unknown pen drive on your computer have progressed to a level where they are practically undetectable.
Hardly a user who uses the Windows operating system, any of its versions, has not used any antivirus software on his computer, at least once in a lifetime. One of those antiviruses is Avast, and it is in this antivirus that you usually see the "IDP.generic" warning.
Typically, Avast monitor virus activities in real-time and make periodic checks, or according to the user's request, seeking to detect and then block possible threats. Still, in some cases, you see the name IDP.Generic for some common files.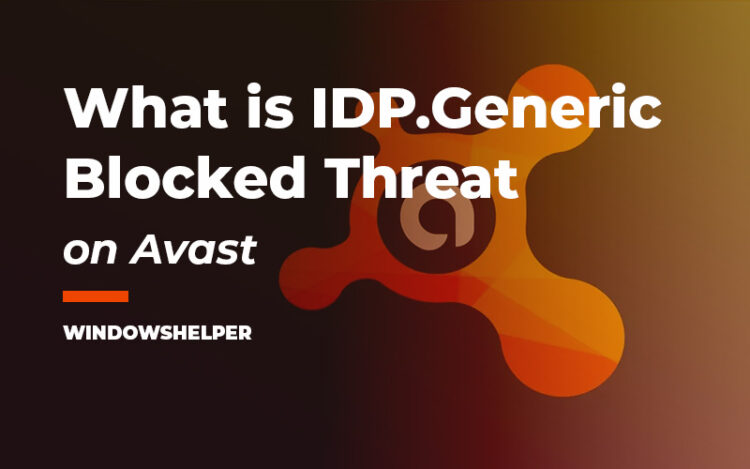 What is IDP.Generic?
Well, the term "generic" that appears in the Avast antivirus wants to tell you the software has found a common threat on the file that you want to run or open on your computer, but it wasn't able to detect it accurately.
In summary, when Avast finds a file that can be dangerous or have some similarities with other known viruses, it will block it before it could infect your computer.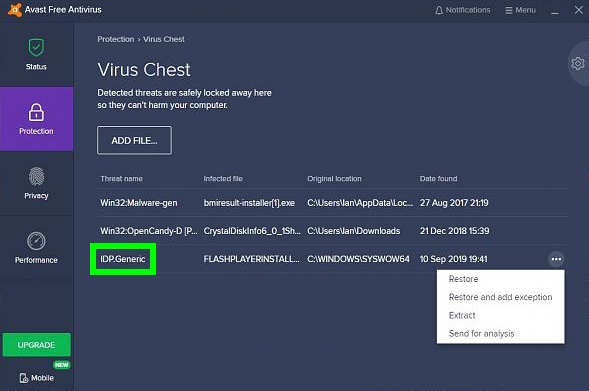 In almost all cases, the IDP.Generic warning message is an Avast false positive but sometimes means that you are running a new kind of virus on your computer. If you want to make sure that this file is clean and doesn't involve any threat to your computer, you can check the following steps.
Find Threats in IDP.Generic File
Like I said above, this file usually supposes a false positive, but in some cases, could damage, harm, or steal your private data.
If you download the file from the internet or not trust the source entirely, you can try to scan that file with another antivirus and check if it shows you the same message.
There is also an online tool that will help you to detect viruses on your files named VirusTottal, and you can scan your IDP.Generic file following these steps:
Open your favorite website and navigate to: VirusTotal.
Once there, you need to click on the button Choose File and upload your data with the IDP.Generic threat

When the file uploads to the website, it will start scanning and then show you all the found viruses in it
There you can check if the file means a threat for your computer or can you run it without problems
Recover IDP.Generic False Positive
You may are here because you have lost your file because Avast detects the IDP.Generic threat in it.
If you need to recover your file because it was necessary, you can follow these simple steps:
Doubleclick on the Avast icon located in the Windows Taskbar to open the Avast Antivirus Panel
Once there, on the left side menu, click on Protection. There you will see some options, click on the one that says Virus Chest

In this chest, you will see all the blocked threats by Avast, find the one with the IDP.Generic and right-click on it
Wrapping Up
IDP.Generic is a threat identified by Avast that doesn't mean anything dangerous to your computer because, in almost 99% cases, it is a false positive. Still, with this information, you will be sure if you can run or open that file on your computer.