Recently you have a problem with the Realtek Digital that has no sound output? Don't worry, in this post I will talk about this problem and how to fix it in several ways.
One of the most vital components in a computer is the audio, through which you can play your favorite songs, watch movies, and receive alerts about new notifications. You must always have it installed adequately with its correct drivers to be able to reproduce sounds from your computer.
In this audio world, Realtek Digital is one of the most common and used today thanks to its versatility, compatibility, and performance in multiple operating systems.
You can find this driver installed on almost every computer that uses a home theater or Smart tv, and when you have issues like the no sound problem, you can't enjoy your music or videos.
Luckily on the following lines, I will show you some of the best solutions that have been reported from several users that can fix this problem quickly.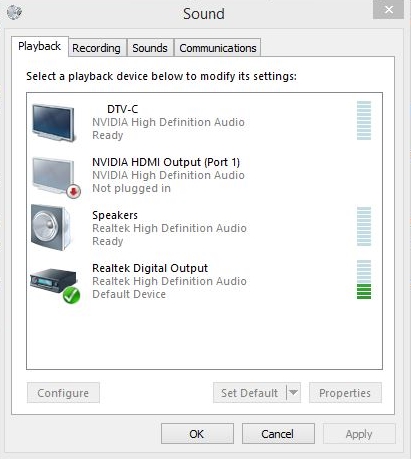 Method #1: Set as Default
Like I said at the beginning of this post, the Realtek Digital Output is needed when you have connected your computer to some HDMI devices like a Smart TV or Home Theater.
If you have a standard monitor and external speakers on your PC, there is no need to use the Realtek Digital Output; therefore, you can change it for your speakers following these steps on Windows 10.
In the taskbar, you can find the Speakers icon, right-click on it and select the option Open Sound settings

Now, you will open a new window, and you should be in the Playback tab. There you need to find your speakers on the list and right-click on it, then select in the menu Set as Default

Test your speakers and verify if they are working, and the sound issue has been fixed. You can try with other speakers on the list if you multiple options.
Method #2: Reinstall Audio Drivers
Haven't you been able to fix your sound problems in Realtek Digital Output? Well, there are other things that you can try, like reinstalling the audio drivers.
Windows 10, by default, install some audio drivers on your computer, and there should be working without problems. But in some cases, these drivers get corrupted, and that could be the reason for this sounds problem.
To reinstall your audio drivers, follow these simple steps:
Press the keys

Win

+

X

at the same time to open the contextual menu and there click on the option Device Manager

Once there, navigate to the section Sound, video and game controllers
In that section, you need to right-click on the controller Realtek High Definition Audio, then in the menu click on Uninstall device

Now, restart your computer and let Windows reinstall your drivers automatically in the next startup
Method #3: Update Realtek Digital Output Drivers
Your computer to be able to play your music and sounds need some individual drivers that are installed automatically by Windows.
In most cases, you will no need to update this driver, but if you still have no sound issues, you will need to update those drivers manually.
That process could be a little longer and could take you some time to find the right drivers, but I have good news for you; there is an easy way to update your Realtek Digital Output drivers.
You can follow these steps to perform this process:
Download this program called Driver Booster
Once download, you can install it by double-clicking on the file and following the wizard instructions
This button will start the scanning process, and it will search updates for your Realtek Digital Output device. Once it finds something, you will install the drivers by clicking on the button Update Now

Now, you will only need to wait until the program finishes the updating process
https://www.iobit.com/en/driver-booster.php
Method #4: Run Playing Audio Troubleshooter
You have followed all the steps that I show you so far, but still has no sound on your Realtek Digital Output device, you can try to run the troubleshooter.
This troubleshooter will search on your computer for audio problems, and then it will fix them automatically. You can use this utility, following these steps:
Open the Settings utility using the keyboard shortcut

Win

+

I

Now, click on the section Update & Security
On the left side menu, click on Troubleshoot
This utility will start to search automatically for any problem in the Realtek Digital Output device and then will repair it automatically
Wrapping Up
I hope that these methods help you to fix this issue successfully and be able to play your favorite music and videos without problems on your PC.
If you have some other issues like this one, you can tell me about it in the comment section below. Thanks for visiting my blog 🙂
Here, you have other audio related issues that may help you: