When you see a blue screen of death, however, on this screen, you will also observe an error code that will give you a clue about the reasons which caused the failure, and the message is BAD POOL CALLER whose code is 0X000000C2.
This particular problem is due to the inability of a program installed on your computer to use a thread from your CPU, either because it is isn't available at that time or because it doesn't exist.
On the following lines, I will leave some methods that you can try to fix this issue and recover the optimal performance of your computer.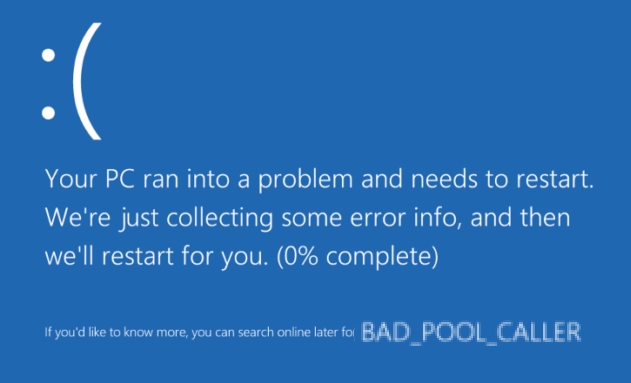 Method #1: Run SFC
One of your first allies against this BSOD: BALL POOL CALLER is the System File Checker utility.
When you run this tool, it will scan all your system files, and if it finds any damage or missing component, it will repair automatically.
To run this tool, you need administrator rights and follow these steps:
Open the Start Menu and search the word cmd
Now, copy the following command: sfc /scannow
Press Enter to run it and wait for Windows to scan your system and repair it
Method #2: Run DISM
If you haven't been to fix this BSOD using the utility above, there is another option that you can try.
DISM is a command that can help you to fix error in your system image automatically and you can run it following these steps:
Press Enter to run the utility and wait until it scans your entire system. Maybe ask you to run the tool at the next boot, there you can choose Yes and restart your computer.
Method #3: Update Windows 10
Have been reported that you can fix this BAD POOL CALLER blue screen of death by updating the system using Windows Update.
This is a secure method that you can try following these steps:
Open the Settings utility pressing the keys

Win

+

I

Now, there you can install all the available updates that you find. If there aren't any updates available, click on the button Check for updates

When the updating process finishes, restart your computer to apply the changes, and hopefully, the BSOD will be fixed
Method #4: Update Drivers
Another possible reason why your computer is facing this Bad Pool Caller issue is outdated drivers on your system. You need to keep your devices updated to avoid this kind of situation.
To update your devices, you have multiple options like downloading each one of your driver files from the manufacturer's website and install them one by one, but that process could be a little longer exhausting.
For that, I propose you to install a driver updater on your computer and let the program update all your devices automatically. One of the best for this task is Driver Booster, and you can download it from here.
The software will start scanning all your devices, connected or not, and there it will show you the latest drivers available for them. Using this software I haven't able to install drivers for some unexpected devices like the chipset, and that improves my overall performance system
Restart your computer to apply the changes, and hopefully this time you wouldn't see this Bad Pool Caller blue screen of death on Windows 10
Method #5: Check Hard Disk
Your computer continues to crash into this blue screen of death; you may need to check for hard disk issues that could be the reason for the problem.
On Windows, you have a utility to scan your hard drivers, to run it follow these steps:
Open the File Explorer using the keys

Win

+

E

Go to This PC and there, right-click on the C drive
Once finished, restart your computer and verify if the blue screen of death has been fixed successfully
Method #6: Remove Recently Installed Software
Some programs could affect your system severely. Some users have reported that some programs like Hotspot Shield and Razer Synapse have started this Bad Pool Caller issue on Windows 10.
Although this could not be your case, you can try to uninstall you recently installed programs following these steps:
Open the Run window using the keyboard shortcut Win + R
Type the command control and click on OK
There you can sort the programs by the installation date. There you can check your recently installed programs, if you find some unwanted or unnecessary software, right-click on it and select Uninstall to start the process

Once you uninstall all the programs that you can, restart your computer and check if the problem has been fixed successfully
Method #7: Memory Check
If you haven't been able to fix this Bad Pool Caller issue so far, you can continue with other troubleshooting solutions like running a memory check. To do that, follow these steps:
Press the keys

Win

+

R

and type the command mdsched.exe
To start the scanning process, click on the option Restart now and check for problems

Your computer will restart, and there you will see the memory check process. This will repair any problem in your RAM, and hopefully, you wouldn't see this blue screen of death anymore.
Method #8: Uninstall Security Software
This would be the last solution that I will give you uninstall your security software. But why uninstalling the antivirus? Well, if you are facing this bad pool caller issue until now, following all the methods I show you so far, the problem may be some conflict between your system and the antivirus.
There have been reports about how the antivirus could seriously damage your system by crashing the system into blue screens of death because this could lead to system files damage for the forced shutdown.
To uninstall your antivirus, you can do it from the Programs and Features utility like in the previous method I leave you. You can open this utility with the Run window and the command: appwiz.cpl
Once uninstalled the antivirus, you can test your computer again to verify that the bad pool caller issue on WIndows 10 is solved, and your computer could operate without problems.
So far, those are my best advice and help to fix the blue screen of death problem on Windows 10. Remember that if you need more help, you can contact me using the comments section below.
Here, you have other articles about some related issues: