Are you getting a blue screen of death with the message VIDEO_TDR_FAILURE igdkmd64.sys on Windows 10? Well, don't worry, although it may seem like a bad problem with your graphics, some workarounds could fix this issue.
The integrated Intel graphics card drivers cause this error. The component igdkmd64.sys that you can see in the blue screen of death is part of those drivers.
This could mean some damage on your graphics cards or even some conflict with your drivers. If you are one of those that recently face this error, here I will leave some of the best tips and solutions to this annoying error.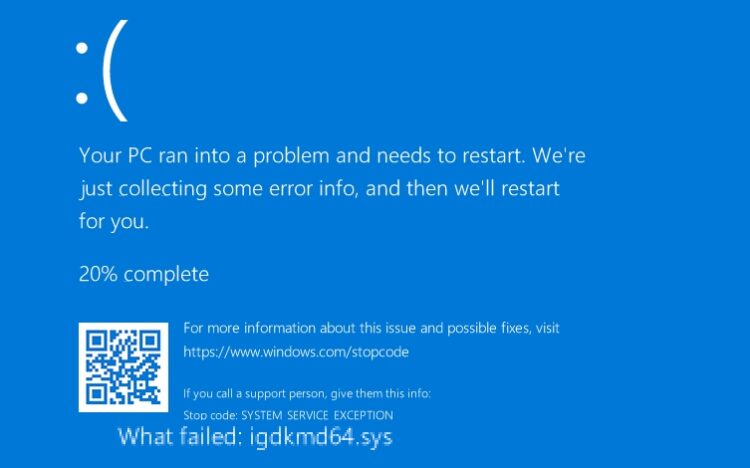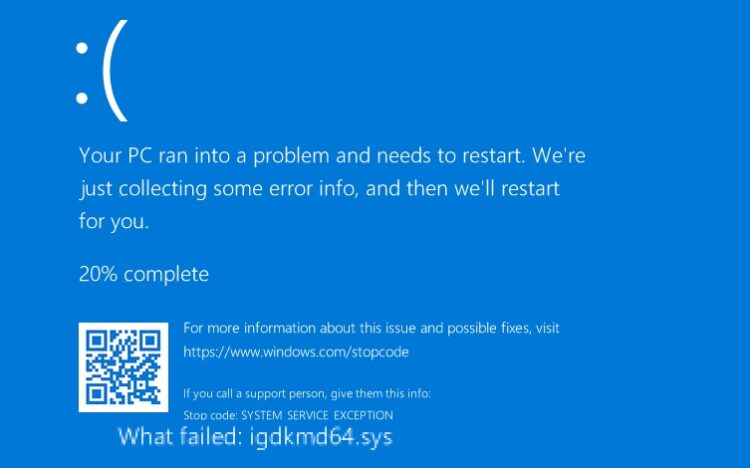 Method #1: Run SFC
When you have problems with the core files of your Windows installation like the integrated Intel graphics file: igdkmd64.sys, you can use a useful utility that will help you to verify the file and repair it automatically.
This tool is called SFC, and you can run it on Windows 10 following these steps:
Press Enter to start the process and wait until the tool repair your system
Hopefully, after this process, this blue screen of death will be fixed
Method #2: Check Disk Errors
On Windows, there is another tool that scans and fixes several problems on the hard disk automatically. If the previous tool, doesn't fix the issue, surely this one called CHKDSK will do it. You can run it following these steps:
Open the File Explorer using the keyboard shortcut

Win

+

E

In the window that opens, navigate to the Tools tab
Now, you only need to wait until your computer restarts
This time the igdkmd64.sys error will be fixed
Method #3: Roll Back Intel Graphics
On Windows, you can roll back drivers when you have issues like this one. Once you roll back the drivers, it should be working again without problems, but this method only applies when you have some previous drivers that were working fine before.
To perform this process, follow these steps on Windows 10:
Once opened, go to the section Display Adapters
Now, navigate to the Driver tab
Finally, choose an option why you are rolling back drivers, there you can mention your igdkmd64.sys issue, then click on the button YES
When finished, restart the computer
Test the computer and verify that the problem has been fixed
Method #4: Update Intel Graphics
If the previous method doesn't work to fix this issue, you can update the Intel HD graphics driver.
This only applies if you haven't updated the drivers already. Follow these steps on Windows 10:
Click here to download Intel Driver & Support Assistant
Save the file to your computer and double-click in it
Once installed, click on the button LAUNCH to start the process
A new tab will open in your default browser, and their scanning process will start
When finished, it will show you the latest driver available for your Intel HD graphics, click on Download

Run the installer and follow the wizard instructions and when the drivers are installed, restart the computer
Hopefully this time the blue screen of death will no appear
Method #5: Disable Intel Graphics
if you haven't been able to fix this issue, you can try to disable the integrated Intel graphics entirely to fix the problem once for all.
Note: This method only applies if you a discrete graphics cards installed on your computer. If you only have the integrated ones, you need to check the other ways.
Press the keys

Win

+

R

to open the Run window
Go to the Display adapters section
Rightclick on the Intel HD Graphics and select Disable Device
Restart your computer to apply the changes and check if the igdkmd64.sys error has been fixed successfully.
Method #6: Update Windows 10
This is your last resource, but hopefully, it will fix the issue. Windows 10 is always releasing new patches and bug fixes to the problem reported by the users. Right now, there are thousands of patches that you need to install on your computer to improve the performance and avoid this kind of errors. To update Windows 10, follow these steps:
Open the Start menu and click on the Settings button
In the left side menu, click on Windows Update
Once there, install all the available updates and also the optional ones
Wait for Windows to find the latest updates and install them
Restart your computer to apply the updates, and now your problem will be solved
Wrapping Up
This issue is quite annoying because it can appear when you are playing some videogame or working in some critical paper. Luckily now you have these methods that will help you to fix the problem and continue working without problems.
If you have some questions or need more help, leave a message in the comments section. Here, you have another blue screen of death errors that could help you: