We already see how to solve various errors of the operating system Windows 10, 8 or 7 about problems to connect to the Internet but today we will talk about the error: The default gateway is not available.
However today I want to show you how to solve a specific problem in which you managed to connect to a WiFi network, however, we can't connect to the internet.
This error is usually quite frustrating since it often occurs in Windows 10, 8 or 7 computers that were previously connected to that same network.
Also, this frustration can increase when the other computers or devices are connected to the same network, and they have internet access.
In many cases, this problem is usually solved temporarily turning off your router or modem for a few seconds. When you turn on your router or modem, you will see how your Windows computer will connect to your Wifi network without any problem and without displaying the Wifi icon with a yellow triangle
I want to show you step by step how to fix the error: The default gateway is not available. That prevents you from connecting to the internet and shows a yellow triangle icon next to the Windows Wi-Fi connection.
Method #1: Forget WIFI Network
The first thing we will have to do is forget the network or internet connection with which we are having this problem. This works differently in Windows 7 and Windows 10 and 8.
Forget Network in Windows 10 & Windows 8
First, open Settings pressing the keys: Winkey + I and click on Network & Internet > Wi-Fi
Look for the option Manage known networks and click on it, now find your current used Wi-Fi network, select the network and click on Forget
Forget Network in Windows 7
On windows 7 you need to do this process from the Control Panel.
So open the Control Panel, navigate to Network and Internet > Network and Sharing Center and click on Manage wireless networks
Once there you will have to find the network with which you are having problems and right-click on it so that when the contextual menu is shown, you can select the Remove Network option.
After this you can to close the Control Panel and then reconnect to the same network that was causing problems.
If this method doesn't fix your problem, continue with the next one.
Method #2: Disable Internet Protocol Version 6
To disable IPv6, you must go back to the Network and Sharing Center. Once there you will have to make a double click on your current network connection.
This will show a small window in which you will have to click on the Properties button which will open a new window where you see a series of protocols. In the list find and uncheck the protocol: Internet Protocol version 6 (TCP / IPv6).
Once unchecked, make double click on the protocol: Internet Protocol version 4 (TCP/ Pv4).
In the new window opened you must check the options: Obtain an IP address automatically, and Obtain DNS server address automatically. Before closing this window, you must click on the OK button for the changes to take effect.
Once saved the changes check if the internet connection has been fixed if this doesn't happen, go to the next method.
Method #3: Flush DNS
For this method, you will need to open the Command Prompt with administrator rights.
To do so, search in Windows the word cmd, on the options make right-click on Command Prompt, in the contextual menu select Run as Administrator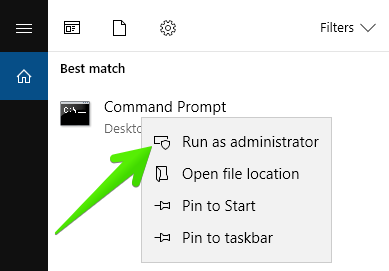 When the Command Prompt is open as an administrator, you must enter and run the following commands in the order indicated below:
ipconfig /relay
ipconfig /flushdns
ipconfig /registerdns
Once you have finished running the last command, you must close the Command Prompt and restart your computer.
Once you restart your computer, your internet connection should work correctly and stop showing the yellow triangular icon next to the connection icon.
In addition, the message will no longer be displayed: The default gateway is not available.
Let me know in the comments if some of these methods help you to fix your problem.