Fix Twitch 5000 Content Not Available: If you are a fan of video games, you surely know about Twitch or at least have found a link that points you there.
Twitch is a streaming platform focused on the gaming community where you can find users playing video games, eSports, and some other gaming events like the E3 or Sony, Xbox conferences.
although Twitch, born focused on streaming content related to the gaming community, over time, has become a place where you can stream content and earn money with that job.
That's why you can find a different kind of content of this platform available for you to watch it at any time.
Usually, you will be able to watch all the content on Twitch without problems, but some users have reported the error 5000 content not available.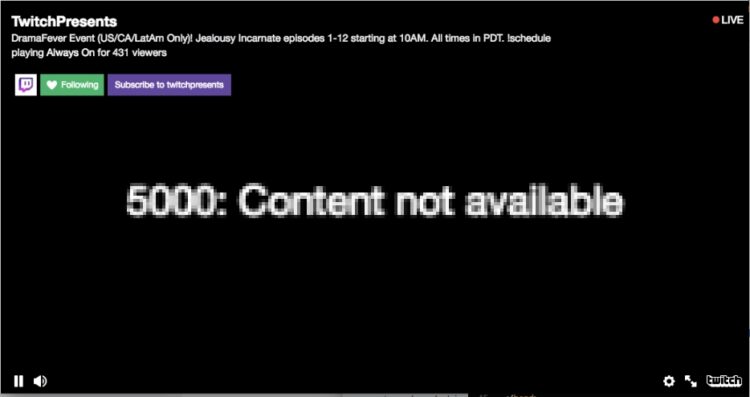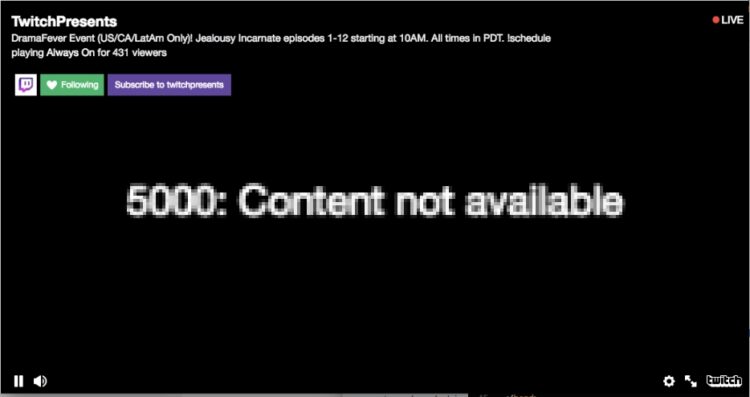 What is Twitch 5000 Content Not Available?
You may be wondering why this error appears every time you want to see some video or stream on Twitch, and the truth is that the reason isn't clear.
This error 5000 appeared when your computer wasn't able to render the video or stream correctly for some network settings or even some compatibility problems.
One of the ways to fix this issue quickly is by clearing your browsing history, but if that doesn't fix the problem, you can try other solutions that I will leave you below.
Solution 1: Clear Browsing Data
Chrome, Firefox, and some other web browsers stores some useful data on your computer to be able to provide you fast navigation. This also applies to Twitch, and maybe the reason for this 5000 error is that the cache on your computer is old and needs an update.
Usually, this update process will be automatic, and you don't need to perform any procedure, but if you want to try to update this cache manually, you can follow these steps:
On Google Chrome you can press the keyboard shortcut Ctrl + H to open the History window
There you will see a list of options on the left side, click on the that says Clear browsing data
This will open a new window where you can see some options, navigate to the Advanced tab
In the drop-down menu Time range, select the option All time
Wait until Chrome finishes the process and try once again to watch the video on Twitch to verify that "5000 content not available" error has been fixed
Solution 2: Clear DNS Cache
DNS is the servers that convert all the IP from around the world to a useful domain like twtich.tv
Usually, these DNS servers are updated within a few hours to have the updated list of the new domains and IP numbers, but sometimes this doesn't happen, and you need to perform that update manually.
That process on Windows 10 is called flushing the DNS, and you can try it following these steps:
First, open the Run dialog

Win

+

R

where you need to copy the command cmd
Now, press the keys

Ctrl

+

Shift

+

Enter

to open the Command Prompt as administrator
Windows will ask you if you want to grant the permission, there click on Yes
Hit Enter to run the command and wait until you the message about the DNS cache that has been flushed successfully
Now go back to Twitch and reload the page, surely this time the content will be available
Solution 3: Disable Extensions
Another possible reason why you see the "5000 content not available" error on Windows could be that you have installed some conflictive extensions on Google Chrome.
Extensions are useful addons that will help you to improve your navigation or even your workflow, but some of them could conflict with the Twitch servers. Therefore, you will need to disable them all to find the problematic one.
Open the Google Chrome and open the menu located at the upper right section (three dots icon)
In each extension, you will disable the switch like in the image below:

Then navigate to Twitch and try once again to see the content that wasn't available before
Now, you need to go back to the Extensions page and enable each extension one by one
Wrapping Up
I hope this tutorial helps you to fix the Twitch 5000 content not available error quickly to be able to watch your favorite content without problems.
Have you not been able to fix this issue? I recommend trying another browser. One of the most recommended besides Google Chrome is Mozilla Firefox and Opera.
Try them both to verify that the problem isn't your internet connection. If those browsers don't work, also, you need to verify your network administrator settings to check that Twitch isn't blocked.
One quick way to fix this is by using a VPN. I recommend Hotspot Shield for a fast connection.
Here you have some other Twitch articles that may help you: