Do you like to use Procreate on Windows to draw all kinds of awesome stuff? Well, check this list of the best Procreate alternatives for Windows and Android.
Procreate is the perfect tool for drawers and graphic artists. You can draw amazing tools thanks to this app that lets you load pincels, colors, textures, etc.
You can create a quick draw or even create a fantastic piece of art. One of the best features of Procreate is that it lets you undo up to 100 steps.
To be able to use this drawing application, you need to iOS or Mac device, but if you don't have an iOS device, you can try these Procreate alternatives for Windows and Android.
1. Krita
Speedpainting Timelapse, Krita 2.8
Krita is one of the best Procreate alternatives for Windows, Linux, and Mac.
Krita is a digital painting app that can be used in the primary operating systems of the market (GNU / Linux, Windows, Mac OSX). The application is free, and the source code is available to any user who wants to study it. The best way to know what this digital painting application can do is to see the work of some artists who use it as David Revoy.
What do you need to use Krita? The first thing is to have a computer, an operating system, and the app itself. Although it is possible to use it with the mouse, it is advisable to use a drawing tablet. Undoubtedly one of the best Procreate alternatives for Windows
2. Paint Tool SAI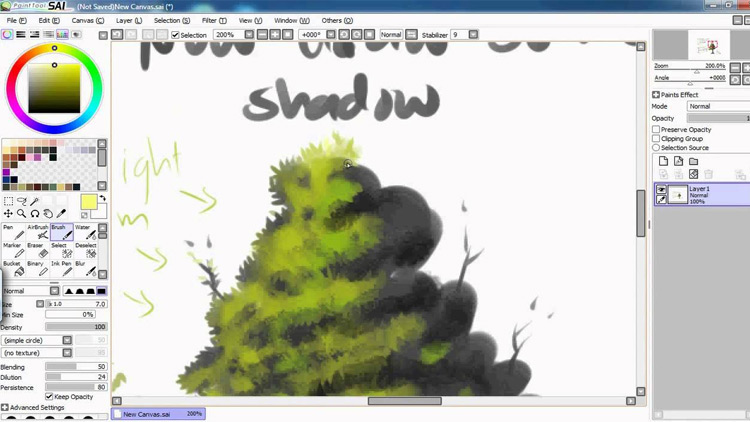 Paint Tool SAI is a lightweight digital drawing software that has become popular among artists thanks to its simplicity and wide range of tools. This Procreate alternative for Windows was developed for Japanese developers and certainly is for manga that these useful tools are used.
Paint Tool SAI is useful for beginners and for people who want to learn more about the potential of digital drawing software. You will need to learn more about all its panels and tools, how to modify tools to suit your needs, and some tricks. Download the app and start drawing.
3. ArtRage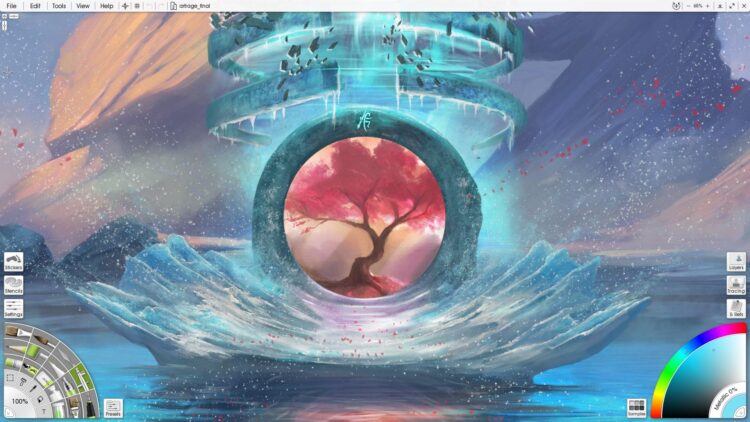 ArtRage is a digital art platform that offers the artist the possibility of working with any of the different techniques and materials that it has. In a digital easel, the user can become an expressionist, an illustrator, or draftsman or a perfecter of their technology. This Procreate alternative for Windows is ideal for digital artists, teachers, and those who start in the art.
The ArtRage interface is designed to work as a real painter and sketcher, only now the brush is changed by the mouse and the paintings by the tools. On the screen appear the range of tools and colors that the artist can select to create specific textured frames.
As if working on a real canvas, the artist can mix colors in the same work, make details as if working with a pencil, use a spatula to capture pigments, or fix reference images to reproduce a work. The digital benefits are high because of the possibility of using layers that allow for sectioning the piece and working each of its parts separately. Similarly, it is possible to manipulate the image through filling colors, cloning textures, close-ups for detail, color correction, among others.
4. Corel Painter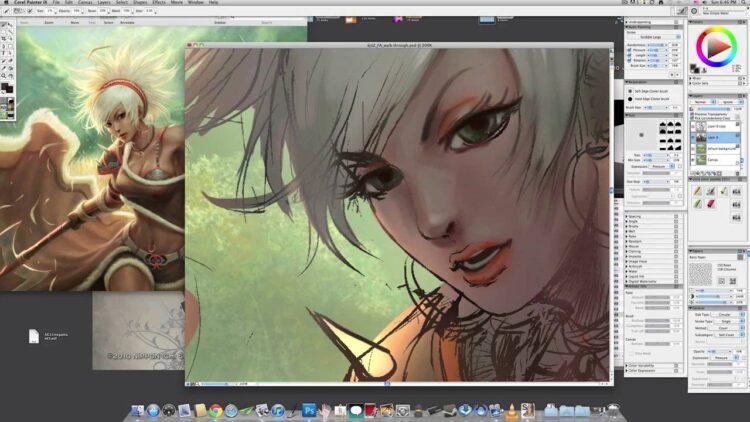 Corel Painter 12 is available for PC and Mac and is one of the best professional digital art apps on the market.
It is recognized worldwide for its realistic RealBristle paint system and its range of practical digital art tools that reproduce the look and feel of traditional canvas painting.
Explore hundreds of brushes and dozens of paper textures, watercolors, paintings, oils, and much more. Imports multilayer files thanks to supporting for PSD files. And customize everything, from the workspace to the brushes and color palettes. Undoubtedly another of the best Procreate alternatives for Windows.
5. Adobe Illustrator Draw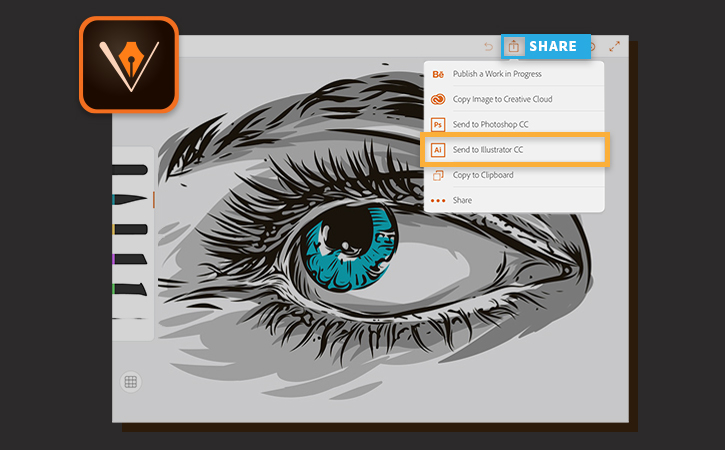 Despite not being the most popular apps of Adobe, this Illustrator Draw is an attractive Procreate alternative for Android, with the peculiarity of being explicitly focused on the simulation of pen drawing. As often happens with Adobe apps, you can get even more out of it, if you combine them with others, taking advantage of the Creative Cloud functions (we can import creations, for example from Capture and export those that we make here to Illustrator or Photoshop for work with them as layers).
6. Tayasui Sketches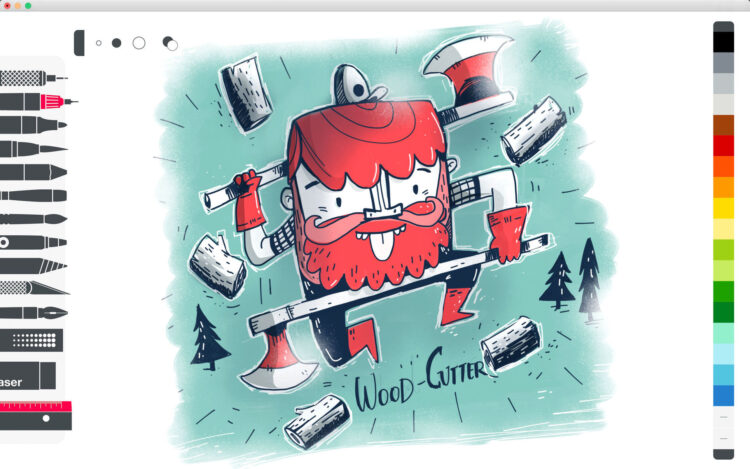 Before moving on to the most Powerful drawing apps for Android, I leave you one more recommendation, aimed at those looking for a simple and easy to use, to test their skills with pencil, ink, or watercolors without too many complications. Tayasui Sketches is an app that has become popular in the App Store, but you can also find Android, and although there are a few in-app purchases, with the essential tools, you will have more if you are not too demanding.
7. Artflow
You can have a much more complete version of Artflow paying, but for the average user, the free version will probably be more than enough for what variety of brushes, layers, and others. What makes it stand out from the others, in any case, is an accelerated graphics processing engine that gives more fluidity to the process and allows us to take full advantage of both the Shield Tablet stylus from Nvidia and the S-Pen from Samsung. One of the best Procreate alternatives for Android.
8. Clover Paint
This drawing app is for users that are willing to pay for having all the functions. There is also a free version (Clover Memo LITE) to which you can take a look first, and you must be aware that, due to its complexity, it may take a bit to learn to manage it. Yes, once you have achieved it, few apps you will find that put so many tools and customization options at our disposal.
https://github.com/Jays2Kings/DS4Windows/releases
9. Autodesk Sketchbook
The popular Autodesk digital illustration software is now completely free. For a few days now, you can download this drawing software for Windows 10 and macOS without having to pay for a subscription to enjoy all its features.
The only thing you need to download the program from the official website, from the Microsoft Store, or the Mac App Store and log in with your Autodesk account if you do not have one, you can create it quickly and for free.
Sketchbook is a tool mainly focused on the digital drawing that maximizes the space to draw on devices. The version for Windows 10 is optimized, especially to work with touch screens and so that you can use both the pen and fingers.
This Procreate alternative for Windows has more than 190 brushes, including several with textures. You can create unlimited layers and work with canvases of up to 100 megapixels. It has filler tools, guide tools to create lines, stroke stabilizer, and more.
It supports JPG, PNG, BMP, TIFF, and PSD formats. PSDs always keep all their layers with names, groups, and combination modalities to import and export to other programs.
There are also mobile versions for Android and iOS whose interface is almost equal to that of the desktop versions, and everything works with your same Autodesk account.
10. Adobe Photoshop Sketch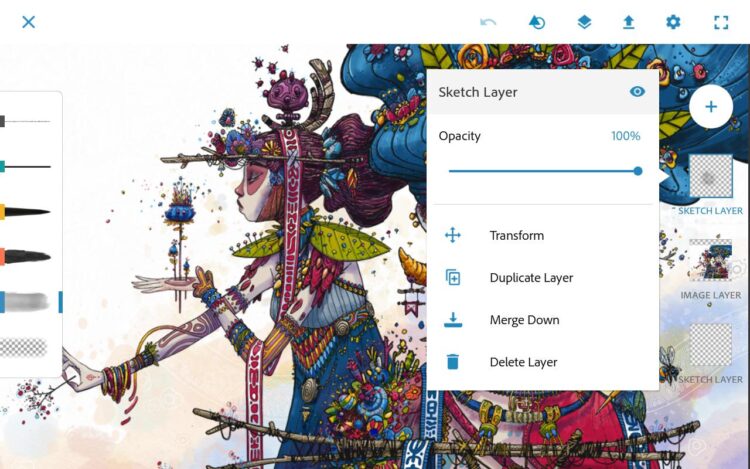 Digital drawing enthusiasts no longer need to acquire other drawing tools. You only need your Android or iOS tablet and the Adobe Photoshop Sketch app to achieve almost professional results.
Adobe Photoshop Sketch is a Procreate alternative for Android that allows you to work in layers, use all kinds of brushes and colors and rely on the rest of Adobe tools to send the work and finish it on your computer.
This is a complete drawing tool for portable devices, mainly for tablets. It has all kinds of brushes to achieve realistic strokes and to create designs of all styles: pencils, pens, markers, erasers, thick acrylic, ink brush, soft pastel, and diluted color.
So far, the list of the best Procreate Alternatives for Windows and Android.
Do you have another Procreate alternative in mind? Let me know in the comments section to add it to the list.