Do you need to port forward on your router easily? Well, check this list of the best free port forwarding software for Windows.
Port forwarding is a concept that you have undoubtedly heard many times. When trying to play online mode of a game from your console or PC, when making video calls with Skype, or when configuring torrent download clients.
Many of the connection problems you may encounter when trying to use a program that requiresdata excange with an external server are directly related to the correct configuration of the router ports.
But what does it mean to open a port on your router and why is it necessary to do so?
In principle, understanding what the router ports are and why it is so vital to configure them correctly can seem very technical and confusing, but in reality, it is something as simple as opening the door to let the information flow smoothly, or keep it closed so he does not.
To this mess, besides, you must add the fact that each router uses a different user interface, with its configuration options and with different ways to open the ports of the router, something that doesn't help at all to the most inexperienced users achieves.
So for that, I will show you some of the best free port forwarding software for Windows.
1. Simple Port Forwarding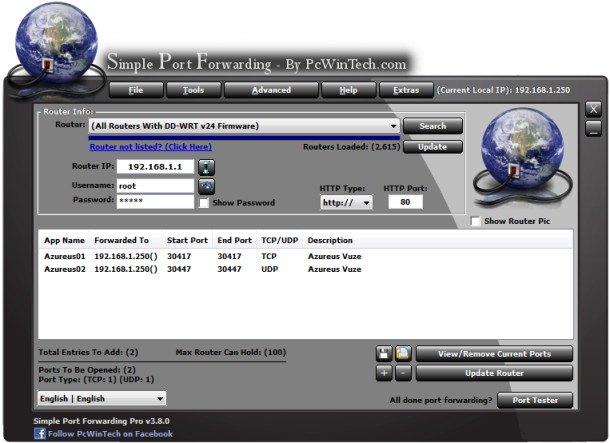 Simple Port Forwarding is a free port forwarding software, developed by PCWintech designed especially for the management of ports on the router. The main feature of the program is that you will not have to access the router's web interface to open ports since you will do it easily from Windows.
Currently, Simple Port Forwarding supports more than 2,500 routers and is available in over 50 languages.
The program can detect the router's IP, and if necessary, convert your network address into a static one. You can also change the DNS servers by default. The only requirement to use the program is to have Internet Explorer 6 or a higher version.
http://www.simpleportforwarding.com/
Simple Port Forwarding, is available for Windows 2000, 2003, 2008, XP, Vista, 7, 8 and 10, in their 32 and 64-bit versions.
You can download Simple Port Forwarding in its most recent version, as well as download a portable version of the program.
2. PortMapper

If you have mounted a Web server or an FTP server (to give some examples) in your house, evidently on some occasion you have needed an application like the one here.
PortMapper is a free port forwarding software that allows you forward any port to any IP address, so you can redirect from your computer that port 21, for example, go to another machine on the network, making your computer a kind of "proxy" of ports.
http://www.analogx.com/files/pmapperi.exe
Its operation is effortless, and you merely indicate the port that you want PortMapper to monitor, choose between TCP or UDP connections (TCP is typically used), select the interface to use and finally enter the destination, which can be either an IP address or a full URL.
Another exciting feature is that it allows you to block access from specific IP addresses, something useful if you have an FTP server and you want to prevent certain users.
PortMapper is entirely free and works in any version of Windows (the author ensures that from Window 95 to Windows 7).
3. AUTAPF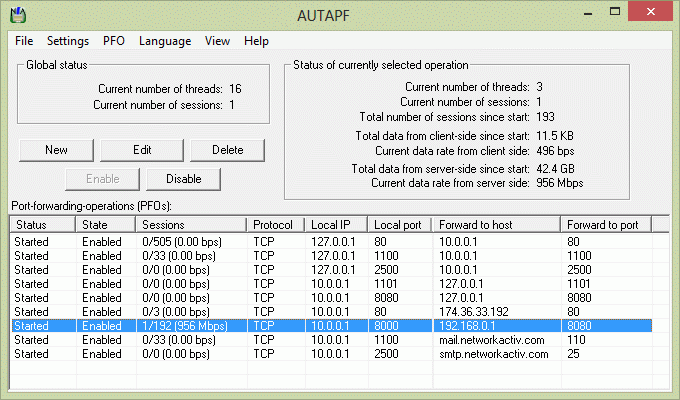 AUTAPF is one of the best free port forwarding software for Windows. Both UDP and TCP ports are compatible. The program can be managed both locally through a graphical user interface, and remotely through a Web browser. The network interfaces are continuously monitored so that the ports remain accessible whenever possible. Many ports can be run simultaneously.
The current data transfer rate for each port is displayed. Connection events can be recorded in a text file. Transferred data can be saved in individual files.
It supports real-time IP filtering that can be changed through an external script while the program is running. Besides, static IP filters can be created within the program.
https://www.networkactiv.com/AUTAPF.html
The software can be hidden in the system tray. UDP data can be divided into multiple addresses if desired. Interfaces can be linked through the MAC address. Installation is optional, and the program can be pre-configured in advance – even through a script. IPv6 is fully compatible. A 64-bit version is available for extended performance.
4. UPnP PortMapper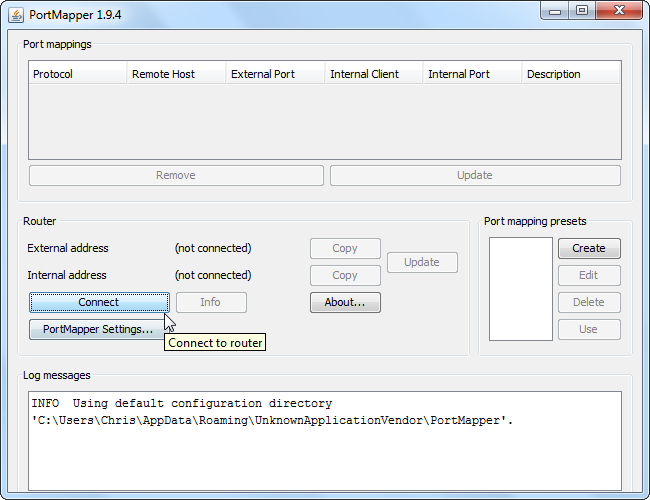 This small free port forwarding software allows you to monitor and modify ports mapped dynamically in our router. This, therefore, also will enable you to add static routes in the NAT of the router.
To use this app you have to have java routines installed on your computer, by the very nature of this language you can use it on multiple platforms such as Windows, macOS or Linux.
https://sourceforge.net/projects/upnp-portmapper/
It is a .jar file so you will have to execute it with java. You can make the system open this type of files by default with Java or simply using the "open with" dialog with the right mouse button.
By default, when executed, the program opens its graphical interface, although the most expert users will also find console commands for their automated scripts or executions.
The interface is simple. An area where you can see the ports mapped, manually or dynamically, a connection panel and another to create port profiles that we can execute, edit or delete at any time. The program will use your network configuration to locate our gateway, and, therefore, our Internet gateway. Not all routers are compatible, and in some compatible models, you will have to enable this compatibility. When the router restarts, it loses any UPnP configuration that you have made.
The configuration creation interface allows you to add multiple ports at once, as long as they go to the same local IP as a destination, in the form of individual ports or port ranges.
Once made the modifications in your profile or configuration you have to click on "use" for the changes to apply.
5. PFConfig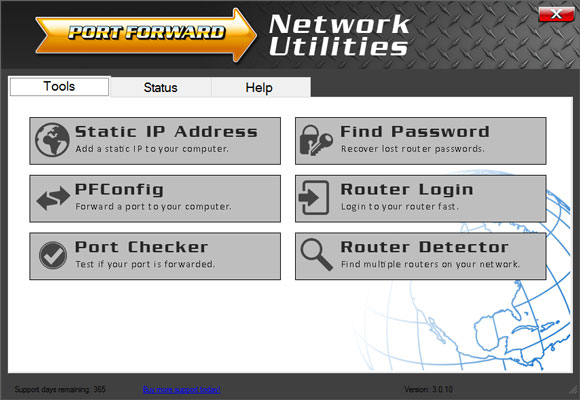 With the rise of computers and the internet, routers are now a daily thing and are in any home. Unfortunately, they aren't easy to configure; the typical situation is that they can share the internet but have most of the ports closed or misdirected. Then you have to go to the web to ask in forums and start exploring, and most of the time it ends up ruining the router configuration.
PFConfig is a port forwarding software with you will never have that problem again, now you won't even need to access the router configuration to port forward.
With PFConfig opening the ports on a router are as simple as selecting the app and telling which port you want to use, you will no longer need to read manuals from your router or experiment with what you find on the web.
Download the app, install it, and configure as you want and go! , you don't even need to log in to your router! If you could never connect to play counter strike online or download files from the ports that you want.
https://portforward.com/store/pfconfig.cgi
Wrapping Up: Port Forwarding Software
So far those were the best port forwarding software for Windows that you can use to forward ports easily on your router.
Do you use other software? Let me know in the comments section.