Do you want to download the NVIDIA High Definition Audio Drivers? Well, on this post, I will leave a tutorial and direct download links.
NVIDIA High Definition Audio is well known as the HD audio driver. This driver was developed by NVIDIA to support the new HDMI connection from the latest graphics cards.
If you want to install or update this driver on your Windows, below, I will leave a few tutorials and also direct download links that you can install easily on your PC.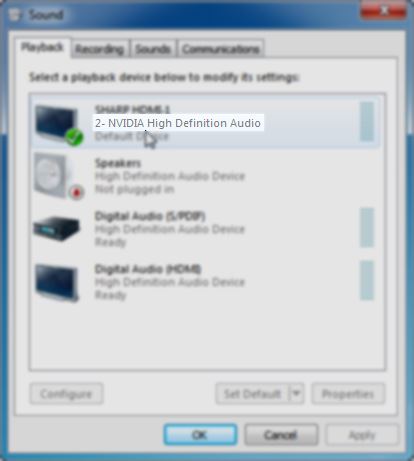 Update NVIDIA HD Drivers
If you are here because you want to update these drivers, you have several options to do it. Below I will show you how to do it using Windows Update and also with third-party software.
Windows Update
You may use Windows Update to update your system periodically. This utility helps you to install the latest bug fixes and patches that improve your system stability.
Some people don't know this, but you can also use Windows Update to update your devices like GPU, webcams, headphones, etc. To update the NVIDIA HD audio drivers follow these steps:
Open the Windows Settings from the Start Menu or use the keyboard shortcut

Win

+

I

Click on the Windows Update, located in the left side menu
Driver Booster
There are also exist several third-party tools that let you update your drivers downloading the very last version available. Therefore you can try to use Driver Booster to update or install the driver.
Download Driver Booster from here.
Once download, open the file to install it on your computer
Driver Booster will scan your computer and all your devices when the process finishes, and you will see the list of all the drivers that you can install
Wait for the tool to finish the updating process and then restart your computer to enable the NVIDIA HD Audio drivers
Download NVIDIA HD Audio drivers from NVIDIA
If the tools above don't install or update the NVIDIA High Definition Audio Drivers, you can download it from the NVidia website.
https://www.nvidia.com/Download/index.aspx
Open your favorite browser and navigate to the following address: NVIDIA Drivers
This driver would have a large size when it finished run it
Follow the wizard installation and make sure to select Custom installation and check the box HD Audio Driver

Then, restart your computer to enable the driver
Direct Download Links
If you don't want to download the full drivers of your graphics card, below, I will leave you a direct download link for the audio driver:
[download id="9110″]
Once you download the file, unzip it and run the NvAddOnInstaller file to start the installation process.