Do you want to install Office 2016? I will leave you direct download links to Office 2016 ISO/IMG Home, Student, Business, Standard, Professional.
On September 22, 2015, Office 2016 was released, the latest version of the world's most widely used suite of office apps. This version will allow millions of people, among other things, to improve their productivity by focusing on collaboration in the cloud.
Microsoft has been trying to change the direction of Office for several years, focusing its applications mainly on mobile, with the desktop as an extension. It is a necessary change: it is estimated that there are about 2,600 million smartphones in the world, a number that will grow to 6,100 million in 2020. The company in Redmond seeks clients for Office wherever they are.
In a world where tablets have taken center stage in companies and the mobile starts to be powerful enough to work with, Office has focused on mobile platforms such as iOS, Android, and the next Windows 10 for mobile.
Microsoft Office 2016 Features
With the arrival of Office 2016 to Windows, its apps are presented for the first time as companions of Office 365, its subscription service comprising all desktop applications (Mac and Windows), mobile (Android, iOS, and Windows 10) and web.
This version includes some new features that improve your workflow and give you powerful tools for creating your documents. Some of the best Office 2016 features are:
New Similar Design on All Platforms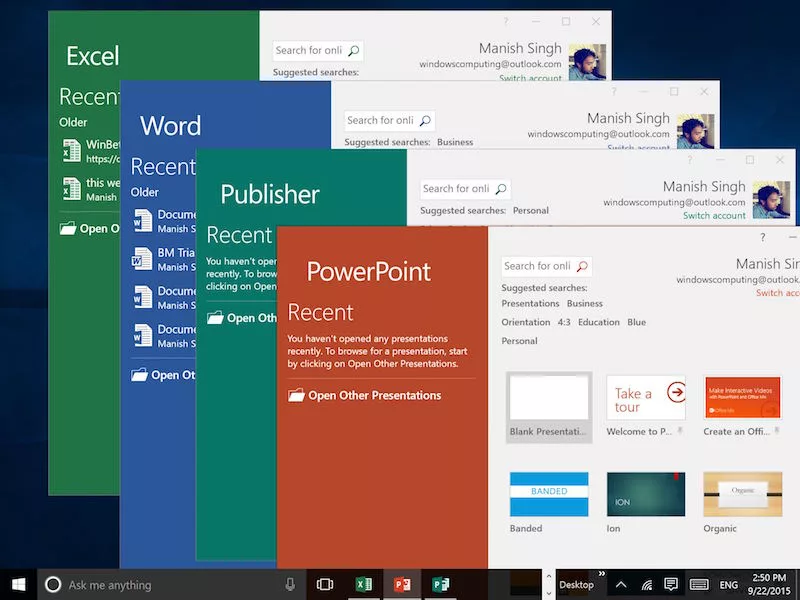 Microsoft renews the visual aspect of all applications. It is a new design that changes some aspects of the upper part of the programs, and that is standardized between the versions of Windows, OS X, iPhone, iPad, or Android.
The apps are easily recognizable by their colors. Microsoft says that this change seeks to create a unique user experience between devices, regardless of the size of the screen or operating system in which it operates.
Document Editing in Real-Time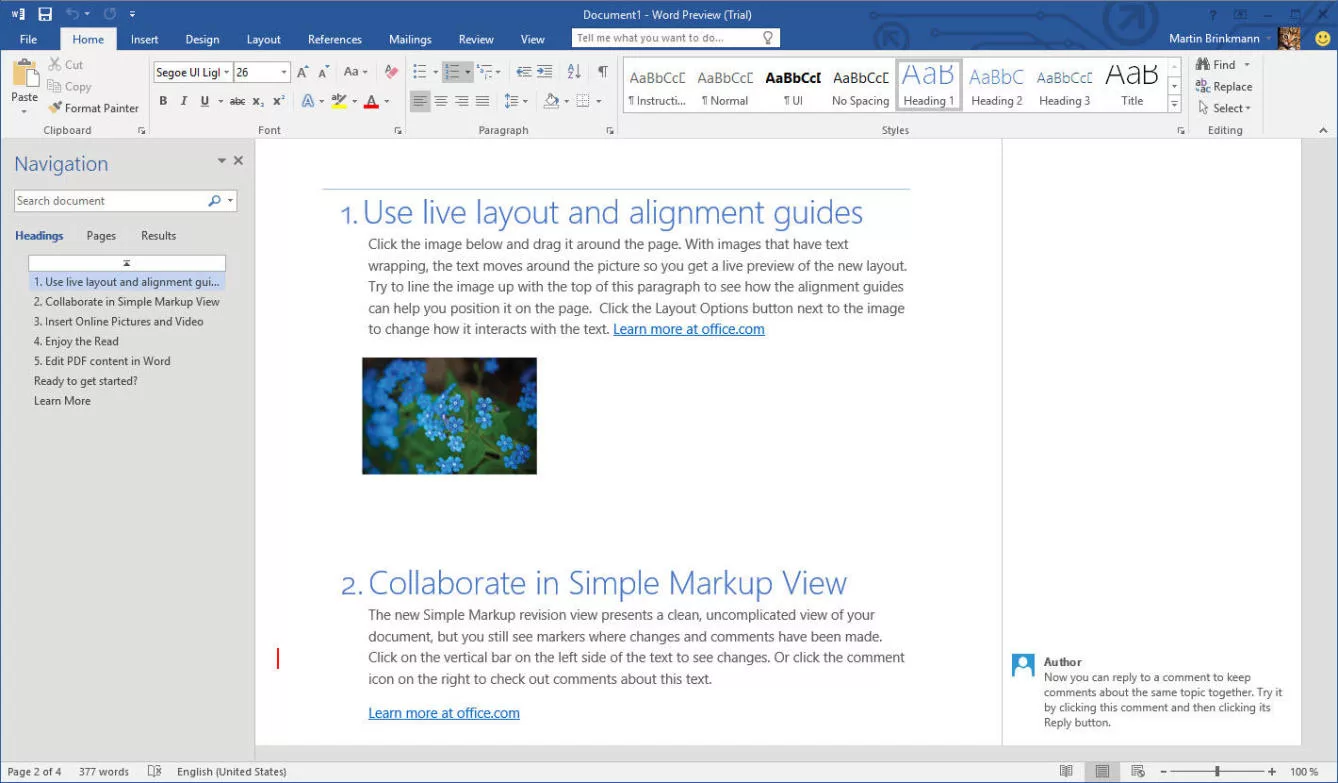 Google Docs allows collaboration and editing among several users for some time. Now you can edit a document in real-time with another person, using Office 365 for both consumers and companies.
It does not matter if the other person is using, for example, Word on your Windows PC, in the web version, or on your iPad. The joint edition keeps all the documents synchronized while several users work at the same time.
Excel Powerful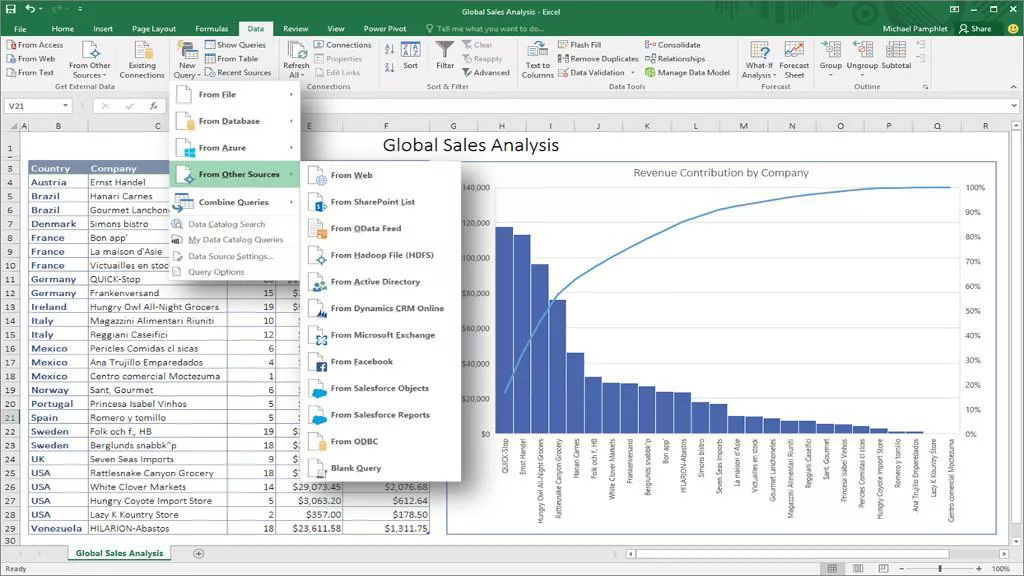 It is one of the essential apps of Office, in which many businesses base their work, and that allows to create formulas, add macros, or work with databases. The new Excel 2016 is more powerful for those who handle large files. According to Microsoft has faster data analysis and improvements in its operation.
It also adds new ways of viewing statistics, with histograms, Pareto diagrams, and cash flow diagrams.
Comments in PowerPoint and Word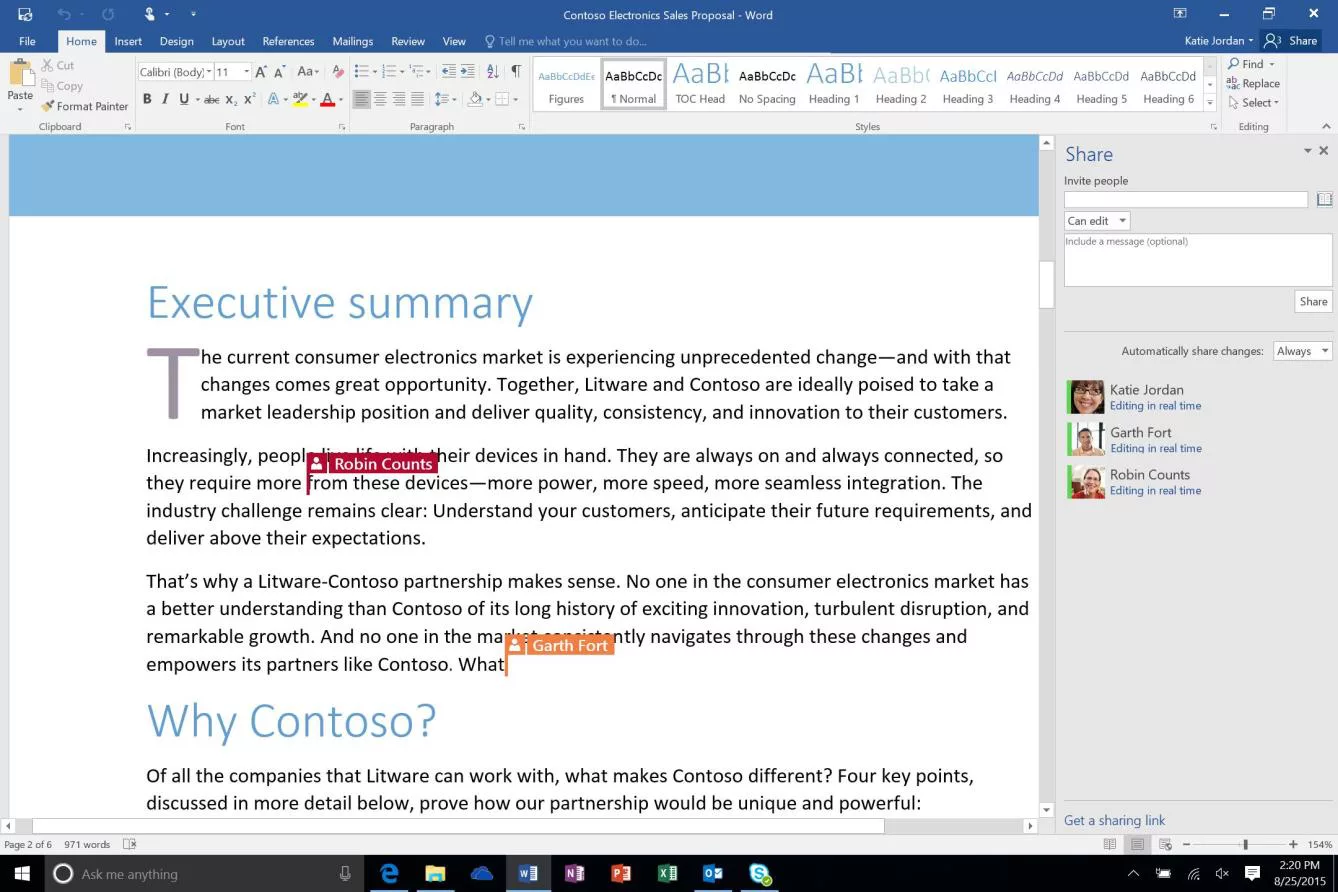 Word and PowerPoint allow you to add small annotations in the form of comments. The new version can be seen in real-time thanks to the collaboration that manages this new version, but also chains can organize these comments.
A user can leave several comments in one part of the document, and another response to specific comments in the form of a string. This will allow having conversations organized within the documents between several people.
Note: Remember that if you want to download Office 2016 ISO, continue to the end of this post.
Outlook Improves Attachment and Contacts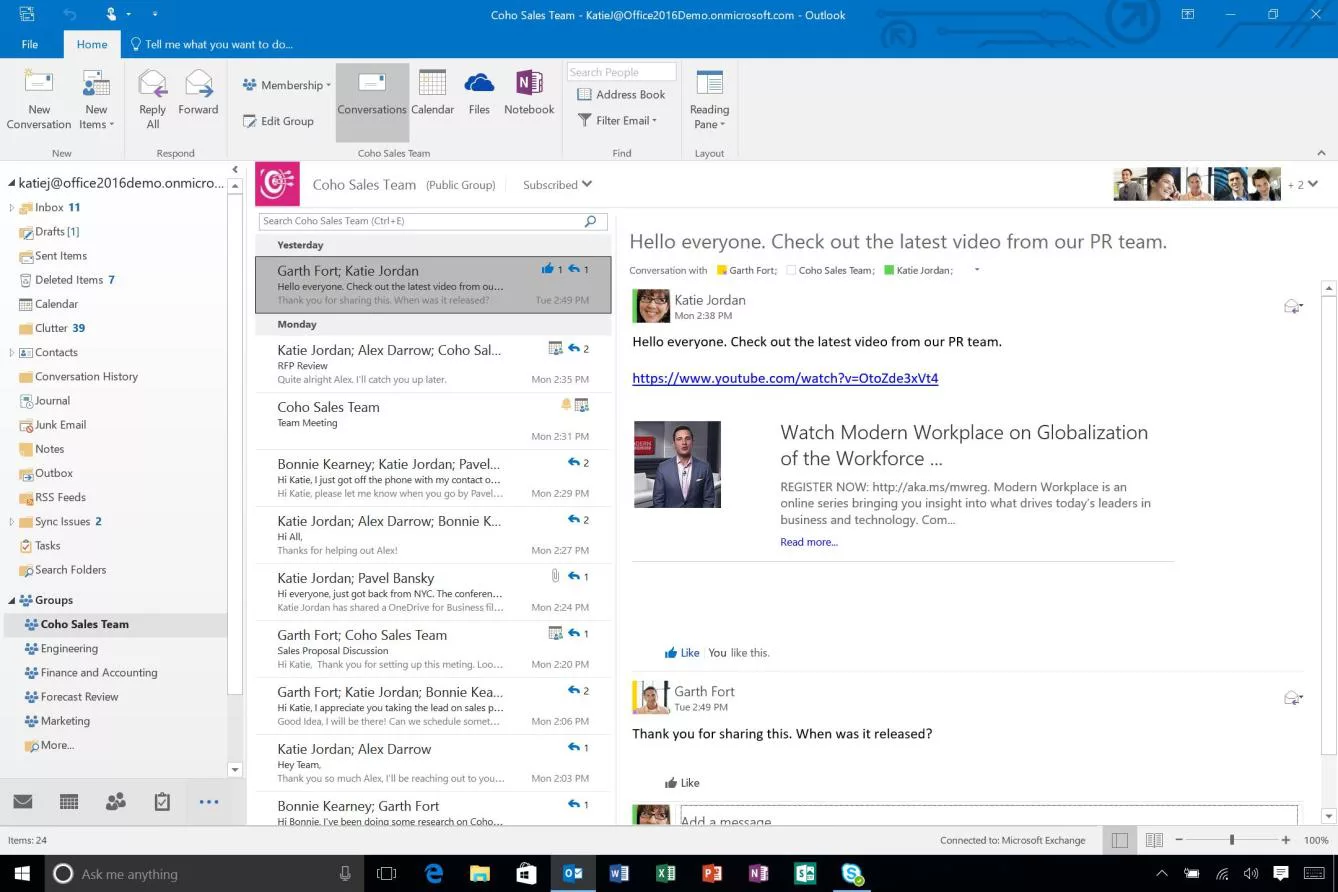 The email and calendar app improves some even repetitive functions. Now the documents used or recently opened are in a drop-down menu of the action bar, saving time when attaching files.
This version also improves the email search engine. When you start typing the name of a contact, it automatically shows the contacts you frequently write, understanding that it is the person you are looking for.
Connected Apps in Office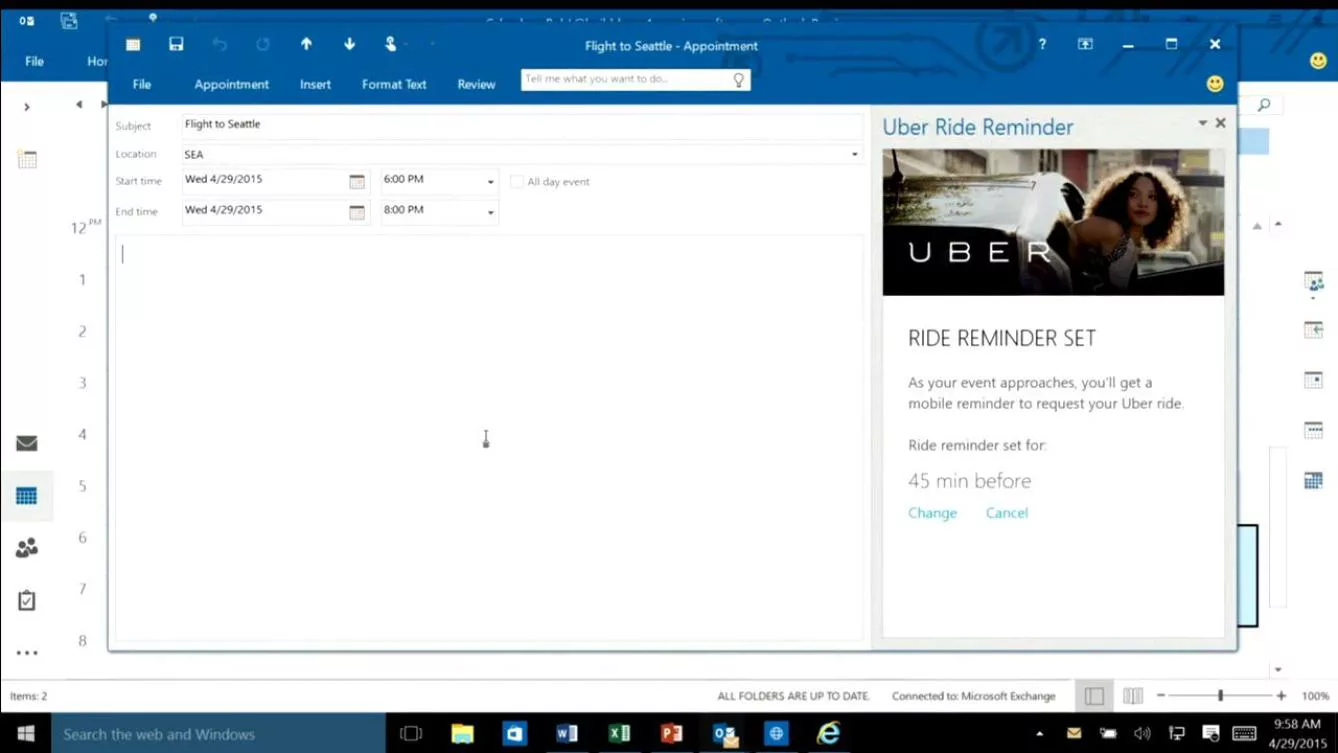 The Office programs have a new development kit that will allow programmers to create applications connected to Outlook, Word, PowerPoint, or Excel.
The new function is called Social Connector, and although it is a legacy of the plug-ins, they are now compatible with other platforms besides Windows.
For example, the popular Uber transport service will have an app that will identify meetings outside your workplace and will reserve a car for your collection, including information on the route that you can see in its official application.
Another plug-in, this time from LinkedIn, can automatically identify people included in a conversation or with whom you will meet at a calendar appointment. Another example is the integration of the Bing image search engine in PowerPoint, which will allow you to drag and drop images to put them on your slides.
Skype for Companies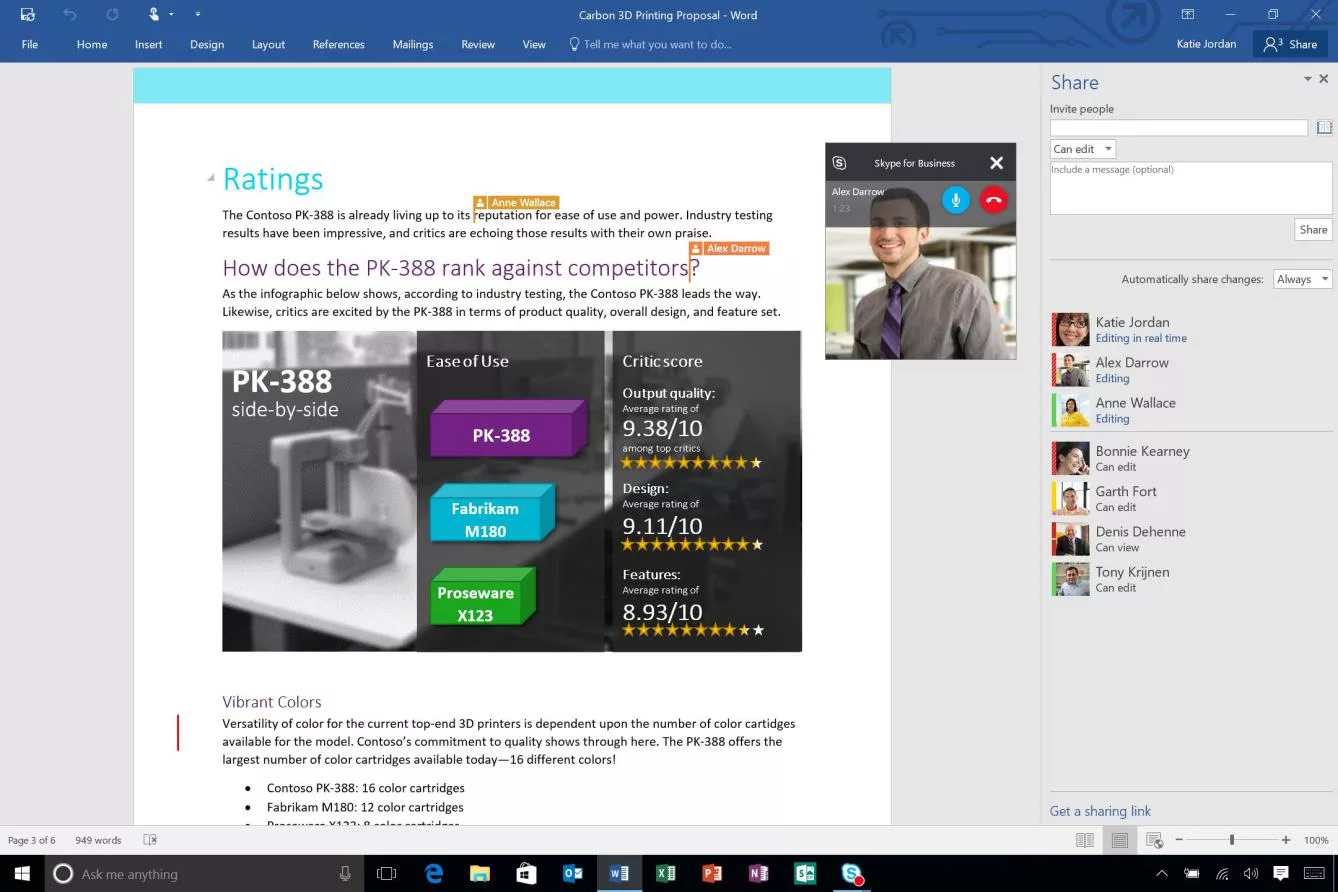 Companies are the big consumers of Office, and Microsoft needs to be updated, it is one of its most important sources of growth and profitability.
For companies that base their productivity on Office, Microsoft Lync, the chat application between employees, becomes Skype for Business. This app puts up to 250 people in contact at the same time, with the integration of applications and with greater security control — everything to keep the natural user of Office happy.
Download Office 2016 ISO/IMG
On the following table, I will leave direct download links to the Office 2016 ISO of the version that you like.
https://support.office.com/en-us/article/Use-the-Office-2016-offline-installer-f0a85fe7-118f-41cb-a791-d59cef96ad1c?ui=en-US&rs=en-US&ad=US
Wrapping Up
Office 2016 is an impressive office suite that will help you to improve your work and study. Now you can download this excellent software using the links above and install it easily on your PC.
Must Read: Download Microsoft Office 365 ISO/IMG [Direct Download Links]