Do you want to use Snapchat on Bluestacks, but the app is not working on this popular emulator? In this post, I will show you some ways to fix this issue.
Snapchat is one of the most popular social networks for young audiences and some time ago become a massive sensation when they released the feature stories.
Right now almost all social networks have that features and also some effects, but the uniqueness of Snapchat makes it one of the best to share your videos.
If you are managing a Snapchat account and need a better performance, maybe you have installed the Bluestacks emulator on your computer. Usually, the app should be working without problems.
Although some users have reported that they have problems login into their accounts or even to open the app, if you are one of those users, you can try to follow these steps to fix Snaptchat, not working on Bluestacks.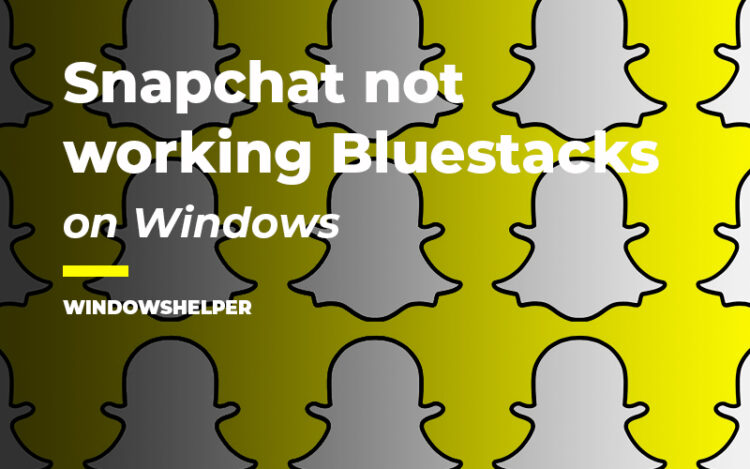 Solution 1: Clear App Cache
This solution applies when you have installed Snapchat sometime ago and was working without problems. When you have issues on these cases, you can try to clear the app cache to fix the issue following these steps:
On Bluestacks, you need to open the Settings app.
Once there, navigate to the Apps section and find the app Snapchat
In the App details, you should see a button that says Clear Data. Click on it and then close the Settings app

Now you can try to open Snapchat and log in again into your account to verify that the problem has been fixed
Solution 2: Install Snapchat APK
Haven't you been able to run Snapchat on Bluestacks using the app from Google Play Store? You can try to use an install a direct APK on the emulator following these steps:
First, you need to open your web browser and navigate to the Snapchat APKMirror page to download the latest version.
Once downloaded, run Bluestacks and click on the three dots button located next to the Installed apps line. In the menu that opens click on Install APK

Now you need to find the folder where you have saved the APK file and click on Open
Wait until Bluestacks install Snapchat on your virtual system and open it to verify that now is working correctly.
https://www.apkmirror.com/apk/snap-inc/snapchat/
Solution 3: Join Snapchat Beta
Some Reddit users reported a way to fix the Snapchat problems in Bluestack, joining the beta program. To perform this process, you will need to have download and install Snapchat on your smartphone.
Go to your smartphone and open Snapchat
On the Settings menu, move down and click on the option Join Snapchat Beta under the section Advanced
Now you can launch Bluestacks and try once again to login into your Snapchat account
Solution 4: Update Bluestacks
Another quick way to fix this issue is by updating the latest version of Bluestacks. Snapchat is aware of the android emulator and is making efforts to avoid the users to run the app from there.
Bluestacks also make efforts, and in every update is releasing new bugfixes that help you to run Snapchat on the emulator without problems.
To update Bluestacks follow these steps:
First, launch the Bluestacks emulator and click on the menu located at the upper right, there choose the option Settings
Now on the right, click on the button Check for updates and when Bluestacks show you the latest version, click on Install
Solution 5: Reinstall Bluestacks
If you continue without being able to run Snapchat on Bluestacks, maybe there is some problem with your installation. To fix any compatibility problem, you can try to reinstall the software like this:
First, you need to open the Run dialog with the keys

Win

+

R

. There copy the command appwiz.cpl and hit Enter
You will be opening the Programs and Features utility, there located the program Bluestacks App Player

Click on the button Uninstall at the upper menu and follow the wizard instructions to remove the emulator from your computer

Restart your computer and open your favorite web browser to download the latest version from here.
Hopefully, when you reinstall Blustacks, Snapchat will start working again without errors.
Wrapping Up
Thanks to these tips and solutions, you will be able to run Snapchat on Bluestacks and be able to share stories from your desktop.
If you have a question, leave it in the comments section below. Here you have some other Bluestaks related articles that may interest you: