Recently you the notification sounds from Discord are not working properly? That problem is quite usual, and on this post, I will show you how to fix it.
Discord has become one of the most popular social networks for gamers. There you can create channels to talk with your team but also can use it as a community to talk about any topic.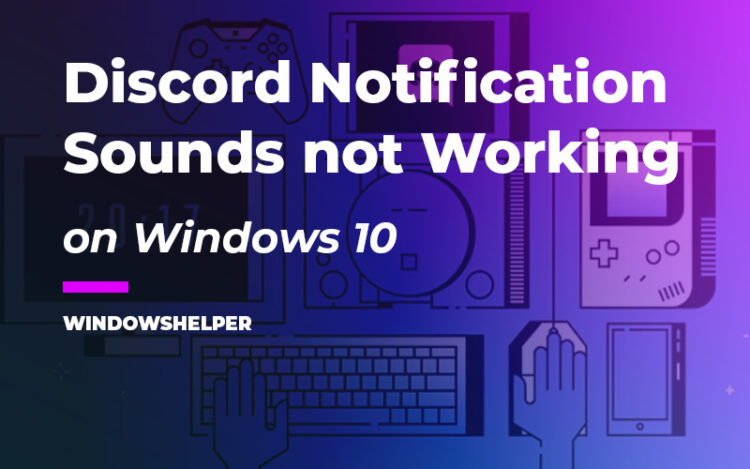 How to Fix Discord Notifications Sounds
Discord, like some other programs like Skype or TeamSpeak, has some notification sounds that will notify you about new messages. On this program, you have some different sounds that will inform you about Streaming starting or stopping and also incoming rings, etc.
These notification sounds are useful and in some cases, necessary to be able to stay alert on your channels. Still, some users have been experiencing problems when these notifications sound are not working correctly.
Some users reported that they can't hear the notification sounds from Discord and that why on this tutorial, you will learn some of the best troubleshooting tips to fix this issue.
Solution 1: Change Output Device
This problem appears more often when you have connected several speakers or headphones to your computer. Sometimes Discord only takes into account the first output device that you connect. Therefore that could be the reason why you can't hear the notification sounds.
An easy way to fix this problem is by changing your output device on Discord following these easy steps:
First, you need to launch the Discord program
Once there, on the left side menu, click on the section Voice & Video. Now, on the right side, open the drop-down menu Output Device and there choose your speakers or headphones

Now, close the User Settings with the Esc button and check if the notifications sounds are working
Solution 2: Disable Streamer Mode
Discord has a feature called Streamer Mode that could mute your notification sounds.
Streamer Mode is a feature or mode in Discord that helps you to hide your personal information while you are streaming or recording gameplay. This mode will mute all the sounds and notifications, anonymize your email and other personal information and hide your invite links while it is enabled.
If you have never heard about this feature and you don't enable it, maybe it activates itself because you have installed and run the programs OBS or XSplit. Therefore a way to fix the notifications sounds not working is to disable this mode following these steps:
Launch the Discord client and login into your account
Now there, on the left side, scroll down and open the section Streamer Mode
Solution 3: Change Server Settings
If you haven't been able to fix the notification sounds with the previous solutions, maybe the problem is that you have muted the notifications on the server settings.
Each server has some unique settings that you can change according to your preferences. Therefore an easy way to fix this is to change the server settings of the server where the notification sounds are not working.
Once again you need to open Discord and login into your account
Now, on the left side menu, find the server that has the problem and right-click in it. In the menu that opens click on Notifications Settings

In this window that opens, you need to disable the switch Mute [server_name] and check the option All Messages under the section Server Notification Settings


When you finish, click on Done and verify if the notification sounds problem has been solved
Solution 4: Reinstall Discord
Well, all the problems that cant be fixed regularly come to this ultimate solution, reinstalling the program.
Maybe there was something wrong with your installation, or perhaps some virus or data corruption is conflicting with Discord, and that's the reason why you can't hear the notification sounds.
Therefore the last tip that will help you to fix this problem quickly is reinstalling Discord. You can do that from the Control Panel, like this:
First, you need to open the Run window with the keyboard shortcut

Win

+

R

. In the text box, copy the command control and hit Enter
Once you opened the Control Panel, navigate to the Programs section and there click on Programs and Features
Click on the button Uninstall and follow the wizard until you finally remove Discord from your computer and restart the PC.
After that process, you can visit Discord website, and from there, download the latest version and install it as usual.
Final Thoughts
The Notification Sounds are essential for any Discord user because it will notify about some things or alert you in some cases about messages. But when those notifications are not working correctly, you will be unable to stay up to date with your Discord server. Luckily with the solutions above, you should be able to fix this issue by your self quickly.
If you need more help with Discord, here you have some other articles that may help you: