Google Chrome is positioned as one of the most popular browsers worldwide for its versatility, simplicity, and undoubtedly, the ability to synchronize between devices.
This is something practical and useful that allows as Google Chrome users everything you do, whether on PC or mobile devices, be synchronized.
But currently, there are certain sync errors in Google Chrome, which include:
Bookmarks Sync Errors
Passwords, Bookmarks, Extensions Sync Not Working
This is an annoying issue, so today you will see how to fix this errors with simple methods.
Method #1: Disable Antivurs
Your Antivirus helps you to keep safe in a world full of attacks & threats of any type.
Sometimes this friend can interfere with the Sync process in Google Chrome. One thing that you can do is disable your Antivirus temporarily to see if this is the problem.
To disable Windows Defender in Windows 10:
Click on Windows Defender Security Center icon

Go to the Virus & threat protection section and there click on Virus & threat protection settings
To disable Windows Defender, click on the switch in Real-time protection

Now, check if Sync now works.
Method #2: Verify your Google Password
Google Chrome requires the login to each device to carry out correctly the sync process.
To verify or modify the password, open Google Chrome en type the following in the address bar:
https://chrome.google.com/sync
Scroll to the bottom and click on the Reset Sync button: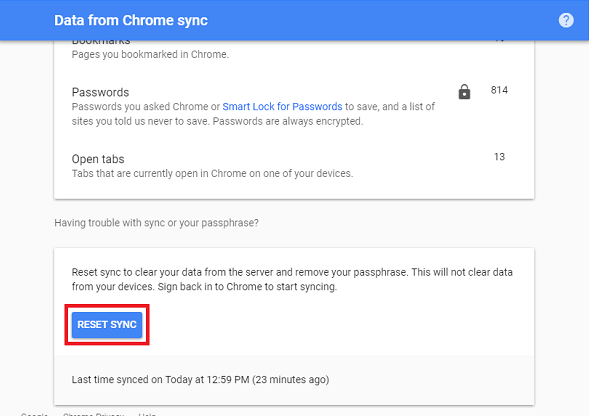 Click on Accept and follow the steps of the wizard to reset the sync settings.
Method #3: Sign Out from your Google Account
Google requires a proper login to sync correctly, so you can sign out from your account and sign in again to fix this error.
Click on to the icon Customize and control Google Chrome and select the option Settings

Finally, click on SIGN OUT on the right of your account.
Now, SIGN IN to your account again, to fix this issue.
Method #4: Reinstall Google Chrome
In case any of the above methods fix your problem, an extreme solution is to reinstall Google Chrome.
To uninstall Google Chrome from Windows:
Press Winkey + R and type appwiz.cpl, then click on OK
There search for Google Chrome, then click on Uninstall

Then, download Google Chrome here and install it.
Method #5: Clean Cache
As you browse frequently in Google Chrome, a cache of visited sites is stored, in this case, you can clear the cache to fix the error.
Press the keys Winkey + Shift + Del
Click on the Advanced Tab
Select All time in Time range
Now check the box Cached images and files and click on CLEAR DATA

You have seen useful methods to fix this sync error in Google Chrome. Let me know if any of this methods works for you.