Do you want to play some Steam game, but you see an error with the message: 'Application load error 5:0000065434′? Well, you are not alone because multiple users have reported this issue on Community forums.
This error seems to appear more often in Bethesda games like Skyrim or Fallout, and I could have multiple reasons.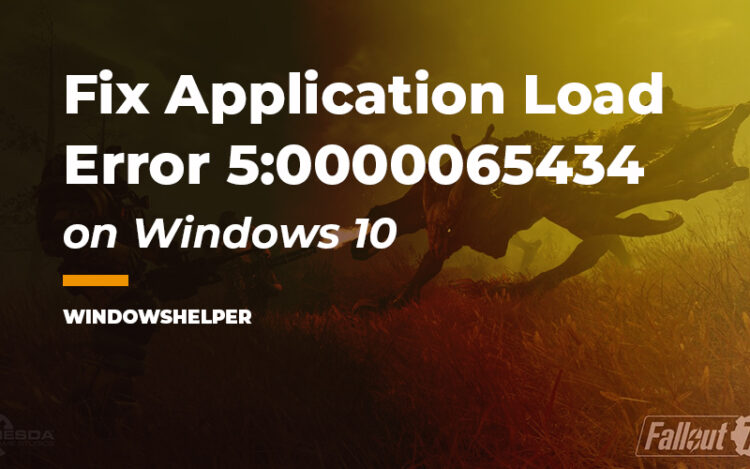 How to Fix Application Load Error 5:0000065434
As I said, this error can have multiple causes like that the game is conflicting with some mod installed. Also, it can appear because your Steam installation is corrupted or even you don't have installed.
Other things could cause this problem, but on this post, I will leave some of the best solutions and tips that users have reported to fix the application load error 5:0000065434.
Solution 1: Remove AppCache Folder
One of the first fixes or workarounds to this problem was reported some time ago in Steam forums. It seems that removing the appcache from the Steam folder fixes this issue quickly.
This AppCache folder stores all the Steam cache from your games, updates, and settings. When you remove this folder, Steam will load all those files again, and that could fix this problem.
Close the Steam client
First, you need to open the File Explorer using the keyboard shortcut

Win

+

E

Now you need to navigate to the following path depending on your Windows architecture:
C:\Program Files\Steam or C:\Program Files (x86)\Steam
Now you can launch Steam and wait until it downloads and reinstalls the missing components, then you can open your game and verify if the application error has been fixed
Solution 2: Run as Administrator
This is another quick workaround to this problem and has worked like a charm for some users.
When you run Steam as an administrator, you will give the permissions to load your game correctly, and therefore, and you will fix the application load error 5:0000065434.
First, you need to close the Steam client, right-click in the icon located in the taskbar and then click on Exit
Now, navigate to the Windows Desktop, there right-click on the Steam shortcut and in the menu, click on Run as Administrator

Finally, you only need to launch the game and verify if the error has been solved
If after following those steps, you have been able to play your game without problems, you can try to enable the administrator permissions permanently following these steps:
Go back to your Windows desktop and right-click in the Steam shortcut. This time click on the option Properties
In the window that opens, navigate to the Compatibility tab
Finally, click on Apply to save the changes and close that window
Now, every time you launch Steam, it will run with administrator rights
Solution 3: Put Steam Executable in the Game Folder
This solution has been reported multiple times on Bethesda games forums, and if you have this problem in one of those games, you need to try this method.
When you copy the Steam.exe file on the game path, the next time you launch the game, it will load the Steam components correctly, and you will fix this issue.
First, you need to open the File Explorer and there navigate to the Steam path, usually located in C:\Program Files (x86)\Steam
There, scroll down until you find the file Steam.exe, select that file and press the keys

Ctrl

+

C

to copy it
Now, you need to go your Windows Desktop and there right-click on your game, then click on Open File Location

In this new folder that opens, you need to press the keys

Ctrl

+

V

to paste the Steam.exe file
Now close the File Explorer and launch your game. Hopefully this time you wouldn't see the application load error 5:0000065434
Solution 4: Verify Game Integrity
This application error could be appearing because there is something wrong with your game data. Luckily on Steam, there is a built-in repair tool that will help you to fix any corrupted or missing data on your videogame.
To run this utility, you can follow these easy steps:
First, you need to open the Steam client
There, click on the menu Library and then on Games
In the Properties window of the game, navigate to the Local Files tab
A new window will appear, and Steam will start checking and repairing/downloading any corrupted or missing file
When finished, close the Properties window and launch the game to check if the problem is fixed
Solution 5: Remove Game Folder
Some videogames use the default My Games to save some settings and parameters that change things on the game. In some cases, this error appears when there is something wrong in those files, and one quick fix is to remove that folder to let Steam reinstall and repair the game.
You can try this method, following these steps:
Open the File Explorer and navigate to My Documents
There open the folder that says My Games

In this folder, you will see all your games. Locate the game with the application error and right-click on it. Finally, click on the option Delete to remove that folder
Once finished, close the File Explorer and launch the Steam client and then run your game.
Wrapping Up: Application Load Error 5:0000065434
So far, those were the best tips and solutions that will help you to fix this application error on Steam. Remember that you need to follow those steps one by one to be able to fix your game.
If you cant fix the game, you can try to contact me using the comments section below, or you can try to post your issue in the Steam forums.
Thanks for reading, here you have some Steam related issues that may interest you: