Recently you want to update Windows, but in the process, you find the Windows Update error code 80070103? Well, these problems could have several reasons, and in this post, I will leave some of the best methods that will help you to fix this issue quickly.
This error, also referred to as windowsupdate_80070103, usually means that you want to install some driver that is already installed on your computer or when the driver software has lower compatibility, so Windows makes the decision not to install the update.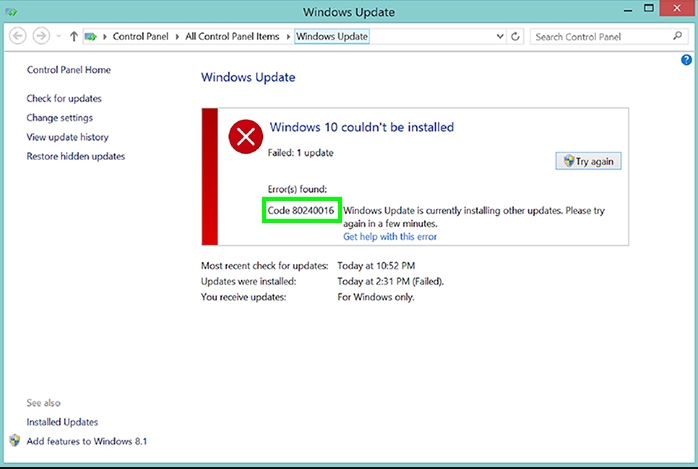 Method #1: Install Driver Manually
Like I said in the lines above, this error appears when you want to install some driver that is already installed, so you can try to update this device manually.
But first, you need to find which the update that is giving you the error code 80070103.
Step #1: Find Update with Problems
To find which is the update that is giving you problems, you need to follow these steps:
Press the keys

Win

+

I

to open the Settings window, there scroll down and click on the section Update & Security

Step #2: Download Updates
Once you find the update that is giving you the Windows Update error 80070103, you need to download those drivers from the manufacturer website and install them manually.
If you cant find your drivers, you can find the drivers using third-party software that doesn't install anything on your computer.
Drivers Cloud will analyze your system, and once it finds your device, it will show you the latest drives and the installer that you can download manually.
Follow these steps to use Drivers Cloud:
To use this tool, first, go to the page of the driver detector. In it, click on the Access button and then click on the Install button. You will download a program that you must install and run.

When you run the application you have downloaded, you will see a new window.

In it, click on the Detect button so that the app identifies the hardware of your computer. It may take a few seconds, and when finished, it will open a website with all the information on the components that are on the PC.

Once on the web, in the right column, you can browse every one of its components. There, to download the drivers, you have to click on the My Drivers option that appears at the top of the screen.

You will enter a screen where you can see all the available drivers for your computer. In it, select the drivers that give you the error code 80070103. Then, click on the Install button, and you will download an executable.

When you run the executable that you have downloaded with your drivers, the window you see in the capture will open. In it, click on the Install button, and the application will download and install the driver that you have chosen.
If you have problems finding your device and Windows Update is still showing the error code 80070103, I will leave a list about some other programs that could help on this problem:
Driver Booster: It has a straightforward interface to understand and use, where it shows your outdated drivers, tells you how outdated they are, and offers you to update them with just one click. It is exclusive to Windows and works in all versions from XP. Be careful with your installer; if you do not choose to customize the installation, you have a supplemental app.
Slimware DriverUpdate: With a much more visual interface in which a graphic stands out in which you will see what proportion of drivers you have without updating, it is another alternative with which to update or uninstall drivers, create backup copies of the installed ones, and schedule periodic updates To always be up to date.
Method #2: Hide Update
If you don't want to install your latest drivers, but this update is giving you the error 80070103 every time you wish to install a new update on Windows Update, you can hide it, and it will not bother you anymore. To do that, follow these steps:
Open the Start Menu and search the words windows update
Click on OK and continue updating your system
I hope this tutorial helps you with this Windows Update issue quickly, and you can continue downloading and updating your system as usual.
If you have any questions about this, let me know in the comments section below.