Do you want to rip your CDs to FLAC or MP3 audio format? Well, check this list of the best free CD ripping software for Windows, Mac, and Linux.
When you buy a music CD, you do it knowing that you will not be able to enjoy it anywhere. Because of that, and because you don't like having to pay twice for the same thing, many of the romantics who still buy CDs decided to digitize their music collection to take it on your mobile or laptop.
To do this, you need good software capable of ripping CDs in different formats, MP3 for the most classic or FLAC for audiophiles. And if any of you wants to digitize your music and has not yet decided on the software to do it, on this post, I will show some of the best free cd ripping software for Windows, Mac, and Linux
1. fre:ac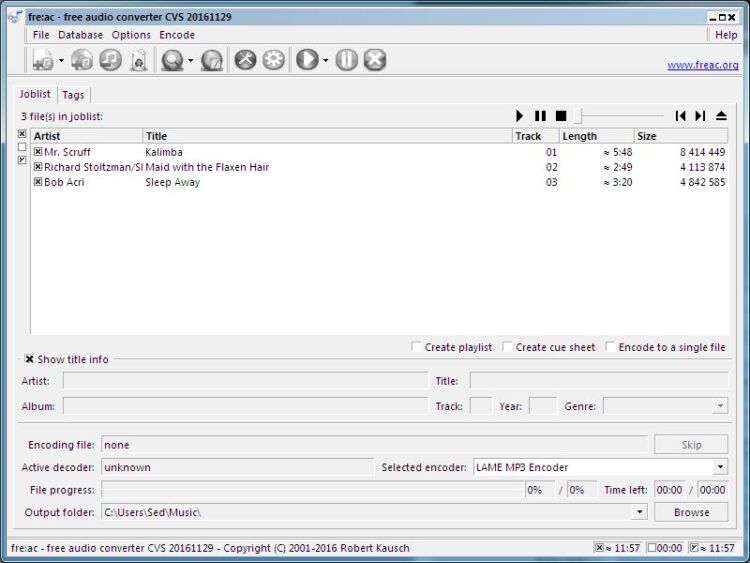 fre:ac is a simple but very complete cd ripping software that has been developing for six years. It is capable of converting audio using the formats MP3, MP4 / M4A, WMA, Ogg Vorbis, FLAC, AAC, WAV, and Bonk, and also to rip our CDs to FLAC, MP3 or WMA. It supports the databases of CDDB/freedb so that the labels of the songs are correct, it is multiplatform, and it has versions for GNU/ Linux, Windows, Mac OS X, and FreeBSD.
It is a portable appl that you can install directly on a USB to take it with you, its code is open and has an interface translated into 40 languages. To use it, you have to go to the File menu, Add and choose the CD Audio Content option. Then you have to click on the arrow next to the Play icon to select the format in which you will compress it, and that's it.
https://www.freac.org/
2. CDex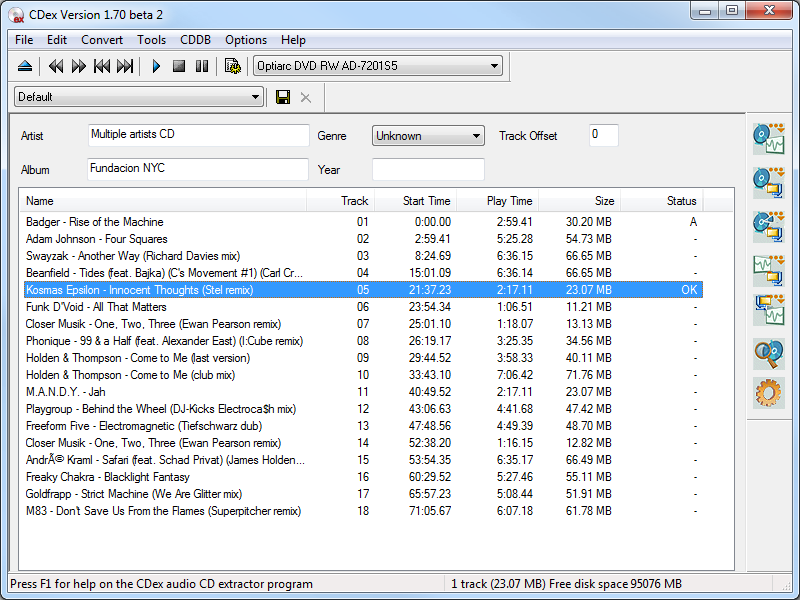 CDex is another of the excellent CD ripping software that you can find. You have to be careful because the installer tries to collapse AVG Zen, but otherwise, it is a software that works wonders in any Windows operating system. They support all kinds of formats, from FLAC to Ogg Vorbis.
To be able to use freedb and download the data of the tracks, you will have to add your email to the configuration, but once the process of recognition of the CD is done, it is automatic and complete from the moment in which you introduce it. In the setting, you will also have to determine the encoder you want to use, especially if you like FLAC.
https://cdex.mu
3. Exact Audio Copy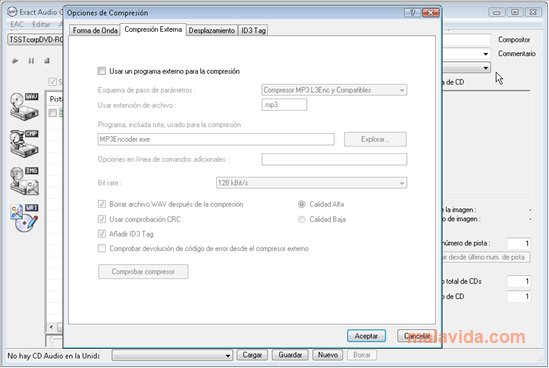 Another of the great protagonists of the sector is Exact Audio Copy. In this case, when installing the cd ripping software, you will see a small guide to recognizing your CD drive, a necessary step to be able to rip. When finishing these previous steps, you will have to choose if we want to pass the discs to MP3 or FLAC, and from then on, we will be able to use it usually.
Once you introduce the CD, the software will detect it automatically, preselecting all the tracks for ripping. You will have an option to import the names of the tracks of the freedb, CUETools, and GD3 databases, and we will only have to press Shift + F5 to choose the destination folder and accept to start the ripping.
http://www.exactaudiocopy.de/
4. FreeRIP MP3 Converter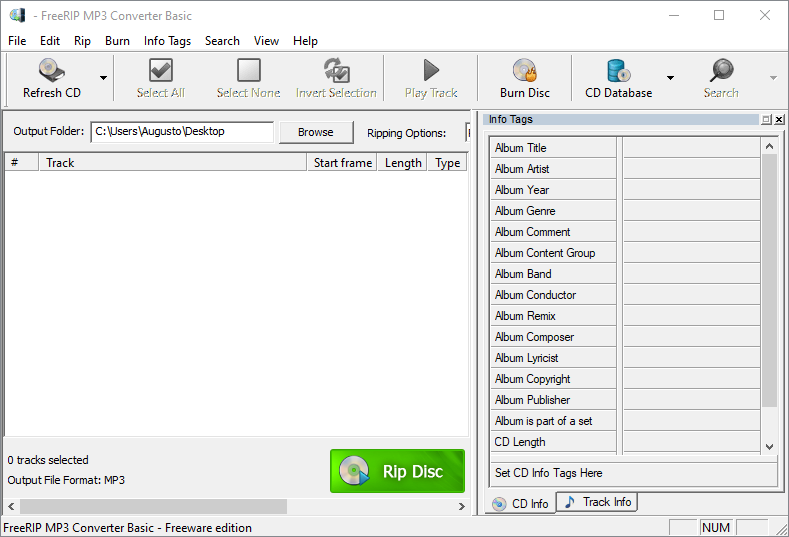 FreeRIP is another cd ripping software that tries to make the process of digitizing your music discs even easier. All you have to do is enter the CD, wait for the program to load it with all the information of the tracks, and give the Rip Disc button.
By default, it will be ripped to MP 3, but in its options, you can configure it to use WAV, Vorbis, WMA or FLAC. Be careful because the installer will try to filter the Malware Protection Live program.
In these options, you can also choose the bit rate at which the disk will rip each format or enable the automatic use of the freedb database. It also has a PRO version with several added options such as eject the disk when finished, allow concurrent conversions, and configure the sectors and the buffer of the discs.
http://www.freerip.com/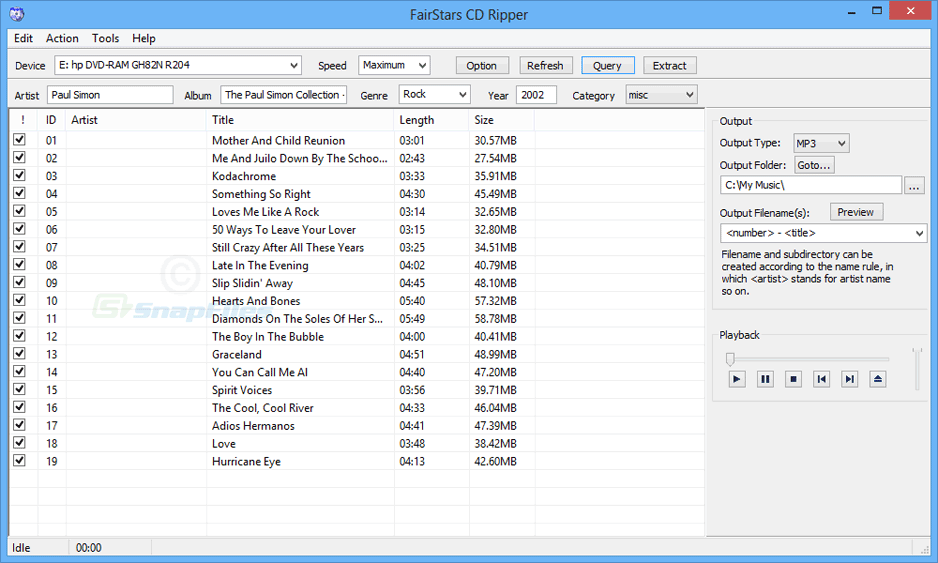 Another good cd ripping software for these tasks is FairStars CD Ripper. It has some flaws like that it doesn't automatically search for the information of the tracks, but it does include some exciting options such as the ID3 tags, an easy-to-use interface, and extreme ease when renaming files.
The first thing that you will have to do, therefore, when executing the program is to click on the Action menu and choose the option Query CD Info. Then you will go to the options to edit the quality of ripping in different formats and ready; you will only have to change the option Output Type to choose the format and give F8 to start the extraction.
http://www.fairstars.com/cd_ripper/
6. Audiograbber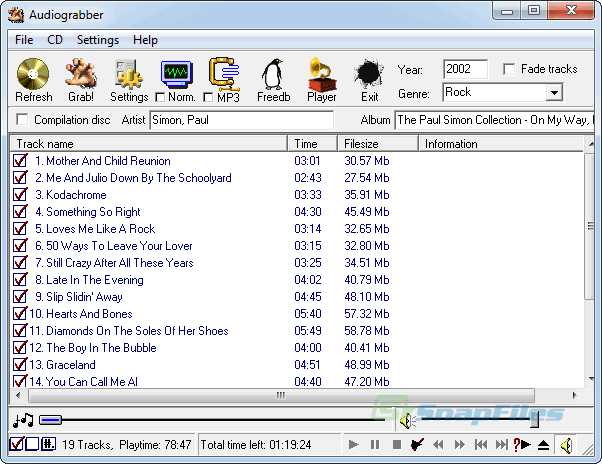 Audiograbber is an excellent free cd ripping software, but it has entered tiptoe on our list due to a large amount of adware that includes its installer. That is why, if you bet on him forgetting to skip the steps since in the first one, you will have to decline the permission of up to 3 apps that he will try to endorse you.
But otherwise, it is a fascinating tool. It only rips in MP3, but if that is what you want to do, you will find an easy to understand interface, many options, and the possibility of taking the application on a USB. The icons have some very 90s drawings so that anyone can understand them.
https://www.audiograbber.org/
7. LameXP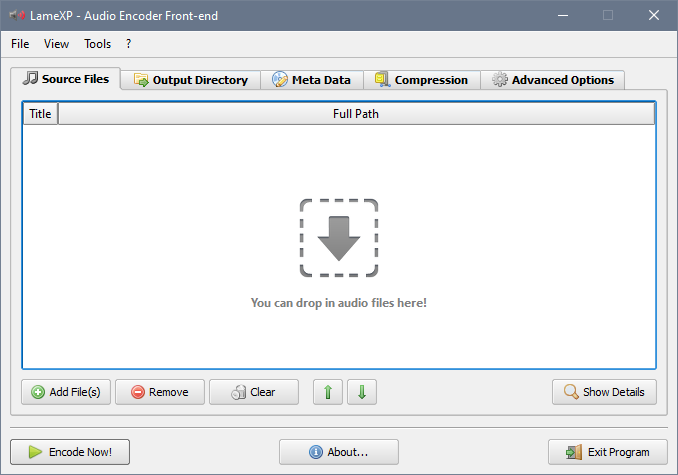 LameXP is an excellent cd ripping software that you can download wholly free and use indefinitely, all thanks to the tool's open-source, which is why it can even be distributed and modified to improve each of its functions as commented by its developer.
Already in the interface offered by LameXP, you can see different tabs correctly distributed, the first of which helps us to import all those audio files that you want to process. If you don't want to import audio files from this window, you can select the folder or directory that contains them, and then drag them to the window, with which each of them will be imported automatically.
The rest of the tabs can be used to choose the output directory of your processed files, select all those labels that contain the audio files in case you want to keep them after processing. The tool offers an easy way to convert audio files from another format, although unfortunately, it is compatible with only a few of them, something we can do in the compatibility list offered on their official page.
http://lamexp.sourceforge.net/
8. Flac Frontend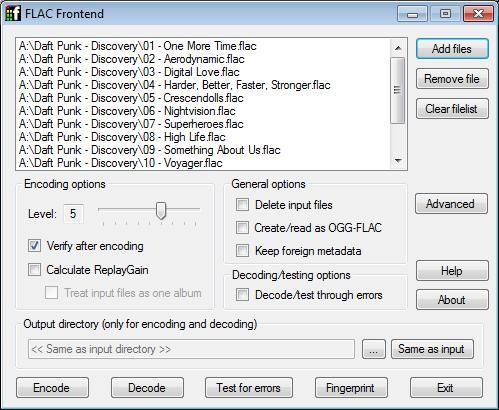 FLAC is the lossless format par excellence and a type of file that many people have begun to use after the jump that hit the computer in the field of storage a few years ago. The reduction of costs made possible the use of hard drives and other storage devices with higher capacity, and that the most stubborn of music will be released to enjoy the best quality without sacrificing losses.
Flac Frontend allows us to use the FLAC format and provides a user-friendly interface, from which it is possible to work with FLAC files and decode them as well as with WAV files to do the same.
Because in many cases, the case is different, and users look for how to pass their FLAC collection to MP3.
http://flacfrontend.sourceforge.net/
9. xACT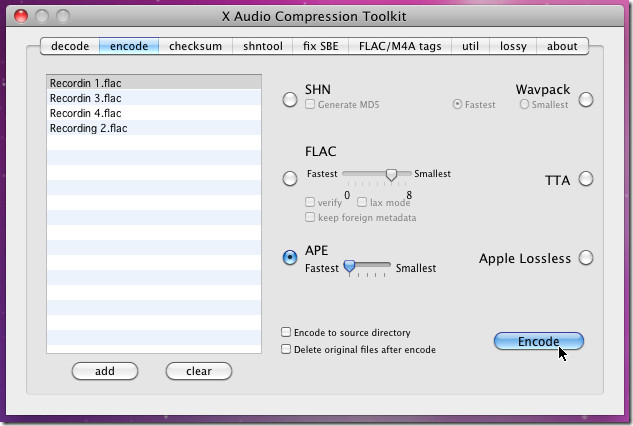 xACT (X Audio Compression Toolkit) is a user interface (GUI) for some tools that are only meant to be used from the command line (like LAME and shntool), that's why for some it may seem a bit strange how that the interface and its options are configured.
However, once you learn how the software is handled, xACT will be the easiest to use.
In terms of compatibility, xACT can handle a lot of different formats like SHN, FLAC, AIFF, OFR, LPAC, WV, ALAC, LA, TTA, TAK, MKW, MPEG-4 ALS, and Bonk (to name a few). As you can see, one of its main features is the support for audio formats that other applications cant use; Besides, it is possibly the tool with which you can convert audio to AAC and MP3 easier than it exists.
Among other things, the cd ripping software includes an encoder, a decoder, an audio extractor, a tag editor and other useful tools for those who usually convert audio. xACT is a free application and can be downloaded from MacUpdate.
http://xact.scottcbrown.org/
10. X Lossless Decoder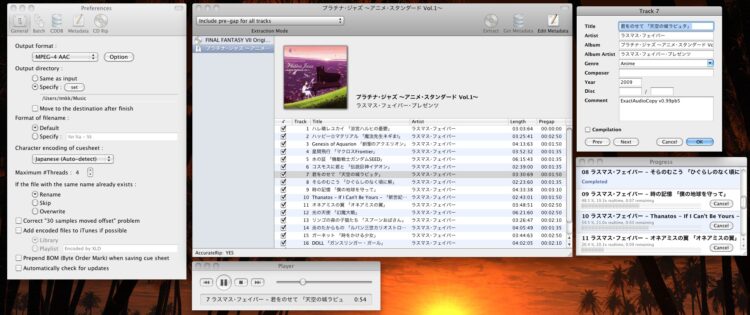 Since the time I bought my first CD drive many many years ago, I have always tried to convert the audio files to the best possible quality and that the ripping was the most reliable to the original.
X Lossless Decoder is the best free cd ripping software to rip, convert and also play audio, supporting many different audio formats, including FLAC.
The software supports audio formats such as WAVE, AIFF, Raw PCM, Ogg Vorbis (aoTuV), MPEG-4 AAC (QuickTime / CoreAudio), MP3 ( LAME ), Apple Lossless, FLAC, HE-AAC (aacPlus v1 / v2), Wave64, WavPack, etc. As for its ripping functions, the software also allows creating cue files for later recording to CD if it is what we want, obtaining the titles of CDDB songs and a very long list of options. X Lossless Decoder is free (they accept donations), and you will not find any better for your audio files.
https://sourceforge.net/projects/xld/
11. VLC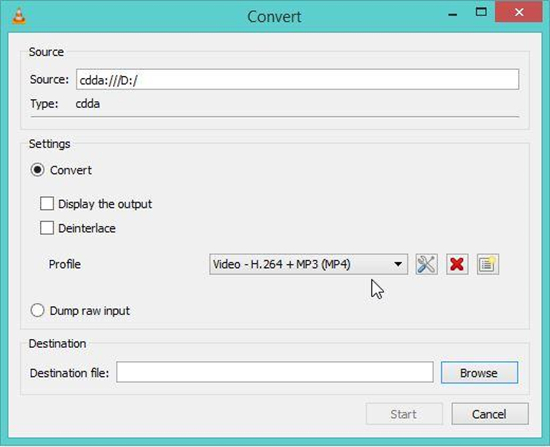 And finally you have the VLC player, although not everyone knows, one of its many hidden functions is to allow us to rip your music discs. And not only CDs, but VLC will also enable you to make copies of our DVDs and Blu-rays.
https://www.videolan.org/vlc/index.es.html
Follow these steps:
The first step is to go to the Media menu and click on Convert.
Click on the Disc tab.
Choose if it's a Bluray, DVD or CD.
Each of the three units has its options, from the tracks that you want to copy to the audio tracks or subtitles that you want to include.
After configuring it to your liking, click on Convert / Save.
So far, those were the best cd ripping software that you can download for free to rip your CDs to FLac or MP3 easily.
Do you use other software? Let me know in the comments section.