Do you want to share your images without an account? Well, check this list of the best anonymous image hosting.
Sometimes you find yourself in some situations where you have to share images with your friends or with a client. It may also be that you are forced to upload pictures to forums or specific profiles where they ask us for a URL of an image. Usually, you must use an image hosting to upload photos to the Internet.
Many web pages provide this service, and you can find free or paid image hostings. But today, I will show you some anonymous image hosting that lets you upload images without an account.
Anonymous Image Hosting Advantages
You have advantages when you upload photos on anonymous image hosting. Most image hosting services have the following benefits:
Comfort: by merely entering the page, choose the photo to upload, and automatically, the image hosting will provide you a link and data on the weight and size of the files.
Easy Sharing: when you upload your image, the site provides you with a link where you can share it easily and quickly in social networks, forums, blogs, or your website.
Some of this image hosting offer the service to create an account and manage all the images and photos through a management panel. Also, you will be able to sync all your photos on various devices always to have them available at any time.
Still, on this opportunity, I will show you only the anonymous image hosting that doesn't ask you for an account, although some of them let you create a free account.
I have used this anonymous image hosting before, so I can assure you that they work excellent if you want to upload pictures anonymously. So let's start with the list.
1. Imgur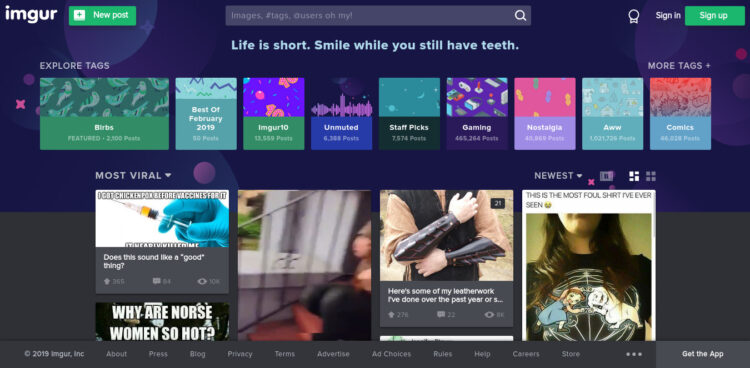 Imgur is an anonymous image hosting that, without any signup, allows you to upload a photo effortlessly; you have to drag the image to the screen.
When the upload is complete, it provides you with some information such as the URL direct link to the image, the links to include it in networks such as Facebook, Twitter, Tumblr, and the code to try it in forums or blogs; In addition, it also offers you the possibility to send it by email.
The ability to upload images without signup has made it the favorite option to upload pictures to forums, perhaps that is why Imgur has become one of the websites with the most extensive content of images on the network.
It has a massive community of 70 million daily users who judge the images that are uploaded through votes and comments, which makes it an excellent compilation of the most viral photos of the network. The images that get the highest score to appear on the main page. For some years, the web added the tool The Imgur Meme Generator that allows you to create memes from 0 or make them from a template with the most popular.
If you decide to create an account in addition to being part of this vast community, vote and comment on the most viral images of the moment; you can create personalized albums, upload the photos you want, create GIF files from a video, or do a specific search of images through the "themes" section. It also has apps for iOs and Android. Undoubtedly the best anonymous image hosting.
2. Postimage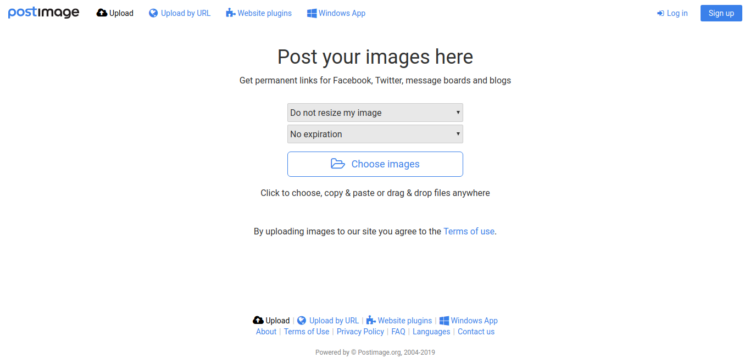 This anonymous image hosting allows you to upload images effortlessly and obtain a specific URL so that you can insert them in forums, blogs, or social networks.
Postimage how to upload images for free. To upload the images, you must select one or more files. Then you can change the size of the image by clicking on the first drop-down, where you can find different sizes like the one recommended for avatars, for web pages, emails, or screens of different inches. Finally, you can also choose the expiration date of the link where the image is hosted in case you want to share the photos for a particular time.
3. TinyPic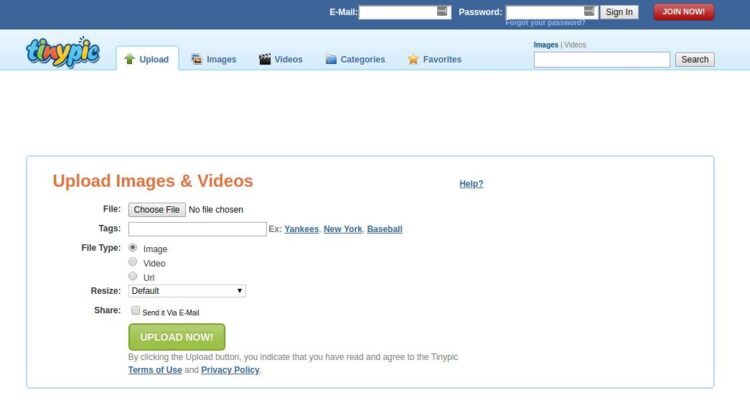 TinyPic is an anonymous image hosting that also allows you to upload images and videos to obtain a URL that you can enter in forums, blogs, or social networks without having to register. Its use is similar to the pages you have seen, select the image you want to upload, assign it the size you need, and on this website, it also allows you to attach it to some labels. You can also perform a search of images you need since TinyPic also facilitates the different URLs for all the photos uploaded.
4. Direct Upload
https://github.com/Jays2Kings/DS4Windows/releases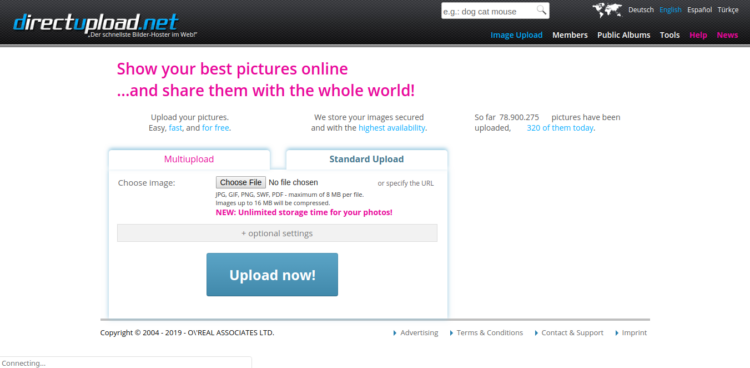 Direct Upload is an image hosting from Germany. When you visit Direct Upload, you can see that the service is somewhat old. When accessing the site, you see two tabs, one where you can upload files one by one, and another tab that we can upload more than one file at a time. Direct Upload allows uploading JPG, GIF, PNG, PDF and SWF files. The maximum weight allowed per file is 4 MB.
5. Imgbb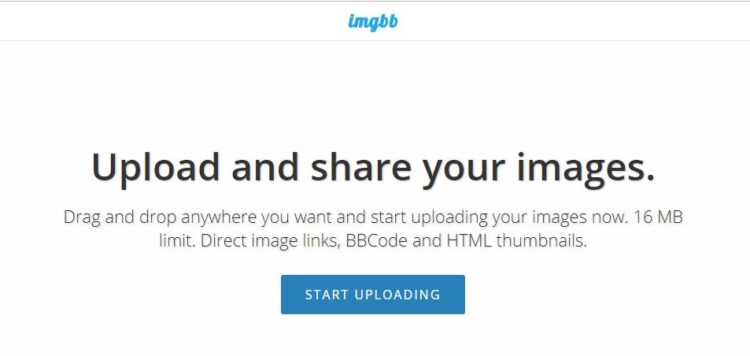 Imgbb is another anonymous image hosting. Using Imgbb is as simple as selecting the preferred method, that is, uploading photos already saved or a freshly taken one, with a limit of 16 MB. Then choose the photo or photos you want to upload and click upload.
Once the photo is in Imgbb, you must click the link to transfer it to your desktop on the web. To achieve this, you must choose the BBCode or HTML format. Copy and insert it in your post.
6. Imggmi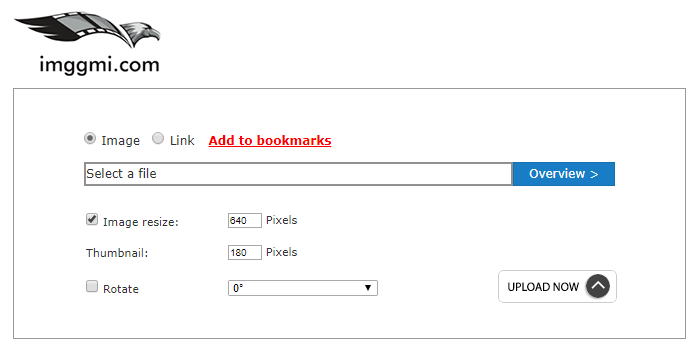 Imggmi is another anonymous image hosting site to upload photos to the internet for free. You must not register as the page doesn't require a subscription to enjoy the services offered. With it, you can upload photos and get the link directly and anonymously.
Allowed formats are PNG, GIF, JPEG, and JPG. If the photos you want to upload meet that requirement, you can store them without time restrictions.
So you will have a link so you can insert a downloaded photo in forums, blogs, or your favorite social networks. Use the link thrown and transfer it via Skype, WhatsApp, email, among other means.
7. Free Image Hosting

Like the vast majority of image hosting sites, with Free Image Hosting, you can upload images in PNG, GIF, BMP, or JPG formats and receive codes to copy/paste on Facebook, blog, or email.
The file size limit is 3000 KB, and there is no need to register on the site. However, having an account offers the advantages of managing charges and using other functions.
Before starting to use this site, like any other, it is essential to read its terms and conditions because, in this, you will find crucial stipulations such as the prohibition of uploading photos for adults. If you upload them, they will be deleted.
8. ImageBam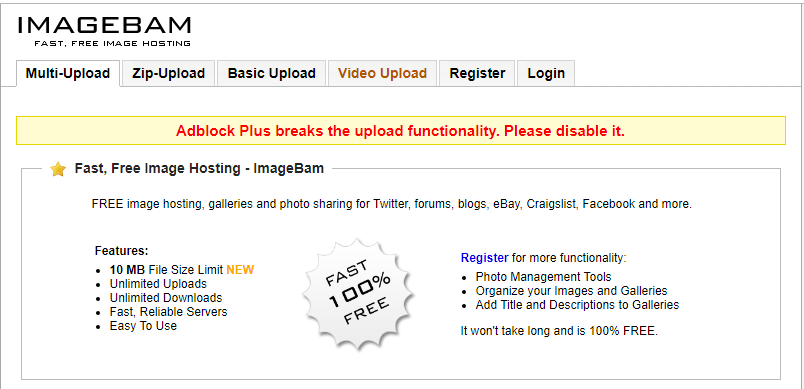 More than a decade is the time ImageBam has been offering a quality service, which over time, is improving and perfecting its functions to grant its users to upload, share and enjoy photos online in the best possible way.
For this, it has partnered with a new team, which has extensive experience in hosting large-scale photos. With the new hardware, ImageBam continues to offer a high-end service, such as the one it has always been accustomed to providing.
On this site, the size limit of each photo is 10 MB, but both downloads and uploads of photos are free in their entirety, and servers are safe and fast.
9. ImageVenue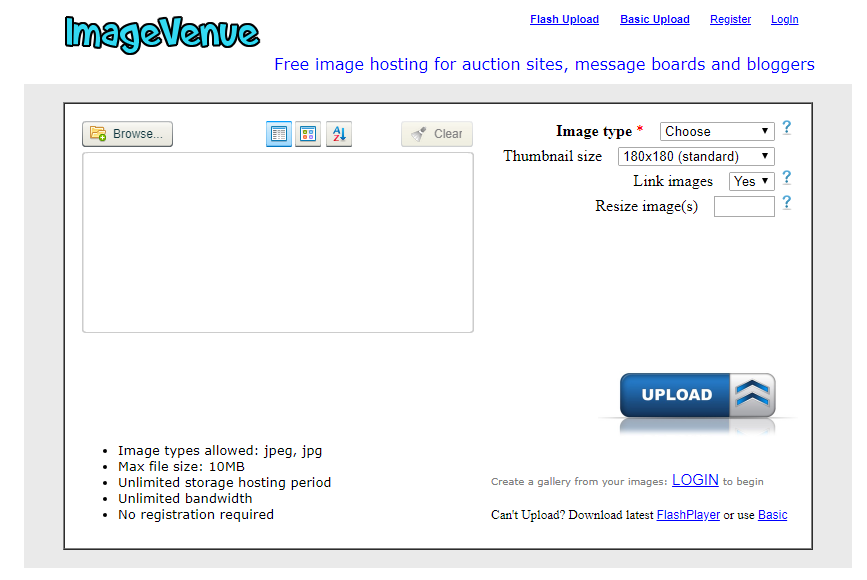 This free anonymous image hosting platform has a unique design so you can share digital photos with your friends and family, and publish them in blog newsletters and message boards.
It only allows photos in JPG and JPEG format, with a maximum size of 6 MB and with unlimited hosting time.
ImageVenue is free because it covers the cost of managing the business through the incorporation of text links from its outstanding advertisers.
Wrapping Up: Anonymous Image Hosting
So far, those were the best image hosting to upload your photos without any account, and that provides you a link to share your photos everywhere.
Imgur is undoubtedly the best anonymous image hosting and is the one that I use the most, but know you have other options to upload your images without registration.
What do you think about this image hosting? Do you use any of those before? Let me know in the comments section.