Do you want to download internet videos on Google Chrome? Well, check this list of the best video downloader chrome extensions and tools.
Nowadays, videos are the ones that have taken the most prominence in both web pages and most social networks. Taking into account that the most used web browser in most of the world is Google Chrome, I will show the best video downloader chrome extensions to download videos from Google Chrome.
Undoubtedly, the extensive collection of extensions that can be found to add specific functions to Google's web browser is one of the main features why users opt to use Chrome.
Currently, many users download numerous videos every day, so, on this post, i will show some of the best video downloader chrome extensions to download videos from Google Chrome.
When choosing an excellent extension to download videos from the browser, you must take into account if we want to download videos from a specific platform or prefer to do it with the same extension on several video platforms.
1. vGet Extension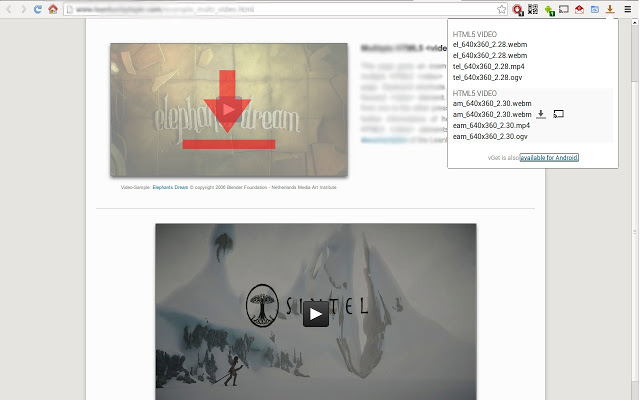 This video downloader chrome extension will allow you to download from your browser in two clicks. You can install it in both Firefox and Chrome, platforms where it is one of the most used by their respective users. In the same way as the previous ones, it will not only allow you to download YouTube content but also from other portals such as Vimeo, DailyMotion, Facebook and even Instagram (in its desktop version).
This is one of the best since not only allows you to choose the quality of the content but also the format in which you want to download it, being able to do it in MP4, AVI and many others, as well as in MP3 to get only the audio.
https://chrome.google.com/webstore/detail/vget-extension-video-down/hniladkejehjfchadikcbjmgjaogciic?hl=es
2. Video Downloader PLUS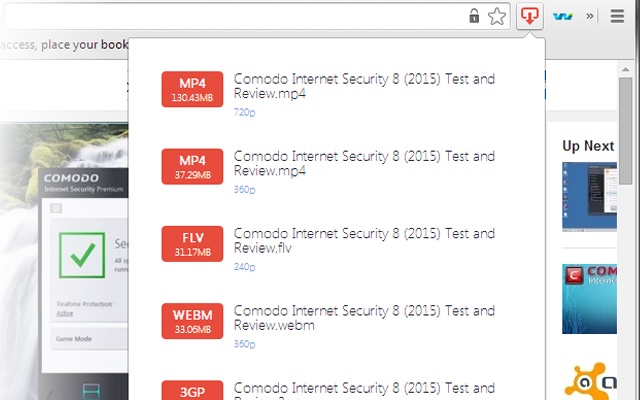 Video Downloader PLUS will add an icon in the upper right corner of the browser and clicking on the button will display a window that will detect the Facebook videos of the tab, which you can download easily.
In the tests, I have detected that you will have to scroll through the entire Facebook page because otherwise the videos that are below the page will not be identified.
https://chrome.google.com/webstore/detail/video-downloader-plus/fhplmmllnpjjlncfjpbbpjadoeijkogc
3. Video DownloadHelper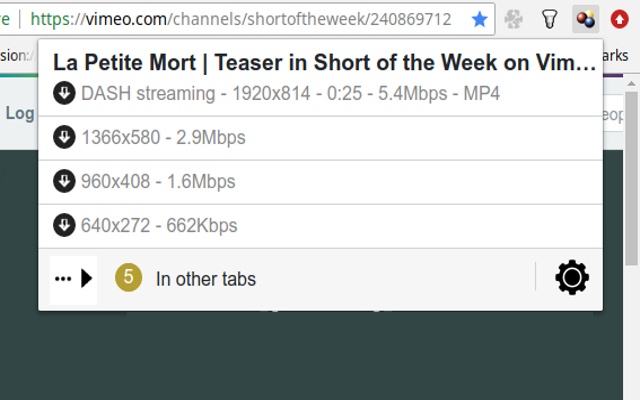 Video DownloadHelper is one of the best video downloader chrome extensions.
Once you have added Video DonwloadHelper in the browser, you will see how the extension will automatically detect if the page you are viewing has multimedia content, such as videos, and in this way it will be activated to recognize all the multimedia, show you a list of everything found and can start with your download.
In addition to reporting the detected content to download in the current tab, it will show information on the content you can download in the rest of the tabs opened in the browser.
For each content, it offers the possibility of downloading it in different resolutions, viewing information about the video, copying the URL of it, adding it to the blacklist so that it does not propose it again for downloading, deleting it or fixing it as a persistent element.
Although it is compatible with the most popular platforms that offer streaming video, you may find a problem somewhere when you are ready to download some content. It also has a lot of adjustments within its configuration that will surely adapt its operation to our needs, such as being able to load several contents simultaneously.
https://chrome.google.com/webstore/detail/video-downloadhelper/lmjnegcaeklhafolokijcfjliaokphfk?hl=es
4. Flash Video Downloader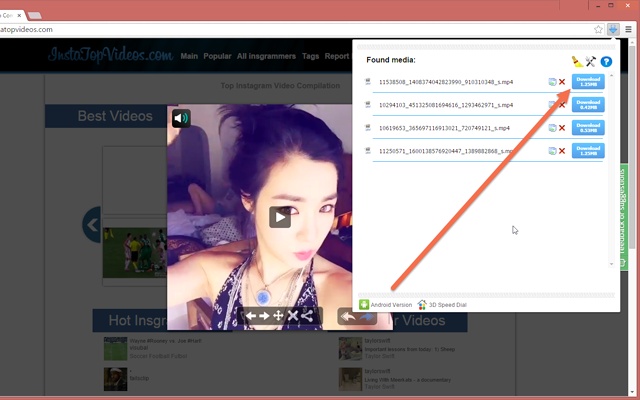 Downloading music and videos from YouTube was never so comfortable with the extensions Flash Video Downloader.
Flash Video Downloader for Google Chrome you can download videos from youtube and many other sites, this video downloader chrome extension works automatically, when you are browsing a website that hosts videos, the extension allows all the playback to be downloaded in .swf or MP4 files and MP3.
No doubt Flash Video Downloader for Google Chrome is easy to use, this extension is an excellent tool that doesn't leave the interface of your browser full, you can also hide it and deactivated at any time, and only activate it when you want to download videos from YouTube or any other site.
Flash Video Downloader for Google Chrome is an extension that allows you to download music from YouTube and also vines and animations in Adobe Flash for your computer.
Once this plug-in is installed, you don't need to register or authorize its use, and you have to activate it in the option "Extensions" in the "Tools" menu in the options in the upper right part of the browser.
As of this moment, a down arrow symbol appears to the right of the bar, in gray with an "X" red when there are no flash videos in the browser's address page.
Otherwise, if the icon of the extension is in blue you can download the video, a small popup window will appear, showing the option "Download" next to the files that can be downloaded in .swf or. MP4.
Automatically detecting Flash files, Flash Video Downloader is presented discreetly and practically does not bother the display of visited pages and the commands of the Google Chrome interface. However, some ads for other extensions can be seen in the pop-up window.
Although this plug-in does not allow you to create a list to save the Flash file options found for future downloads, you can download the videos and animations in MP4 and MP3.
https://chrome.google.com/webstore/detail/flash-video-downloader/lfkgajffoenibieppaicgjlheepiecad
5. Savefrom (Extension)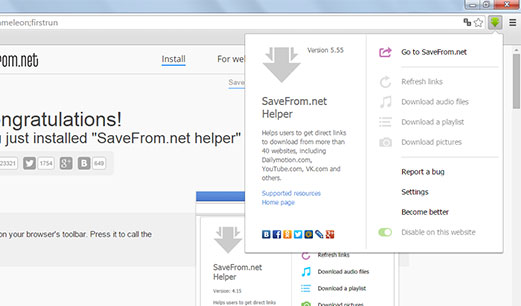 You can use Savefrom to download YouTube videos with a single click, for this it is necessary to download the program of free use that the page has at your disposal on your computer. To install Savefrom, you need to follow some instructions.
Once you download the file on the website, run it, and you will have to press "Yes" for the program to start the installation steps. To do this, you first accept the license terms (after having read them) press accept. Then you will have a screen to confirm in which browsers you want the program to work, validate that the " Install to all browsers " option is selected.
And then click "Next." The installation screen will open. Keep in mind, that if you get an error box because to install the extension in your browser, it is necessary to close it. Just close it and press accept to continue the installation.
If for some reason you can not use the extension in Firefox, since something happens during the installation, I recommend that you do it directly from the web section of your browser. Currently, it is only available in Mozilla, but possibly in the future, it is also available in Chrome.
The extension will be installed in your browser, and you have to open YouTube and click on some of the Savefrom symbols that will appear on the screen, they are in the upper right corner or next to the subscribe button. Undoubtedly one of the best video downloader chrome extensions.
https://en.savefrom.net/savefrom-helper-for-google-chrome.php
Wrapping Up: Video Downloader Chrome Extensions
So far those were the best video downloader chrome extensions that you can install for free on your browsers to download all the videos you want from Youtube, Facebook, Vimeo, Instagram, etc.
Do you use other extensions on Chrome? Let me know in the comments section.