You want to play some Skyrim, but when always see the message: Failed to initialize rendered? Well, you are not alone; there have been multiple reports about this issue before.
This problem usually appears when Skyrim can render the game in the setup resolution but also can have other reasons. That's why on this post, I want to leave some of the best methods that will help you to fix it successfully.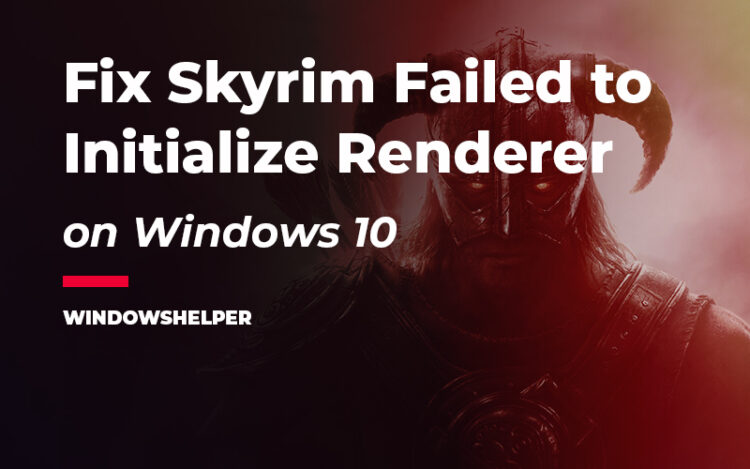 Method #1: Restart Windows 10
This is one of the most commented fixed for this issue that you can find on the Skyrim. Several users affirm that restarting your computer (in the right way) seems to correct the problem.
From Windows 8, there is a new feature called Fast startup. This feature will help your computer to boot faster because it saves some data about your last sessions.
On Windows 10 is enabled by default and sometimes could stick your computer in a faulty state where you will always see the message Failed to initialize renderer on Skyrim.
Open the Start Menu and click on the Power button
This will disable Fast Startup for next boot
Now, when your computer starts, launch Skyrim, and hopefully, the issue will be fixed
Method #2: Update Skyrim
This is one of the best games from Bethesda and also is one of the buggies one. On Reddit exist and the entire section about his bugs.
That's the reason it is always recommended to update the game because the developers are releasing new patches to fix several issues.
Those issues include the renderer failed, so make sure to download those updates from where you buy the game.
If you launch this game from Steam, you only need to connect to the internet the next time you open the client, and Steam will tell if there are any updates available that you can install.
Method #3: Disable Mods
Mods are useful and fun ways to add new mechanics, textures, and characters to the game to enrich the experience. The community creates those mods, and their compatibility isn't always the best.
If you have faced this Failed to initialize renderer issue recently on Skyrim and you have some mods installed, try to disable a few of them to verify if this is the problem.
To do that you can follow these steps:
Go to your desktop and double-click on the Skyrim launcher
There, you will see all your expansions and also your installed mods. Uncheck all the mods and if you want to troubleshoot even further this issue, also uncheck the expansions

Click on OK and then start the game
Test if the game can be played without problems and later try to enable the mods one by one
Method #4: Update Graphics Card
This issue about the renderer on Skyrim could be happening because the drivers of your graphic card are outdated and need some update.
This is one of the easiest fixes to do because almost all people already know how to update their graphics cards.
Nevertheless, here you have some steps about how to update your graphics cards, depending on your manufacturer.
https://www.intel.com/content/www/us/en/support/detect.html
For Intel, you can visit this link and there download the Intel Driver & Support Assistant tool
Once installed, you can launch the app and click on the button Download to install the latest drivers

If you have an NVIDIA GPU, there is also another tool called Geforce Experience that helps you to update your graphics and also add some neat features like screen recording and streaming. You can download it from here.
Once you install the app, launch it and navigate to the Driver tab, there you will see the latest drivers available, to install it click on the button Download

Like his competitors, AMD also has this own tool to detect and update their graphics cards automatically. You can download it from the following page.
Once installed, you can launch the app, and automatically, it will show you the latest driver for your GPU, click on Download and then launch the files to start the installation process.
As easy as that, you can download and install the latest drivers on your computer. Remember that if recommendable to also update all your drivers and you can do that using a driver updater.
One of the best driver updaters that I always recommend is Driver Booster. I like its simplicity and interface, and you can download the software from here.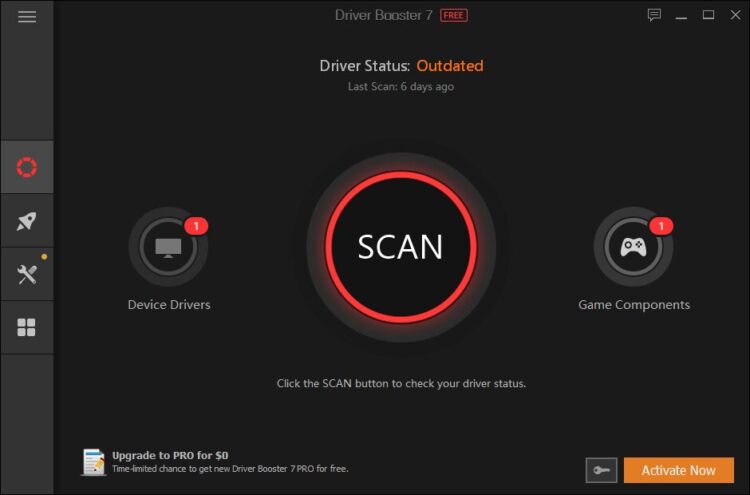 Once you installed the program, you only will need to scan your devices and then click on the big button Update now.
Method #5: Launch Skyrim on Windowed Mode
If you haven't been able to fix this Failed to initialize renderer issue on Skyrim by updating your GPU, you can try to lower your resolution and use windowed mode.
This is a quick workaround but has been working for multiple users, and you can try it as well following these steps:
Go to your desktop and make double-click on the Skyrim Launcher
Once there, click on the menu OPTIONS
Click on OK to apply the changes and then start the game
Hopefully, you wouldn't see that annoying message anymore
Method #6: Clear Cache
A cache is stored data that help your computer to open your programs and games faster.
Skyrim also has some cache settings, and if you have installed the game through Steam, you will have two different cache data.
One last workaround to fix this issue is to remove that cache and launch the game refreshed. You can do that following these steps:
The file explorer will open and there right-click on the folder appcache, then click on Delete to remove this cache

Now, in the file explorer navigate to your Documents and then open the folder My Games
Finally, in the folder Skyrim, find and remove the files Skyrim.ini and SkyrimPrefs.ini
Once done, restart your computer
Then, launch Skyrim, and hopefully, it will start without problems, and you can continue enjoying this fun game
I hope this little tutorial helps you to fix this rendered initialization issue on Skyrim and let you play the game for hours. Remember that you can contact using the comment section if you have some questions or need more assistance.
Here, you have some other Skyrim related articles that could help you: