You want to open Geforce Experience, but you see the error code 0x0003? Well, don't worry, on this post I going to talk about this error and show you some ways to fix it.
NVIDIA is undoubtedly the manufacturer of most graphics cards that you can find in our PCs. However, its great popularity and prestige do not exempt you that recently, many users have encountered specific errors in the Geforce Experience software.
Problems that cause users not to be able to open this software, and therefore, they wouldn't be able to optimize, take screenshots, or record their favorite games.
In this post, I will be leaving you some of the best tips, methods, and tricks that could help you to fix this issue quickly.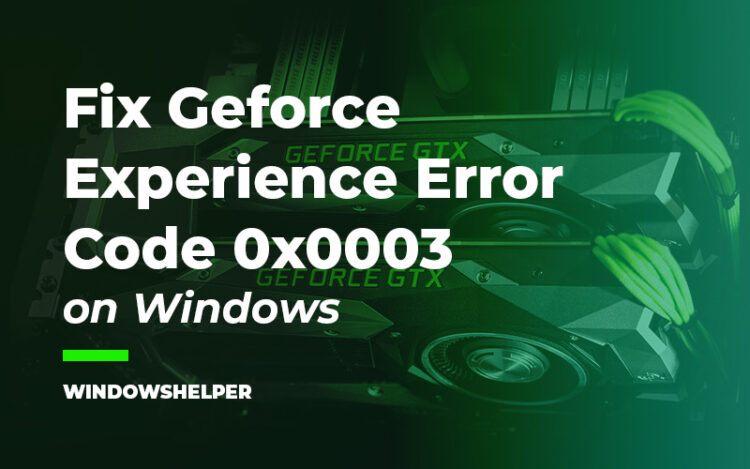 What is the error code 0x0003 on Geforce Experience?
When you want to launch Geforce Experience, you will see a warning message that will say something like this: Something went wrong. Try restarting GeForce Experience. ERROR CODE: 0x0003
This error only appears on Windows 10, and the reasons are multiple, like some missing files or corrupted drivers on your computer.
There also been reported on NVIDIA forums that some of the problems are some conflicts with other software and also Windows Update. Some users have reported that with a simple update, the error will be fixed, and you can also try that.
As I said, this error doesn't give you clues or hints about what is wrong on your computer. Therefore, you can try the following solutions that I gathered across websites and forums. You need to follow these steps one by one and confidently, Geforce Experience it will start working without problems again.
Solution 1: Kill NVIDIA Processes
This is a quick workaround that could help you to fix this error code 0x0003 in a matter of two clicks. NVidia has multiple processes and services running on your computer to be able to use your graphics card correctly.
Sometimes when you want to launch Geforce Experience, those processes and services conflict with the software, and you end up seeing the warning message that doesn't let you continue.
When this happens, and an easy solution is to kill all the NVidia tasks and then launch Geforce Experience. You can try this solution following these steps:
First, you need to open the Task Manager. There is a shortcut that you can use:

Ctrl

+

Shift

+

Esc

There, you need to find all the NVidia tasks and click on the button End Task. When you finish, you can try to open Geforce Experience and verify if the error code 0x0003 has been fixed.
Solution 2: Reset Winsock
This is another quick solution because you will only need to open the PowerShell with administrator rights and run one command.
If you continue experiencing this issue after trying the first solution, you may need to reset the network adapter.
But why resetting the network adapter could fix this issue on Geforce Experience? Well, some users have reported that when this program launches, it tries to connect to the internet to check for updates and new optimization tips. When you have issues with the network adapter, the software cant starts as usual, and it will show you the message 0x0003.
As I said, you can try to run a command to fix this issue, following these steps:
On Windows 10, right-click on the Start menu and press the keys

Win

+

X

, then click on the option Windows PowerShell (Admin)
You will ask about administration permission, and there click on Yes
When the PowerShell is finally open, you need to copy the following command: netsh winsock reset
Then you can restart your computer and then launch Geforce Experience to check if the problem is solved
Solution 3: Change NVidia Services Settings
On NVidia, forums have been reported a fix for this problem that involves checking some settings in an NVidia service.
The service is Nvidia Telemetry Container, and if you continue facing this error code 0x0003 on your Windows 10, you can try this solution as well:
For this process, you will need to open the Services window. Press the keys

Win

+

R

to open the Run window
In the text box, you need to copy this command services.msc and hit Enter to open the Services
Once there, you will see all the services available on your PC. Scroll down and find the service Nvidia Telemetry Container
Double click on this service to open the Properties window. There navigate to the Log On tab
Finally, you need to check the box Allow service to interact with desktop. Click on Apply to save the changes and close the Services window.

Now, go back to your desktop and double click on Geforce Experience to launch it. If the error code 0x0003 continues appearing, you can try to go back to the Services window and restart the following services Nvidia Display Service Nvidia Local System Container Nvidia Network Service Container.
Solution 4: Reinstall Geforce Experience
You haven't been able to fix this error on Geforce Experience so far, and maybe you can solve it by reinstalling the software. You can perform this process quickly from the Control Panel if you are used to uninstalling programs.
But here I will leave you the step by step guide about how to reinstall Geforce Experience:
You need to open the Settings utility pressing the keys

Win

+

I

In there click on the section Apps
Now, you can scroll down and find the program Geforce Experience, then click on the button Uninstall

Follow the wizard instructions and finish the uninstallation process
Restart your computer and then visit the following website
There you need to download the latest version of Geforce Experience, clicking on the button Download Now
When you finally reinstall Geforce Experience, luckily it will start without issues
https://www.nvidia.com/en-us/geforce/geforce-experience/
Solution 5: Update Nvidia Drivers
Geforce Experience is highly linked to your GPU, and therefore, when there is any problem with this program, you can also try to update the drivers to fix it.
If you are a veteran gamer or Windows user, you may already know how to update your graphics card successfully, but if you don't, here I will leave a quick tutorial about how to perform this process for your Nvidia GPU:
Open your favorite browser and navigate to the following page. There you need to fill all the details about graphics cards like the model, operating system, and language. Once you enter those details, click on the button SEARCH

NVidia then it will show you the latest drivers available for your graphics card and the file size, click on the button Download if you verify that this version is newer. To start the downloading process, you need to click on one last Download button

Save the file on your computer and run it, double-clicking on the installer. Follow the wizard instructions and finish the installations process
Then, you only need to restart your computer and open Geforce Experience.
https://www.nvidia.com/Download/index.aspx
Solution 6: Update Windows
Windows is always releasing new updates for Windows 10, and some of them fix bugs and problems reported by the users. Maybe the reason why you see that error on Geforce Experience is some Windows problem that could be fixed with a new update.
On Windows 10, you will be notified about updates every often, but in some cases, you will need to check manually for those updates following this process.
Open the Start Menu and there search the words Windows Update
You will open the Windows Update utility, and there you will see all the available updates. If you can't see any update, you need to click on the button Check for updates

When you finally install all the updates available, you can try to launch Geforce Experience and verify if the issues have been fixed successfully
Wrapping Up
Geforce Experience is a useful add-on for your graphics card, and it will also help you to optimize your favorite games, but when you see the error code 0x0003, you may get discouraged because you can't open the software like always.
Luckily with these solutions that i leave above, this issue could be fixed quickly. If you don't have luck with this tutorial, here you have some other Geforce Experience related articles: