Fix Dragon Age Inquisition Won't Launch on Windows 10: Inquisition is the third installment of the Dragon Age series and the first chapter to appear on PlayStation 4 and Xbox One.
In Inquisition, your character is the only one capable of closing some green cracks through which demons enter the material plane. But until the time comes to be recognized as a hero, the protagonist will be treated with suspicion by those who hold power in the territories of Thedas.
So the first thing the player has to do is gradually build a good reputation based on actions that demand both brute force and the power of diplomacy and espionage to achieve the objectives entrusted to us.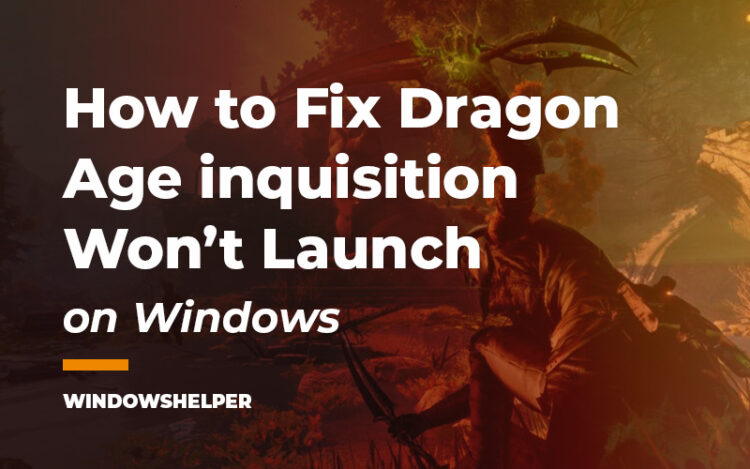 How to Fix Dragon Age Inquisition Won't Launch
Usually, you will never face any problem with this game because it is well optimized and work without problems for most users.
But there are some cases when the users have reported that Dragon Age Inquisition doesn't want to launch correctly. That problem could have multiple reasons like some missing files on your computer or even hardware issues like your graphics card being outdated or having driver issues.
Although there could be several reasons, on this post, I will leave you some of the best tips and solutions that will help you to fix this launching issue on Dragon Age Inquisition.
Basic Troubleshooting
Some of the first steps that you should try is to restart your computer and then try to launch Dragon Age Inquisition.
If the game doesn't launch since the first time that you install the game, maybe the problem is that your computer doesn't meet the minimum requirements to run this game.
You can visit the following page and there check if your computer met the minimum requirements.
https://www.game-debate.com/games/index.php?g_id=1883&game=Dragon%20Age%203:%20Inquisition
When you finish ruling out all these things, you can continue with the solutions.
Solution 1: Verify Game Files
When you can't launch the game properly, on Origin, you have a useful utility that helps you to fix any issue related to your game. This should be the first step to troubleshoot the launching problems on Dragon Age Inquisition.
To run this utility, you can follow these steps:
Once there, you need to find the game Dragon Age Inquisition and right-click on it
Now Origin will scan all your game data and then it will verify and repair any corrupted or missing file
Hopefully, after this process, Dragon Age will launch without problems
Solution 2: Install Visual C++ Packages
Visual C++ Packages are required on multiple games because they let the game use some APIs in the system. Dragon Age Inquisition also needs some of these libraries; therefore, you can try to update them or install them if you don't have done it before.
In this Microsoft Support page, you can find all the visual packages that you can download for your computer.
https://support.microsoft.com/en-us/help/2977003/the-latest-supported-visual-c-downloads

There you need to download all the versions and then install them as usual. Note: Make sure to download the correct version for computer architecture.
Once finished, you can try to relaunch the game and verify if it is working after this process.
Solution 3: Run Dragon Age Inquisition with Administrator Rights
If you haven't been able to fix this issue with the previous methods, you can try to run the game with admin privileges.
Sometimes Dragon Age Inquisition needs some individual permission to be able to modify and read some files on your computer that will let this game run without problems.
You can try to give this administrator rights following these steps:
First, you need to navigate to your Windows Desktop, and there find a Dragon Age Inquisition shortcut. Then right-click on it
In the menu that opens click on Properties and then a new window will open
In this new window, navigate to the Compatibility tab and there check the box that says Run this program as an administrator

Click on Apply and then on OK to save the changes
Now close the Properties and double-click in the Dragon Age Inquisition shortcut, this time the game will ask for administrator rights, there you only need to click on Yes
Solution 4: Disable FullScreen Optimizations
Since the older Windows version, a feature called full-screen optimization runs by default in all your programs and games that use the full screen of your monitor.
This feature always works without problems, and you will never need to disable it, but on this case when Dragon Age Inquisition doesn't want to launch, you can try to disable this feature following these steps:
You will need to navigate to your Windows Desktop and right-click in the game shortcut. Then in the menu click on Open file location
On in the file explorer, right-click on the file DragonAgeInquisition.exe and select the option Properties

Once again navigate to the Compatibility tab and there check the box Run this program in compatibility mode for
Finally, you only need to close the Properties window and launch Dragon Age to verify that it is working without problems
if the game doesn't start before that,m you can test some other options like Windows 7 or even Windows XP in the compatibility tab
Solution 5: Program Compatibility Troubleshooter
On Windows 10, you have a useful troubleshooter that could help you to fix issues with the compatibility of your programs or games.
Program Compatibility Troubleshooter will scan your computer for all your programs, and then it will fix the issue automatically. You can try to use this utility to fix the launching issues on Dragon Age Inquisition like this:
You will need to the Settings from the Start Menu or pressing the keys

Win

+

I

Now, click on the section Update & Security
In the left side menu, you need to click on the button Troubleshoot. Then on the right, you can see all the troubleshooter, scroll down and click on Program Compatibility Troubleshooter

To start the utility, to need to click on the button Run the troubleshooter, and it will begin to check all your programs automatically, finally on the list, choose Dragon Age Inquisition and click on Next. Wait until the troubleshooter makes changes and fixes the issue and launch the game.
Solution 6: Disable Antivirus
You have not been able to fix this problem on Dragon Age with the methods I leave above? You can try one last quick workaround that some users reported fix this problem quickly.
Sometimes the antivirus you have installed creates some conflicts with your game data and block some essential files that Dragon Age Inquisition needs to run the game properly.
You can try to disable your antivirus to fix this issue like this:
Note: These steps show how to disable the Avast antivirus, but the process is almost the same for other programs.
First, you need to navigate to your Windows Taskbar, on the right and right-click on the Avast icon. Remember that this icon could be hidden.
In the menu that opens, click on the option Avast shields control and then click on Disable protection for 1 hour

When you see a little X in the antivirus icon, you can try to launch Dragon Age Inquisition and verify if the game launch without problems
If the game could run with the antivirus disabled, you will need to add the game to the exceptions list of your antivirus. To do that, you can check your antivirus documentation, but the process is simple.
Wrapping Up
Dragon Age Inquisition is a fun game that has millions of things that you can do, and with these solutions that I leave above, you will be able to fix any issue when the game doesn't want to open.
You need more help with this issue, you can try asking for help in the game forum, but you can also leave a message below. I will leave some other related articles that may help you: