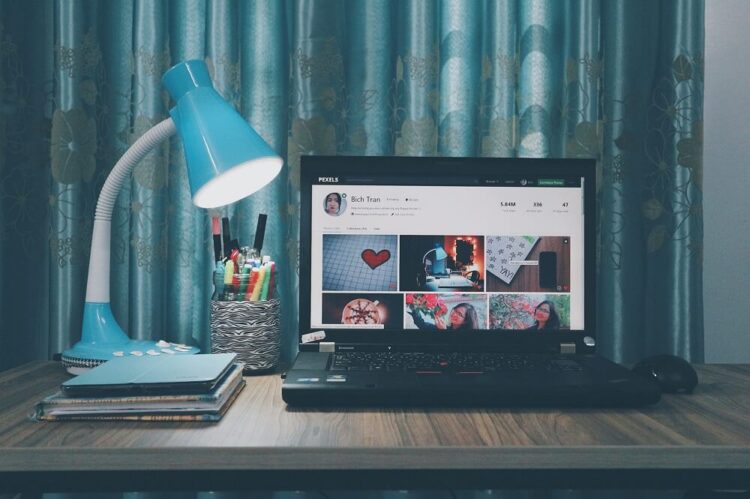 If you are looking for a quick and simple way of preserving your images, create a slideshow. It's easy, fun, and will not take up too much time. And the best part is that you don't need to download anything: if you have Windows 10 on your PC, you already have the right program. Photos App is a preinstalled tool on every Windows 10 computer that will help you organize your images and create slideshows.
Photos App: How to Make a Slideshow
So, how to make a slideshow on Windows 10 using the Photos App? Open the program on your PC, click the three-dot button on the top of your screen and go to "Slideshow". You will see a slideshow with random pictures from the folder associated with this tool. If you would like to add or remove images from the folder, you can easily do it: go to Folders and select Add a Folder. Here you can browse through your PC and pick the images you wish were on the slideshow.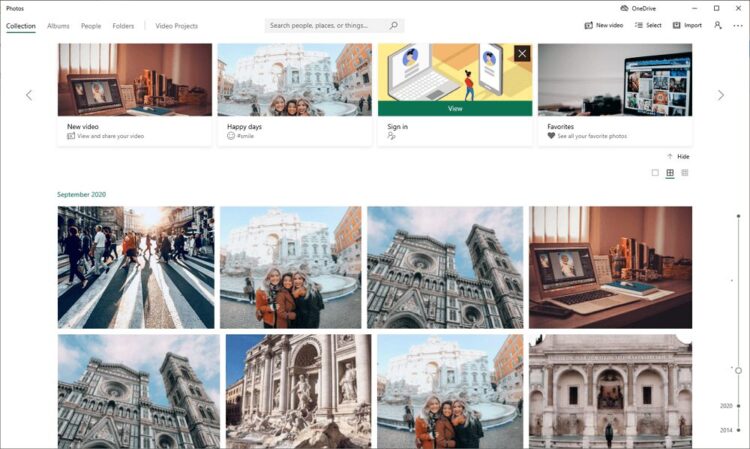 Photos App: Other Great Features
Photos App also offers a very convenient way of storing your photographs. Install OneDrive on your smartphone, both Android and iOS, turn on the Camera Upload function, and every single photo and video from your phone gallery will be automatically uploaded to your PC. On top of that, you can tag people in the Photos App and later find specific images in just one click.
Unfortunately, there is only so much you can do here. You cannot change the duration, add modern animation effects, or add captions. Photos App is solely for quick and plain slideshows and serves more as a method of organizing your images and keeping them in one place.
SmartSHOW 3D: the Main Features
In case you would like to funk up your work, add some great effects, music, text, and so on, check out SmartSHOW 3D. SmartSHOW 3D is a Windows 10 slideshow maker that is easy to use and contains tons of animation and transition effects, cute clipart, and basic editing options. The program has over 300 predesigned templates for virtually any occasion that let you create a slideshow on Windows 10 in under five minutes.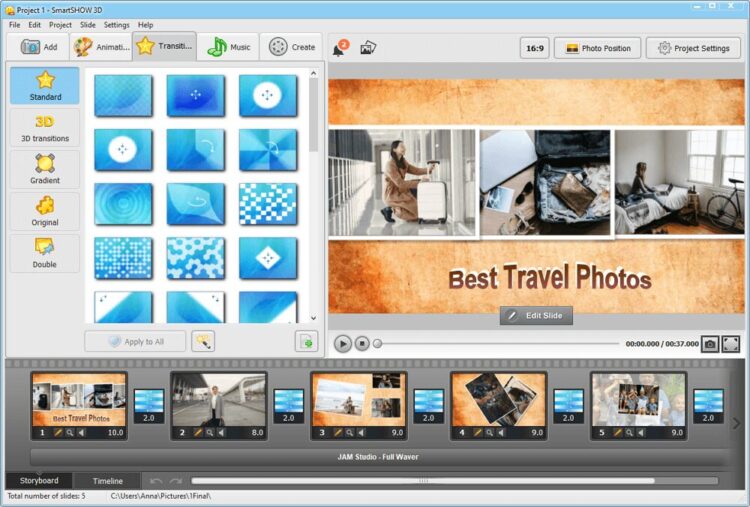 To make your work more personal and dynamic, you can add a tune by browsing through a rich music library of over 200 songs. If you are uncertain about the track you want to use, you can filter out the songs using categories like genre, mood, and duration. To find out more about the program and to read the instruction on how to use SmartSHOW 3D to make great slideshows, follow the link:
https://smartshow-software.com/how-to-make-a-slideshow-on-windows-10.php
Depending on your goals, you can choose between a simple preinstalled Photos App or an extended tool like SmartSHOW 3D. The former will let you keep your images in order which will make it easier to find them later. Whereas the latter allows you to create original and exciting slideshows with music, captions, effects, and clipart. Choose your weapon, and make something great.