Do you want to download Adobe Flash Player for Google Chrome? On this post, I will leave direct downoad links and a quick tutorial.
Adobe Flash Player is an app that with the passage of time has positioned itself as one of the leading media players to surf the internet. It is one of the accessories that are part of any modern browser to watch videos, display images or even listen to songs that may have been placed on web pages.
Developed by the company Adobe Systems and launched in 1996 in its first version, its function is to facilitate the reproduction of multimedia elements such as those already cited, so it is one of the critical components to ensure access to everything that the internet can offer you. You have to have it updated and, above all, activated to be able to navigate with total security and without restrictions of any kind.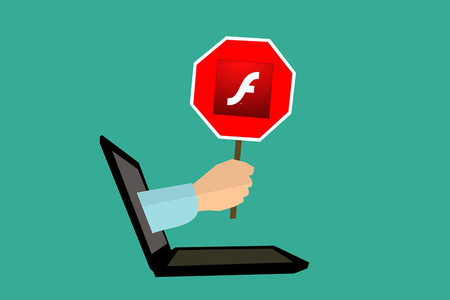 In case you have problems and do not know how to download and enable Adobe Flash Player for Google Chrome, I will help you with that. This guide explains step by step what you have to do to download, install and enable Adobe Flash Player on Google Chrome. You will have to make a couple of actions every time that a content that requires this add appears, and here I explain it to you as well.
Download Flash Player for Google Chrome
Choose the download link according to your operating system, then proceed to install the software by just double clicking on the exe file and following the instructions.
Windows
Mac
Linux
Enable Flash Player on Google Chrome
The steps to enable and run Adobe Flash Player depend on the web browser you use. Follow the instructions.
If for some reason, you try to open a content that requires this component and it does not work, you have to enable it again. To do this, follow these steps that we will indicate below:
Open Google Chrome, as usual, and if it is not in the latest version, you need to update it.
When you're inside, go to the top right of the window and click on the menu button, with three vertical circles.
In the drop-down menu, go to the Settings section and click on it with the mouse.
Now, go down to Advanced and click there to open a drop down.
Search the Site settings section and click on it.

Among the options that appear now, go to Flash and click here to enter their settings.
Click on the button above to check the Ask before (recommended) option.
From now on, whenever you see something that requires the use of Adobe Flash Player, the browser will ask you. Accept and start working.
Wrapping Up: Flash Player for Google Chrome
As easy as downloading Flash Player and follow the steps you can use this multimedia add-on on Google Chrome. If you have any questions, leave them in the comments, I will answer you as soon as possible, and I am sure it will be of great help to more members of the community. Thank you!
Must Read: