Do you want to install Google Chrome offline? On this post, I will leave you to download links to the Google Chrome standalone installer for all versions.
For many, the Internet browser Chrome is one of the essential products that Google has launched in its history, as this began an evolutionary change for web browsers through the introduction of " sandboxing," among many other things.
It has undergone a huge advance to this day when it can be affirmed without any doubt that it is the most popular and used alternative in the world. What's more, right now and as the basis of an operating system in an ecosystem of laptops that is undergoing rapid growth. Well, it has just celebrated its tenth anniversary since its initial announcement by Google.
It was on September 1 of the year 2008 when Google published an entry in his blog announcing "a new browser vision." They explained that the company wanted to develop an Internet browser designed specifically for complex web applications, with a system similar to sandboxing. At the time the firm said that they realized that the web had evolved from simple text pages to rich and interactive applications that needed to completely redesign the browser as such.
Using the following links, you can download the latest Google Chrome offline installer and older versions.
Choose your version:
Google Chrome 74 Offline Installer
Google Chrome 74 is scheduled to arrive on April 23 to all users in its stable version, and like the version 73, the Google browser comes loaded with several exciting features, including the long-awaited Chrome dark mode in Windows 10.
In the last update, the dark theme landed in macOS, and now finally it is the turn for Windows. But, as not only man lives, Chrome 74 also adds new privacy features, a reduced movement for those who are dizzy with some web, and support for multimedia keys in the mini-video producer.
This will respect the system settings, that is, if you have the dark mode of Windows 10 active, Chrome will automatically detect the configuration and set its dark mode.
The same happens if you have a white mode. However, it is possible to activate the dark mode independently, or for example, you can install any of the new official themes. You should make sure you do not have any other active themes so that Chrome can switch between dark and bright mode automatically with Windows 10.
Incognito Chrome
From this I had talked extensively at the beginning of the year, Chrome was working on an update to prevent the websites you visit from knowing that you were using the incognito mode, as interestingly, the function served as another indicator so that they could trace and identify you in the web through fingerprinting.
Chrome 74 eliminates the privacy risk that this entailed, although it is worth remembering that the incognito mode has nothing incognito or private and is not an alternative of privacy when browsing.
Movement Reduction
This may seem strange to you, but for those who suffer from any vestibular problem, it is truly annoying when the animations on some page cause dizziness.
With Chrome 74 have added a preference in CSS that when activated by the user from the accessibility options, minimizes the amount of movement in far-reaching effects such as the parallax when zooming or scrolling.
The update is scheduled for today and should appear from the information menu on Google Chrome in the browser during the day, or you can download Chrome from the web if you are looking for the latest stable version.
Google Chrome 69 Offline Installer
This September is a special one for Google, not only the company is the 20th anniversary, but Chrome is also turning 10 and launching a new version, with perhaps more exciting news that you have seen together in good time.
Unlike previous versions based more on security and performance, Chrome 69 also offers visual changes, things that you will immediately notice as the new Material Design 2 interface, and others that may not be as obvious at first glance as the fact that you will no longer see the "HTTP" in the address bar.
New Design
The new Chrome has rounded edges on the tabs, and it even looks like Mozilla's Firefox Quantum. There is much more white than before, the text entry drawers also have rounded edges, and instead of a magnifying glass icon to represent the search, you will see the Google logo in the URL bar.
That same URL bar now shows instant answers, so you can solve questions thanks to Google search without even having to leave the current tab.
Where you will notice other changes is on the Chrome Settings page. There you will find that things are organized a little differently and that there are things that were not there before. For example, in the users' section, you now have your password management, payment methods, addresses and more.
That such password management is new, Chrome can now generate strong passwords for you and store them in the cloud through all your devices to fill in the information automatically.
Default Secure Sites
Another thing that you will not see anymore from Chrome 69 is the acronym "HTTP" or "HTTPS" next to a web. The only thing you will see is the critical information that marks the sites you visit as unsafe in case they are.
In addition to this, they will no longer notify when a website is safe because that should be normal, but when a website does not use HTTPS, you will see a warning in red.
AV1
For the first time, Chrome has added a video decoder for the AV1 format in the desktop version of the browser. AV1 is the video codec for the next generation, one that is being developed by the Alliance for Open Media (AOMedia).
AOMedia is a non-profit organization whose projects include the development of this new open video codec, a successor format for VP9 and a royalty-free alternative for HEVC. Google founded that alliance with companies such as Amazon, Cisco, Intel, Microsoft, Netflix, and Mozilla.
AV1 improves the efficiency of video compression by up to 30% compared to VP9, ​​the most advanced codec we currently have.
If you already use Chrome, you can expect the browser to notify you of a new version to update, or you can download the offline installer above.
Google Chrome 60 Offline Installer
Google Chrome 60 is an excellent update to this browser. Although users will not see significant aesthetic changes, changes made under the hood are not few. The first of the novelties included in this update is the Payment Request API, which will allow us to make payments much easier from the browser.
Besides, the VP9 codec has been included in the Android version, which will significantly improve video playback from the browser.
MacOS users will now be able to use the TouchBar when using this browser and, besides, Google has taken the opportunity to update the text of its incognito mode, making clear what is the content accessed and even from this method and what not.
As I have said, in addition to the new features of this new version, Google Chrome 60 also solves a total of 40 security failures , among which we can highlight several shortcomings in the IndexedDB, V8 and PPAPI components, as well as several failures of the URL type Spoofing in the Omnibox and one error type in PDFium.
As for developers, the first of the new features included in this new version of Chrome is the blocking of the fetch () function to access the passwords stored in the browser, a move with which the company aims to encourage developers to use the Credential Management API. Improvements have also been included in the CSS and the availability of a new Paint Timing API.
You can download the Google Chrome 60 offline installer using the download link below.
Download Google Chrome 60
Google Chrome 59 Standalone Installer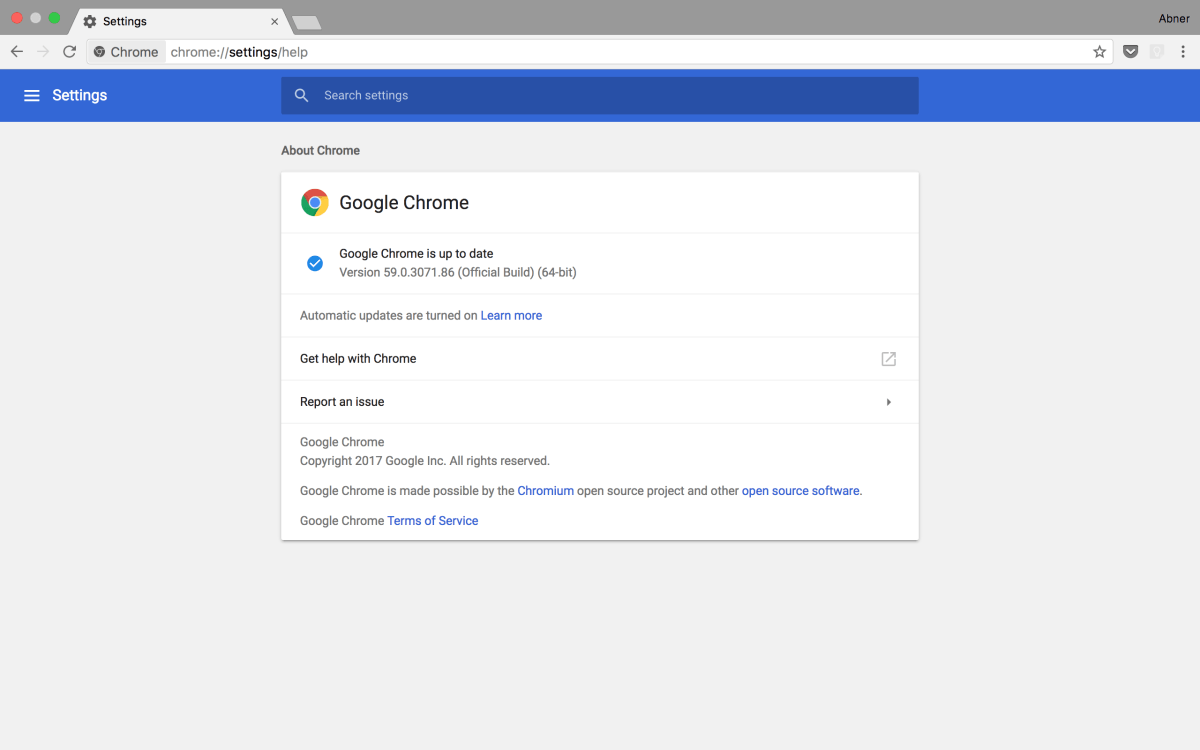 Google had already been developing and testing version 59 of its web browser for quite some time. Between yesterday and today, this version has been arriving already definitively (not as a beta, but as a stable and public version).
The most significant improvements are the design in Material Design and the native notifications (the latter only in macOS). Besides, it is a significant update as far as security is concerned: it covers up to 30 security holes.
Material Design
Material Design has been coming little by little to Google services since it was launched in 2014. Google Chrome is one of those applications that had not yet been fully updated to MD. In this particular case, it was updated, only very slowly.
Where I have seen more changes has been in the Settings menu, where it is passed from a 'primitive' interface to a more minimalist and much cleaner.
Material Design, however, if you consider it to be very intrusive, you can disable it from the experiments tab accessed from chrome://flags/# enable-md-settings.
It is only necessary to deactivate that button, and you will have the old interface.
Desktop Notifications in macOS
The notifications, of course, were already in Google Chrome 58 for macOS, but not natively. That is, Chrome showed its notifications (separately from the Mac notification system). Now, instead, you can put aside, if you want, Chrome's system.
This means having all the notifications in the same centre: in macOS. In appearance, they are something different from what we may be used to, but the function is the same as always.
Long Screenshots
Google has not made any entry in his blog about this topic (or any other function, really), but many American media are reporting that it is already possible to take this type of screen capture.
The usual thing is to update itself, and most likely you have it updated, but it doesn't always happen that way. To do it manually you can go to the menu, then look for the button that says Settings and then enter Information. You will see how it loads a bar. When it finishes, it will ask you to restart it.
Also, you can install the update manually downloading the Google Chrome 59 standalone installer from the links above.
Google Chrome 58 Offline Installer
Internet is constantly changing, and for this reason, browsers must always be changing and updating to offer users the best possible experience and, above all, the best security against the threats that plague the network. Therefore, Google has just released a new version of the Google Chrome browser, version 58.
A few hours ago, Google began to release the new Google Chrome 58, the latest version of this web browser that seeks to continue with the continuous development and the best constant of which, to date, is the most widely used web browser in the world. This new version of the browser doesn't come with significant changes or significant developments but instead is focused on implementing a series of adjustments and, above all, security patches that allow users to continue using the browser in the most comfortable way possible.
Touch Bar
The first of the novelties and one of the most important (at least for the users of macOS) is that it now has support for the Touch Bar, allowing the browser to use this new device, although, for the moment, it is disabled by default and users must manually activate the support.
Besides, the new Google Chrome 58 has implemented full support for IndexDB 2.0, and can now work much better with large amounts of data at once. Also, work has also been done to improve support for Android Progressive Web Apps, where now the browser offers a better experience by hiding the status bar and navigation.
Chrome 58 Fixes 12 Vulnerabilities
In addition to the few developments mentioned above, this new version of the browser has arrived with a total of 29 security patches that correct all types of vulnerabilities in it. Twelve of these vulnerabilities have been discovered by researchers outside the company and 3 of them which have even been considered critical and, if exploited by a hacker, could endanger the safety of users.
Solving all these vulnerabilities has led to Google, within its rewards program, more than $14,000.
This new version of Google Chrome is now available for Windows, Linux and MacOS users and you can download the offline installer using the links above.
Without a doubt, although I can't say that this is one of the most significant updates that this browser has received, i can affirm that it is an important step forward in terms of security and performance that will undoubtedly allow it to continue maintaining its leadership as a browser most used website in the whole world.
Google Chrome 57 Offline Installer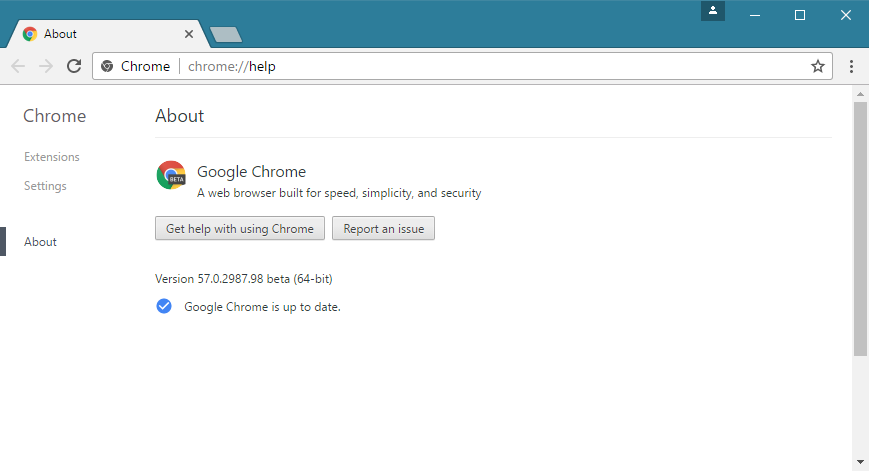 Google has launched a new version of this browser, Google Chrome 57, focused mainly on improving stability and, Above all, solve a series of known failures to protect the security of your browser.
This new version does not include significant changes and changes that we can see at a glance when we launch the browser again but instead has a large number of internal changes and developers. In this way, one of the most significant changes is the implementation of the CSS Grid Layout, a design function that facilitates the adaptation of elements to multiple resolutions.
In addition to this new function, this browser has also solved a total of 36 vulnerabilities, 18 of which have been discovered by researchers outside the company and 9 of them have been of high risk, the highest level of danger. These failures have been rewarded by the company with up to $ 7500 the most serious.
Although this was already seen in Chrome 56, now it has finally reached this new version of the browser. Users who install the latest Google Chrome 57 and try to access the plugins configuration section chrome://plugins will see how the browser no longer loads that page.
This section was handy for users who wanted to disable the use of specific NPAPI plugins manually to reduce the consumption of browser resources and improve their security. However, from this moment, the only plugins that work, and that Google controls, with the Flash plugin and the PDF reader.
Wrapping Up: Google Chrome Offline Installer
You can easily download the Google Chrome standalone installer using the links above, so you don't need to be connected to the internet or install the browser on several computers without downloading the same packages again.
Read: 5 Best Video Downloader Chrome Extensions
Do you use Google Chrome usually? Let me know in the comments section.