Do you want to install Google Chrome without an internet connection? On this post, I will leave direct downloads links to the Google Chrome offline installer setup latest version for 32 and 64 bits.
Google Chrome is the web browser created by the company Google INC. Considered as the fastest browser in the world, in a short time that Google Chrome has developed, it meets your main objectives, fast, safe, practical, stable, and with a unique minimalist sense, which gives the user the most excellent comfort when navigating the web.
Although Chrome can be installed in almost any operating system and is available in 50 languages, to install it, you will need an internet connection.
Usually, when you visit the Google Chrome webpage, you will download a small installer that will download all the components and files from the internet to be able to install it on your computer.
But what happens if you need to install Chrome in multiple computers? You will have to download the same files over and over. For that problem, there is a standard solution called the offline installer.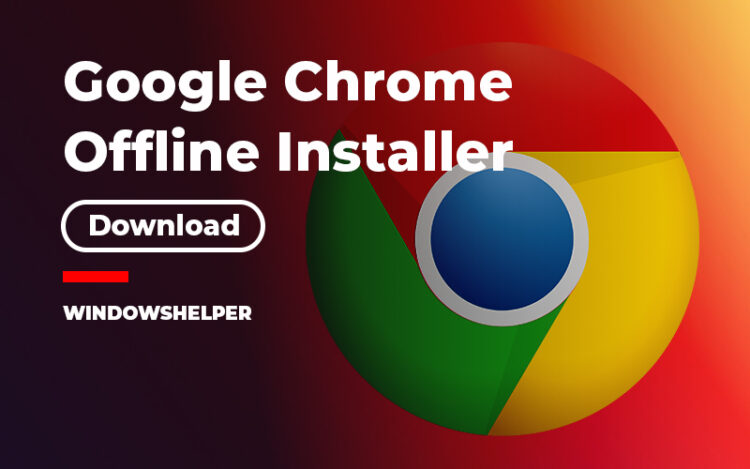 Google Chrome Features
Chrome is a web browser with a minimalist design has some cool features that I will list you below:
One Box That Rules All: You can use the address bar to visit websites, make a search on Google, check recent websites and other things like searching files on Google Drive, etc
New Tab Page: Chrome lets you see and visit your most frequent websites on the new tab page. From there you can see all the websites with little icons
Incognito Mode: Like any other browser, Chrome includes a powerful incognito mode that lets you browse the web without leaving any trace on your computer.
Safe Browsing: Google Chrome want to keep you safe while you are browsing the new, that's why it shows you a warning message on a page when you are going to visit a harmful site.
Download Made Easy: You only need to click on the download link and the process will start automatically without asking you for things like where to save. This process will not interrupt because it will show the progress in the bottom bar and from there you can even drag the file to your desktop.
This browser has some other awesome features that you may already know and now you will be able to install Google Chrome on your computers using an offline installer.
Download Offline Installer
An offline installer is a setup file that will have all the data from the latest version that you can install on your computer directly without the internet.
Google doesn't provide direct download links to the offline installer directly on their website but I will leave those links in the next section of this article. Anyway, you can download the latest version of the offline installer directly from Google following some easy steps:
To download the latest version, you need to choose one of the below links according to your Windows architecture:

https://www.google.com/chrome/

You will be redirected to the Google Chrome website. There you need to click on the blue button Download Chrome

A pop up will appear, there you can choose to allow sending usage statistics and crash reports to Google. Finally, click on the button Accept and Install.
Save the file ChromeStandaloneSetup.exe and to install, you only need to run it.
That's an easy way to install Google Chrome without internet but if you need direct download links to the latest version of Google Chrome right now: 78
https://dl.google.com/tag/s/appguid%3D%7B8A69D345-D564-463C-AFF1-A69D9E530F96%7D%26iid%3D%7BEE50A47A-4D91-EBC1-A2B8-CCB727FD6702%7D%26lang%3Den%26browser%3D3%26usagestats%3D0%26appname%3DGoogle%2520Chrome%26needsadmin%3Dprefers%26ap%3Dstable-arch_x86-statsdef_1%26installdataindex%3Dempty/chrome/install/ChromeStandaloneSetup.exe
Wrapping Up
Those were the official and direct links that will help you to download the Google Chrome offline installer. If you need another software offline installer, you can leave a message in the comments section below.
You can also let me know if any of the links that I just provide you go down or it is not working anymore. I will update it or reupload the file for you. Thanks for visiting WindowsHelper.