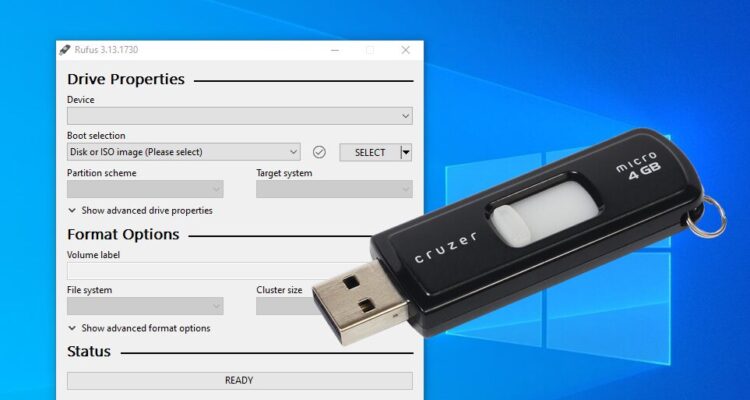 If you want to install Windows 10 on your computer through a USB drive yet do not know how to do it? Do not worry. We are here to help you out. Rufus Software is one of the known utilities that provide free of cost and qualitative service of creating bootable USB flash drives or pen drives that, in turn, enables the users to install other media, applications, or even windows. This method of booting is always convenient, especially when Rufus Software has the back. You can download and install a new copy of Windows 10 on your computer from Bootable USB more conveniently and instantly.
What do you need to ensure to proceed?
However, before proceeding to the process of installing Windows 10 on your computer through USB, you have to make sure that your system meets the requirements that are:
8GB minimum storage capacity of the device
Supportive hardware
Supportive UEFI USB drive and with BIOS legacy
It is important to note here that UEF Interface has lately overridden the usage of BIOS that the old devices used to use for managing and booting. Now, UEFI is the preferable method for downloading Windows 10 from USB. It also diagnoses your PC and helps in repairing it without prompting you to download any other software or application.
How to use Rufus Software to download it?
To download Windows 10 on your PC from USB, you have to install the ISO image of it. Without creating a media file, you will not be able to install windows on your computer. Download Rufus and install it on your pc. So, let's get started.
1. Create installation media through Rufus Software
First of all, you have to download the media creation tool that gets downloaded within seconds. Once you have downloaded it, save, launch, and accept the file on your computer. After this, you will get two options. You have to click on create installation media ( USB, DVD, or ISO file) for another PC and click on next. Now, you have to write in your language, the windows edition that you want to download, and architecture to proceed. Select on the USB flash drive, and by clicking on next, you will ask to select the USB drive and click next for the last time to start.
2. Install Windows 10 with a USB
Now begins the essential party. Once you have downloaded, it is not difficult to install windows on your PC. After ensuring that the file is saved, plug out the USB, insert it in the desired PC, let it detect the USB drive, and mark it as a boot device. Now, you can download Windows 10 on your PC that begins with the installation of a wizard. The windows will start downloading by themselves, and you will get a notification soon after it is done. Keep the windows version up to date, and boom. You can read another guide about how to use Rufus to install Windows.
Why download through Bootable USB drive?
USB drives are small in size, capacious, and fast, which can ease your pain of carrying or buying separate CDs or DVDs for each window or installation media. You can install Rufus Software on your PC, create an ISO file for the system you need, and you are ready to use it anytime when you require. You can even save archive files directly from a physical disc and free up space or can work without it if you have a USB stick. The compatibility, portability, and source of offering a quick installation method make the USB drives preferable. Above all, every computer or laptop supports USB insertion even if it does not support DVD/CD.