Do you want to watch your favorite movie or series on Netflix, but suddenly you see the error code: m7111-1931-404? Don't worry, although that problem could mean something bad in the servers, it also appears when there are certain conflicts on your computer.
Netflix is a streaming service that needs to connect your computer to the internet to be able to stream the movies and series that you like. Being an internet service requires a proper internet connection to download media files to your computer.
On some occasions, users have reported a weird error when they try to stream some content, the error code m7111-1931-404?
What is the Error Code M7111-1931-404?
This error code appears when there is some problem between your device, computer or smartphone, and the server connection.
That means that your computer can't connect correctly to the server, or it is refusing the connection several times. This could happen if you have some adblocker or third-party extensions installed on your Chrome browser or also problems in your router and internet connection.
In this post, I will leave you some of the common ways to fix this issue quickly and be able to enjoy your favorite movies and series again without problems.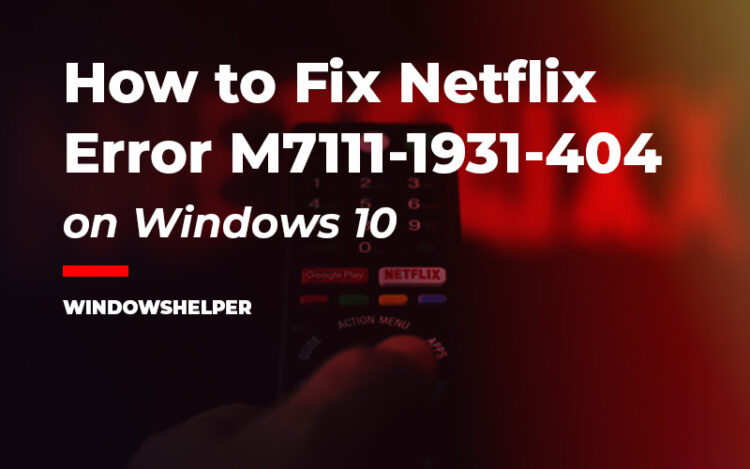 Is Netflix Down?
This is the first step to troubleshoot this issue and could save you a lot of time. Sometimes you think that there is a bad problem with your computer and start trying several solutions, but then you realize that the problem is the Netflix servers.
Netflix provides a webpage where you can check the status of the server. You can check that here.
https://help.netflix.com/en/is-netflix-down


There you should a green status, but if you see a red one, you need to wait some minutes until the server problem gets fixed by Netflix.
Solution 1: Clear Netflix Cookies
Netflix stores cache and cookies on your computer because, in that way, store your user account information. Without cookies, you will need to log in every time you open the service, but in some cases, that information gets corrupted or it old, and that could be the reason why the error code m7111-1931-404 appears.
You can quickly fix that, by clearing the cookies and cache from your browser and also on your smartphone:
On Windows 10, launch your browser from where you want to watch Netflix
In this example, Google Chrome, press the keyboard shortcut

Ctrl

+

H

Finally, click on Clear Data and wait 1 minute until all the data is cleared from your computer. Then you can try again to watch your content on Netflix.
For smartphones:
If you own an Android smartphone, you need to open the Settings app
Scroll down and open the Apps section
There select the Netflix app
Now you should see some details about the app, click on the button that says Clear Data

Now open the Netflix app and login into your account. Surely this time you should no have any problem to watch your content.
Solution 2: Restart Router
You have cleared the cookies of Netflix, but you still see this error code m7111-1931-404? Maybe the problem is on your router.
You can try to fix any server or network issues by restarting the router and to perform that process correctly, and you need to follow these steps:
First, disconnect your computer from the router, either Wifi or Ethernet, disconnect the cable, and turn off the Wifi on your PC.
Now you need to press the power on the button located at the back of your router
Unplug the router from the power source and wait for about 60 seconds

Then you can plug the router again and press the power-on button
Wait until all the lights stop blinking and connect your computer to the router and try once again to watch Netflix.
Solution 3: Disable Chrome Extensions
This process only applies in the Chrome browser but also on Firefox because of those, and you can add some extensions or addons that could be conflicting with Netflix.
Extensions are useful addons that improve your experience by adding cool features to the browser. Some extensions let you add themes and cool stuff to tour favorite services like Facebook, Twitter, and even Netflix.
Tons of Netflix extensions could improve your viewing experiencing but could also be the reason why the error code appears.
You can try to fix this issue disabling the extensions on Chrome following these steps:
Launch the Google Chrome browser and open the menu located at the upper right. In the menu navigate to More tools and click on Extensions

In that page, you can disable the extensions by moving the switch, but you can also remove them if you don't need them anymore
Netflix Extensions
On that page, you need first to troubleshoot some of the Netflix extensions that you may have installed.
Some of those extensions are VeeHD Extension, Netflix Party, Super Netflix, etc.
You need to disable all those extensions and then go back to Netflix and try to watch the movies and series again.
AdBlock Extensions
Some useful extensions help you to avoid the intrusive ads that let you to unwanted download that become malware in your computer.
AdBlock, Ublock, and some others are the most download extensions because they are required on some occasions thanks to the websites that have bad ads in it.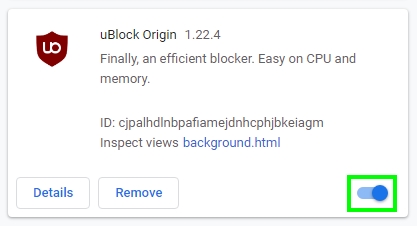 As I said, these extensions could be useful but in some cases, could be blocked by error some of the core Netflix servers, and that could be the reason why you see the error code: m7111-1931-404.
Therefore you need also to disable those extensions and try once again to watch your movies and series on Netflix.
Sideloaded Extensions
These are the most harmful extensions because sometimes you don't have complete control of the content or servers that this extension creates.
If you have installed some sideloaded extensions before, this is a good time to disable and verify that you can watch the content on Netflix again.
If you see a sideloaded extension that you can't be removed, maybe it is a malware that has been installed on your computer and needs some specific steps to remove them.
Useful security software that helps you remove the malware extensions is Malwarebytes, and you can try it for free.
Wrapping Up
I hope this quick guide helps you to fix this error on Netflix and let you watch your favorite movies and series without issues anymore.
If you need more help regarding Netflix problems and errors, you can check these other articles that could give you more tips: