Google Chrome is one of the most used browsers today for its different features, attributes, and performance, but like any system, it doesn't escape certain errors.
One of the most common errors you can see in Google Chrome is ERR_CONNECTION_RESET:
This error happens during installation when Google Chrome can create a temp folder. When happens during your daily browsing, means that the connection to the internet has been interrupted.
Today we will see some practical tips to fix this error.
Method #1: Verify Your Internet Connection
The first step is to check your Internet connection both on hardware and software.
For hardware, you need to make sure that your cables and routers work correctly, and trying to connect in others devices and for software, try to open other websites and see if the same error appears.
Remember if you use Wi-Fi networks, that some elements in your environment can block the internet, like doors, walls. Make sure that you have a proper wifi connection in your computer.
Method #2: Check or Disable VPN
This method its only if you use a VPN on your computer.
Try to verify that your VPN connection works or disable it to troubleshoot your Internet Connection.
If you aren't sure if you have an active VPN connection on your computer, follow this steps:
Open Windows Settings pressing the keys Winkey + I
Click on Network & Internet
Select the VPN section on the left
Now, verify if you have a VPN connection, if so, click on it a Remove

Method #3: Check Firewall Settings
Firewall allow or deny the entrance of network packets to or from your computer, thereby increasing the security of this, and for, this its ideal to check some rules or settings of this to determine that this doesn't influence the optimal Internet connection.
To troubleshoot your Firewall, you will need to disable it following these steps:
Press the keys Winkey + R
Type firewall.cpl and click on OK
Now, click on Turn Windows Defender Firewall on or off on the left

Finally, check the boxes Turn off Windows Defender Firewall

Method #4: Disable Antivirus or Real-Time Protection
Antiviruses are one of the most useful tools to prevent various types of attacks in your system, but in many cases, the security of these tools is so great that they restrict individual applications to access the local network.
If you don't have antivirus software but you have Windows 10, it comes with Windows Defender.
Either in the antivirus or in Windows Defender, you must check that Google Chrome is not blacklisted and have access to the network.
For Windows Defender you can try adding Google Chrome, like this:
Open Windows Defender Security Center clicking on the Shield Icon

Go to the Firewall & network protection section on the left
There click on Allow an app through firewall.

In the window that popups, make sure that Google Chrome is checked both for Public and Private

Method #5: Check LAN Settings
LAN (Local Area Network) is the platform through your access to the Internet and if there is an anomaly, it can have a bad connectivity in the browser.
To check the LAN Settings follow this steps:
Press Winkey + R and type inetcpl.cpl, then click on OK
Go to the Connections tab
Click on the LAN settings button
There, uncheck all the boxes and click on OK, then Apply and OK again to apply the changes

Method #6: Reset TCP/IP
To reset TCP/IP you will need to open the Command Prompt as administrator like this:
Open the Search Box and type cmd
Right-click on Command Prompt and select Run as administrator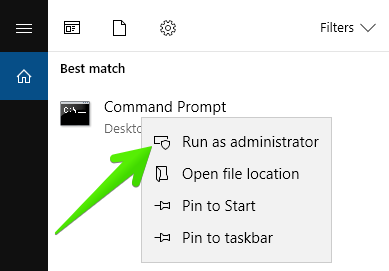 Finally in the Command Prompt, run these commands in order:
netsh winsock reset
netsh int ip reset
ipconfig /release
ipconfig /renew
ipconfig /flushdns
Method #7: Clear Google Chrome History
Sometimes, due to the number of sites you visite, some type of errors may occur when you access a specific website
To delete this history, press Winkey + Shift + Del
In Time Range select All Time
Check Browsing History and the others if you want and finally click on Clear Data

Method #8: Increase MTU (Maximum Transmission Unit)
Maximum Transmission Unit (MTU) is the maximum size associated with the data transmission allowed in the Internet connection.
When the MTU size is small, it can interrupt the connection and show errors like err_connection_reset.
To increase this number, reopen the Command as administrator and run the following comand:
netsh interface ipv4 show subinterface

Now, to increase MTU run the following command:
netsh interface ipv4 set subinterface "NET" mtu=1450 store=persistent
You need to change "NET" with the name of your network in this case ETHERNET
After that, restart you computer to apply the changes.
You have seen practical methods to fix this error in Google Chrome effectively. Let me know if this help you in the comments.