Your computer restarts after showing a blue screen of death, and you don't know why is that happening? Check this tutorial where you will learn to fix this issue correctly and with simple steps.
There are some computers where the BSOD "Blue Screen of Death" DPC_WATCHDOG_VIOLATION appears, and Microsoft is aware of this problem and tries to give it a solution through different updates.
This DPC_WATCHDOG_VIOLATION error appears suddenly and restarts your computer after some seconds make it you lose all your work. The error code that shows along the BSOD is 0x00000133.
Several users reported that the error appears after upgrading from Windows 8 or 7 to Windows 10, and that's certainly the problem because there is a particular driver that isn't fully compatible while you perform the upgrade.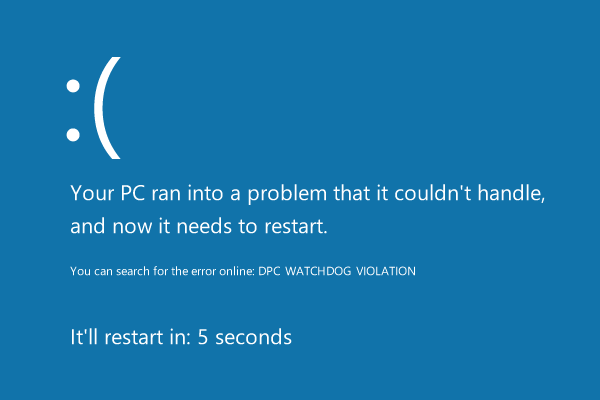 To fix this issue, you will need to replace the faulty driver for another that will be fully compatible and repair the DPC_WATCHDOG_VIOLATIOn error.
Follow these easy steps to repair your PC:
Rightclick on the Start Menu to open the Contextual Menu. On this menu, choose the option Device Manager.

Once in the Device Manager, navigate to the section IDE ATA/ATAPI controllers
Rightclick on the SATA AHCI controller and choose the option Properties. Then in the menu that appears, click on Update driver

In the window that shows up, select the option Browse my computer for driver software
Now click on the option Let me pick from a list of available drivers on my computer
In the list of available controllers, select the one that says: Standard SATA AHCI Controller and click on the Next


Follow the wizard instructions until the new drivers get installed on the system.
Restart your computer, and surely you won't see the blue screen of death DPC_WATCHDOG_VIOLATION anymore. I also recommend you to install all the available updates to fix any conflict.