BitDefender shows you a warning message every time you turn off or restart your computer that says: A problem has occurred in BitDefender Threat Scanner? Well, you are not alone because this problem has been reported multiple times from users in forums.
This warning message also tells you about one file that you need to send to developers located in the path: C:\Windows\TEMP
The file is BitDefender Threat Scanner.dmp, and even if you remove that file, the problem persists every time you shut down your PC, and it is quite annoying to see this message.
If you are looking for solutions to these problems, you are in the right place. Here I will leave the best tips and methods that had worked into fixing this Bitdefender error.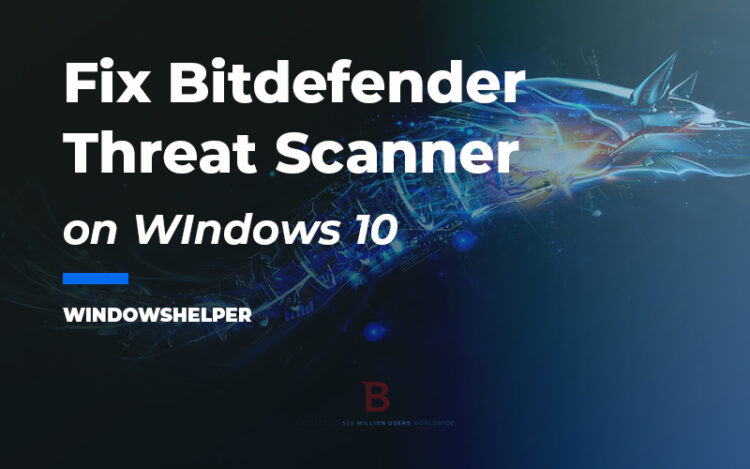 Solution 1: BD Repair Tool
This should be the first solution that you try because it is aimed at this specific problem with BitDefender and also other security software that uses this engine.
BD Repair Tool is a utility that fixes the BitDefender antivirus by just running the application.
You can download the utility from the following download links according to your Windows architecture.
Solution 2: Update SpyBot Search and Destroy
This problem is recurring on the following security software: SpyBot Search and Destroy, and that's because it uses the BitDefender virus scan engine.
Some time ago, this utility let you repair this BitDefender Threat Scanner problem by downloading some missing files on your computer, but this isn't possible anymore.
The recommendation is now to update your SpyBot Search and Destroy, and you can try this following these steps:
First, you need to launch the SpyBot program
In the Start Center, you need to click on the button Update like in the image
You will open the Update window, and there make one last click on Update. The program will check for updates and then it will download the files automatically.

Once finished, you can close the Spybot program and restart your computer. Hopefully, you wouldn't see any Bitdefender warning message.
Solution 3: Reinstall SpyBot
If you continue experiencing this issue on your computer, the other recommendation from the SpyBot team is to reinstall the program.
If you want to try this solution, you can follow these steps:
First, to uninstall SpyBot, you need to open the Program and Features window. Press the keys

Win

+

R

and in the text box copy the command appwiz.cpl
Now, hit Enter to open the Program window and there scroll down and select Spybot – Search & Destroy. Finally, click on the button Uninstall

In the window that appears, click on Yes to uninstall Spybot and then restart your computer
Now, you can download the software again from this reliable source.
Save the file on your PC and double click in it to start the installation process.
Solution 4: Reinstall BitDefender
If this warning message about a problem has occurred appears in the Bitdefender Antivirus, you can also try to fix it by reinstalling the security software.
BitDefender has some special Uninstaller tools that help you fix problems and perform a clean reinstallation. To accomplish this process, you need to follow these steps:
First, you need to know your BitDefender version. To do that, open the antivirus panel by double-clicking in the icon located in the Windows Taskbar
Once you get that information, open your browser and navigate to the following website.
Now, under the section Uninstall tools for Consumer Products, you need to click on the button Paid or Trial version

You will see download links for all BitDefender versions, on this example, you need to click on the button Uninstall tool under the section BitDefender Total Security 2020

Save the tool on your computer and run it. Accept the admin permissions and in the BitDefender Uninstall Tool click on the button Uninstall

Wait until BitDefender remove the antivirus from your computer and restart your computer
Now you can navigate to the BitDefender website and there download the antivirus again.
Wrapping Up
This problem in the BitDefender Threat Scanner is very annoying when you don't know what is wrong and keeps appearing every time you start your computer. Thanks to the solutions I leave you, you won't need to worry about that warning message anymore because you will able to fix it quickly.
If, after reinstalling BitDefender, the error keeps appearing on your PC, you can sign up on the BitDefender Forums and post there your problem.
Here I leave some related articles that may help you: