You can't play your favorite because you always see the message "Failed to Install BattlEye Service"? Well, in this post, I will talk about this service and how to fix it.
BattlEye is a proactive anti-cheat system, which creates a secure shield around the game. In this way, and to begin with, a large part of the hacking programs are blocked. BattlEye is continually evolving to cover new ways to attack games.
The remaining hacking situations are covered by a dynamic detection system, which ensures that cheats who insist on entering cannot play the game.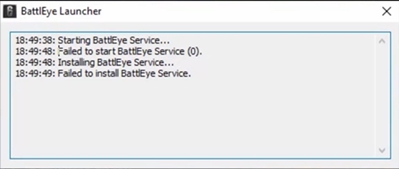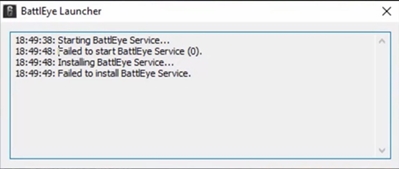 So, when you can install this service, the game that you won't play it also will start because you don't have the service. To fix this service and be able to enjoy your games again, follow these methods.
Method #1: Restart Windows
Windows is known by the hundreds and hundreds of errors that you could find in it, one of the most infamous is the Blue Screen of Death. But a vast majority of these errors can be fixed by restarting your computer.
Although it may seem like a piece of silly advice, it works better on Windows 10 because, by default, you will have to enable the fast startup feature.
Fast Startup lets you boot Windows 10 faster, but when you have some errors, it will always boot with the same errors every time, so you need to reinstall the system properly.
Press the

Win

key to open the Start Menu
Finally, you only need to wait and later try to open your game again; hopefully, the error will be fixed.
Method #2: Run Game as Administrator
If your game faile whenever it tries to install the Battleye service, you might need to give it the appropriate permissions. You can do that by running your game with administrator rights.
Go to your desktop and there right-click on the shortcut of your game
Then, wait for the game to start and install the service, surely this time will install it as usual
Note: If your game open through the Steam client, you need to run this program as administrator instead
Method #3: Install BattlEye Manually
If the service can be installed when you open the game, you may need to install this service manually from the installer. To do that, you need to go to your game install folder on the File Explorer. If your game runs through Steam, you can follow these steps to find your game folder:
Open the Steam Client and then navigate to your Library
A new window will open, there navigate to the LOCAL FILES tab
You will be redirected to your game path in the File Explorer and there open the folder BattlEye
Finally, run the file Install_BattlEye as an administrator to start the installation process
When it finishes, open your game again, and the error will be fixed

Method #4: Run BattlEye Launcher as Administrator
If, after installing the BattlEye service manually, you haven't able to fix the error, you may need to run it with administrator rights as well. To do that, follow these steps:
Open the Steam Client and navigate to your Games Library
Rightclick on your game and select Properties
Now you need to find the file BattlEye Launcher, and it may be inside another folder, once you find it right-click on it and in the menu click on Run as Administrator
Finally, run the Steam game and check if the error has been fixed
Method #5: Verify Game Integrity
If you haven't been able to fix the error after all the steps above, you may need to reinstall your game entirely to fix this error, but if your game runs through Steam, you can use a particular utility that lets you verify your game files for corrupted data. To do that, follow these steps:
Open Steam and navigate to the Games Library
Now, in the window that opens, navigate to the LOCAL FILES tab
A new window will open, and there you will see how the validating process beings, you only need to wait for the process to end and then open the game to install the service
Note: You need to be connected to the internet because if the utility finds some error, it will try to download that file again.
Method #6: Disable Antivirus
This is the last thing that you can try to fix this BattlEye error on Windows. To disable your Antivirus, you have two options depending on what kind of Antivirus you have installed on your PC.
Disable Thidrparty Antivirus
To disable a third-party antivirus that you have installed on Windows, you only need to right-click on the icon located in the taskbar and in the menu, select an option Disable shield temporarily.

This option will vary depending on your Antivirus, but you will find it easily.
Disable Windows Security
Windows 10 enables by default the Windows Security Antivirus when you don't install another one. So to disable it, you will need to follow these steps:
Doubleclick on the Windows Security icon located in the taskbar, something like this one:

Once there, click on the menu Virus & threat protection
Open your game, and hopefully, the BattlEye service will be installed without problems
Wrapping Up
As easy as following all the steps I show you above, you will be able to install this anti-cheat service and continue playing your favorite games for hours.
Remember that if you haven't been able to fix this error, you may need to ask for support on the game developer forums or also on the Steam community forums.
As always, thanks for reading, I hope this helps you and don't forget to share this article in your social networks.
Must read: