Do you want to fix problems on your Start Menu? Here you can download the Windows 10 Start Menu Troubleshooter.
Windows 10 is designed to interact between all the services and processes to offer a better user experience, compatibility, and performance. In our work, study, or entertainment time, we usually need to use the Start Menu from where you can access all the programs, apps, system tools and even perform searches.
There are some cases when the Windows 10 Start menu behaves in a weird way that will affect your workflow and even don't let you access your applications and other things like you need.
For that problem, Windows 10 has developed a Start Menu developer that will scan your computer for possible errors and fix them quickly.
Windows 10 Start Menu Troubleshooter will help you to fix any possible incompatibility or program conflict that could be causing problems. Those errors can prevent you from using your computer efficiently, and that why here I will leave a download link and a tutorial.
Download Start Menu Troubleshooter
This troubleshooter was released for Windows 10 some while ago and in recent versions has been included directly in the Settings of the operating system.
If you don't want to update your Windows 10 to use the Start Menu troubleshooter, you can download the latest version released on Microsoft from the following link:
https://www.majorgeeks.com/mg/getmirror/microsofts_start_menu_troubleshooter,1.html
Once download the file, you need to double click on the file startmenu.diagcab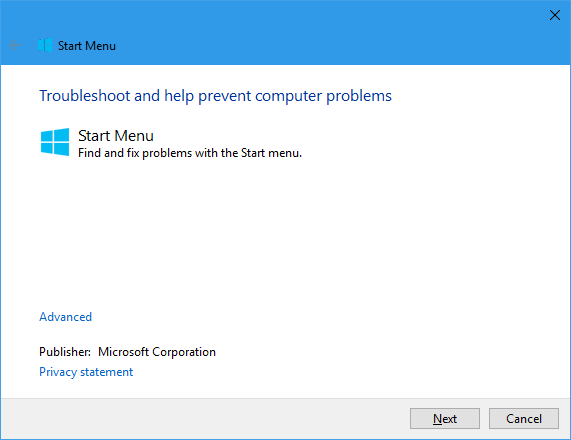 A window will open, and there you will see the Start Menu, troubleshooter wizard. There you need to click on Next, and automatically it will start scanning your computer when it finds the problem, it will show you the error code and if it is possible to fix it or not.
If you want more details about the error that you have found on your PC, you need to click on the line View more information.
Now you will see a list of all the possible errors that have found on your Windows 10, and there you can click on Next and then try to fix them manually.
Troubleshooter Start Menu with CMD
If you haven't been able to fix the Start Menu on Windows 10 using the troubleshooter, you can try to use the Command Prompt as an administrator and run the SFC utility, which will analyze your system files and fix any problem.
Run the Command Prompt as Administrator
When the utility finishes, you need to restart the computer to apply the fixes
In that way, you will fix the Start Menu on Windows 10 if the troubleshooter doesn't work for you.
Conclusions
Windows 10 improves in each new version of the Start Menu troubleshooter. Therefore if you want to fix any problem with it, I recommend you to update your Windows version to be able to use the latest Start Menu, troubleshooter.
If you don't want or can't update the system, you can always try to download the troubleshooter from the download links above. Thanks for visiting this blog.