Do you want to have the old Desktop Gadgets on Windows 10? In this post, I will show you some ways to do this easily.
From Windows 8, the gadgets have been removed and replace with the Live Tiles that you can open from the Start Menu.
Several users miss the old gadgets because you can have them on the desktop and don't need to open the Start Menu to be able to use some fancy tiles that want to have at all times accessible.
You may already know, but officially, you can use those  gadgets on Windows 7, but on Windows 10, there is an official way to make them reappear on your desktop.
Several users have been asking it for this feature on Microsoft forums, and some developers have taken note of this. That's why you can find some free tools that help you to enable and bring back the desktop gadgets for Windows 10.
Therefore if you want to enable the desktop gadgets on your Windows 10, here you wave some tools that you can install on your PC.
Windows Desktop Gadgets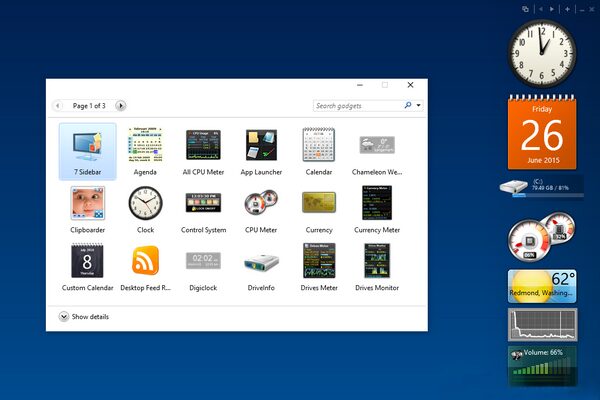 The first tool is the most popular, and it is the easiest to install and use. You only need to perform three steps to start using the gadgets.
To use Windows Desktop Gadgets, you need to download the tool from this link. Once downloaded, you need to unzip the file on your desktop. http://gadgetsrevived.com/wp-content/uploads/2013/10/DesktopGadgetsInstaller.zip
Doubleclick on the file DesktopGadgetsRevived2-0.exe, and automatically, it will start the installation process.
When the tool is installed, you can start adding new gadgets to your desktop with only drag them from the tool to the desktop.
Now you can open the Gadgets tool if you right-click on the desktop, there you will see a new menu that says Gadgets.
8GadgetPack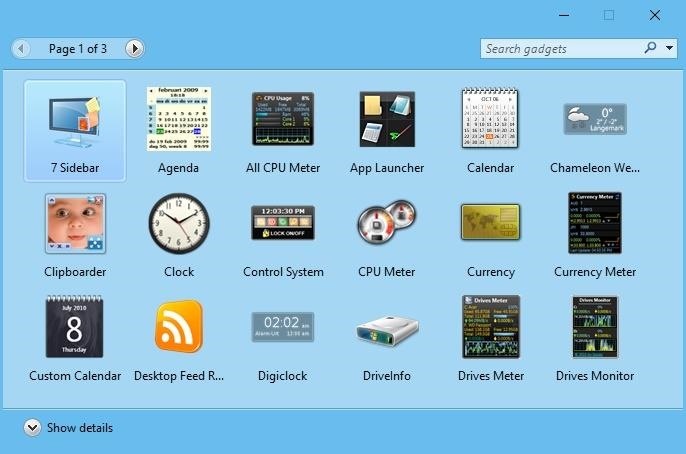 This is an old tool and, as the name implies, was developed for the Windows 8 operating system, but it is also compatible with Windows 10.
If you have compatibility issues when you install the previous tool, you can try this one instead.
Download the executable from here http://8gadgetpack.net/ and install the program as usual. Once installed, you can add the gadgets to the desktop like Windows Desktop Gadgets. You only need to drag them from the tool to the desktop.
To access the Gadgets settings of this tool, you need to find it in the Start Menu.
Rainmeter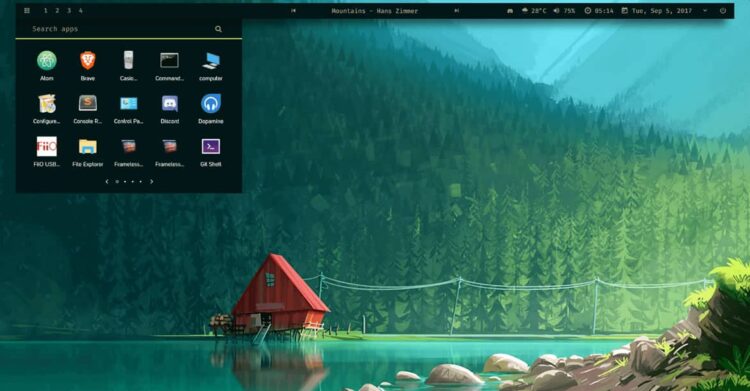 If you one other desktop gadget with more functionality and personalization on Windows 10, you can try to use the Rainmeter software.
Rainmeter is a utility that will help you to design a beautiful desktop using some desktop gadgets that you can personalize in every aspect.
This application can be used to monitor your CPU and other components form the desktop; you can also even monitor the temperature of your GPU.
You can also download themes for this tool that you can find on the internet. Here you have some screenshots of all the desktop gadgets that you can install on your PC.
Conclusions
Desktop gadgets are one of the most popular features of Windows, and rightnow, you will be able to use them on Windows 10.
If you need help to install those gadgets or have any questions, let me know in the comments section below.