Sometimes you can find that the administrator or user doesn't have permissions on a folder or files.
For example, when trying to access the folder as administrators, the following warning appears:
"You don't currently have permission to access this folder."
Click Continue to permanently get access to this folder.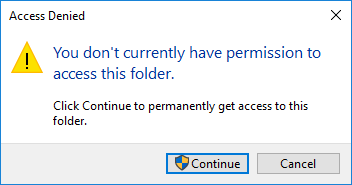 Sometimes, pressing the Continue button, solves the problem, since the button will automatically assign permissions on the element in question.
But for the Continue button to work , you must own the file or folder.
For example, in the cases where the previous window appears, click on the Continue button , but you don't own the folder or file, the following warning window will appear:
"You have been denied permission to access this folder."
To gain access to this folder, you will need to use the security tab.
So, let's see how to fix this error.
How To Fix Folder Access Denied in Windows 10
First, right-click on the folder and select Properties
Go to the Security tab
Now, click on Edit

There select your user and verify the permissions, uncheck all the Deny boxes

Now, click on the Add Button
There write Everyone and click on Check Names, then in OK

Select Everyone and below check Full Control in Allow (permissions)

Click on Apply, Ok and Ok again
Now, try to access your folder, now you will have all the permissions to access so it will work fine.
As easy as that you can fix this annoying error to regain access to your folder.