If you are here, it is because recently you have been one of the users that see the blue screen of death win32kfull.sys on Windows 10.
This error can appear for multiple reasons, and some of them are very odd, like some software conflict, but whatever the reason why you see this error, on the following lines I will try to help you with some of the best solutions that I gathered across some websites and forums.
Some of these solutions are for advanced users, but I will explain all the steps one by one, so it is a nontech guy-friendly tutorial. Let's begin.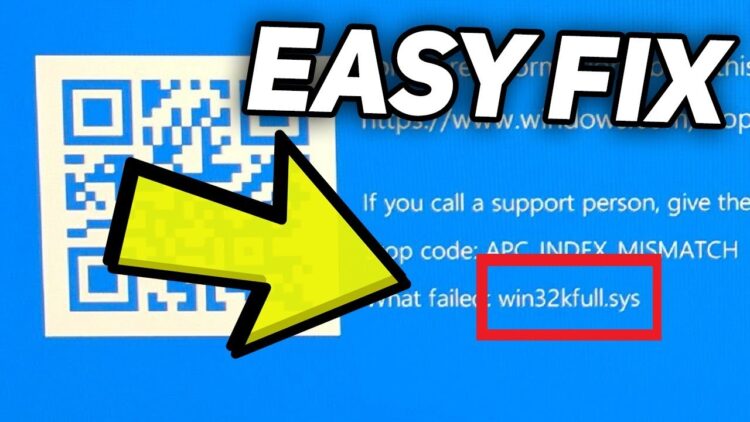 Method #1: Run SFC
We are going to start with one of the first steps when you find this win32kfull.sys blue screen of death, checking your system files.
Almost the majority of the blue screen of death on Windows 10 could be fixed successfully by just checking the system files. Since older Windows versions exist, the SFC or System File Checker utility that could help you on this task. To run the utility, follow these steps:
Press the Windows key to open the Start menu and the search box, there type the word cmd
Once you opened the command prompt, you will need to run the following command: sfc /scannow
You will see the utility start scanning your file system and show you the progress in percentages. When the utility finishes, you can restart your computer and check if the blue screen of death appears again
Method #2: Run DISM
Continuing with the easy solutions that could fix this win32kfull.sys with only one or two commands, you have another utility that scans your system and repairs any errors.
You can run this command with the Command Prompt like this:
Right-click on the start menu and there select Command Prompt (Admin)
You will open, like in the previous method, the command prompt with admin rights and there you need to run the following command: DISM /Online /Cleanup-Image /RestoreHealth
Like the previous one, you will see how the tool scans your system with a percentage bar. In some cases, it gets stuck on 20% for a while, but don't worry, it is just temporary.
When the process finishes, it will show you the results, and you can restart your computer to fix this issue
Method #3: Check Memory Issues
Blue screen of death like the win32kfull.sys error is common when you have some hardware issues like problems with your memory. Ending with the series of most straightforward methods to follow, you can run another utility that helps you check for issues in your memory, Windows Memory Diagnostic.
Follow these steps to run this command on your computer:
Press the keyboard shortcut

Win

+

R

In the window copy, the command mdsched.exe and press Enter to open the Windows Memory Diagnostic tool
Windows will restart your computer in the Windows Memory Diagnostic utility, and there you can see the progress bar, and when it finishes, it will show you the results. If you have any error in the memory, you will need to repair it or replace it with another one
Method #4: Uninstall Conflictive Programs
Now, we are going to start with the long methods and solutions to fix this win32kfull.sys blue screen of death on Windows 10. One of the most common processes to fix this issue is to remove recently installed software on your computer.
Like I said, in the beginning, it is widespread this kind of error when there are some software conflicts on your computer. You can try uninstalling the latest software following these steps:
Open the Searchbox on Windows and search the word control
There click on Control Panel to open it
There you can see you installed programs sorted by name, and you can change that by clicking on the option Installed On. Now you will be able to see the latest software installed on your computer

There check the date and uninstall programs installed after your first computer blue screen win32kfull.sys
Also, uninstall any unwanted software that you don't uninstall or need. Then restart your computer, and hopefully, your BSOD issue will be fixed
Method #5: Update Windows 10
This method is optional because, in most cases, it doesn't fix the blue screen of death errors, but I was able to fix a very odd problem with the Nvidia drivers by just updating Windows 10.
Also, some users have reported fixing this win32kfull.sys on Windows by just installing the latest updates.
Open the Start menu and search the word Windows Update
After the searching process, install the updates and also the optional updates
Restart your computer, Windows will do this for you automatically, and verify that your issue has been solved successfully.
Method #6: Update Drivers
This is the ultimate solution to this win32kfull.sys but also one of the most important things that you should do. You can be surprised for the amounts of the error have been fixed on Microsoft forums by just updating drivers.
Therefore, you can to fix this blue screen of death, updating all your devices. You can do that manually from the Device manager or even finding your drivers on your manufacturer support page, but that can be time-consuming, and nobody wants that.
For that tedious task, you can use third-party software that will search the updates for all your devices and install them in one click.
The software I talking about this Driver Booster, and you can download it from here. This program is simple, you only have to click on the SCAN button, and it will start the scanning process.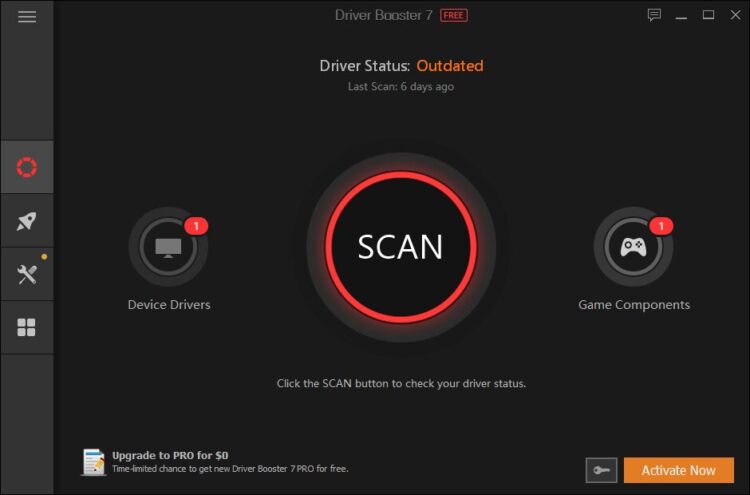 After some seconds or minutes, it will show you all the available updates for your devices, to install those drivers, click on the button Update Now, and that's it. You only need to wait until it finishes and restart your computer.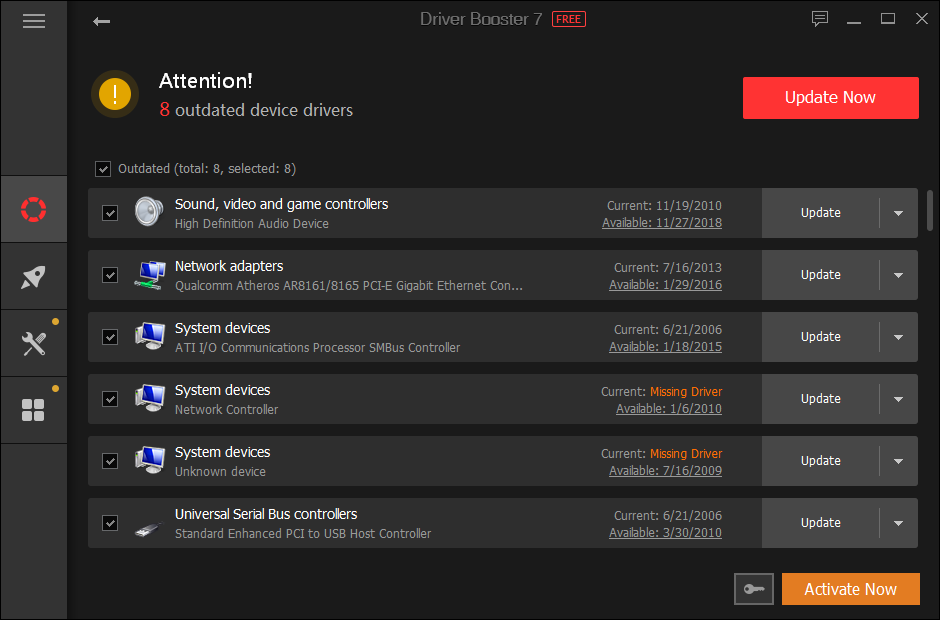 In most cases, after this process, the win32kfull.sys error would not appear anymore, and you will able to work, play, or study on your computer without problems.
Wrapping Up
Those were the best solutions that I found on websites and forums that fix this issue quickly. I also found some people recommending to reinstall the win32kfull.sys file, but I want to tell that never do that.
Your file system is different from other computers, and in some cases, the files downloaded from the internet come with a virus that could even worsen your system performance.
Here, I will leave some other BSOD related issues that could help you if you want to try something more: