You are browsing smoothly in Google Chrome, you try to enter a website, and suddenly, you see the message: "Your connection is not private." What do I do now, do I continue browsing or do I give up visiting the site? What does it mean exactly? Is there a real danger?
Many users give up accessing the site, but at times it is your mail, your bank page, etc. So, today you will learn to fix this message safely and straightforwardly.
Basically, this error is due to an SSL conflict which is used by browsers to shield the integrity and privacy of all the information that you enter in it. It's for this reason that Google Chrome deploys this message and prevents us from accessing the desired site.
Your Connection is Not Private Common Reasons
There are some reasons why this message appears when trying to access a website, some of these are:
Outdated Certificates
Although the certificate is from a trusted organization but hasn't been updated for a long time, Google Chrome will not have the possibility to verify this site and therefore displays the message.
Untrusted Certificated
Creating a certificate nowadays has become an uncomplicated task and therefore Google Chrome when validating this certificate if it doesn't verify that its a trusted and recognized issuer prevents access to the website.
Connection Error Between the Website and the Browser
In some opportunities, the network connection between Google Chrome and the website is not correct, and that is why you see this message.
Below you will see some methods to fix this problem in Google Chrome.
Method #1 Check your Antivirus
Remember that one of the primary jobs of the antivirus is to prevent access to potentially dangerous sites and the antivirus software of your computer can block security certificates by restricting access to websites, to fix this you can do the following:
Disable HTTPS protection
Disable SSL Scanning
It depends on the antivirus installed on the system to disable those options. Some common are:
Eset Internet Security
Setup > Internet Protection > Web Access Protection > Web Protocols > Enable HTTPS checking 
Kaspersky Internet Security:
Settings > Additional > Network > Encrypted connections scanning > Do not scan encrypted connections
BitDefender Internet Security
View Modules > Web Protection > disable Scan SSL
Avast Antivirus
Settings > Active Protection > Web Shield > Customize > Enable HTTPS scanning
Method #2: Verify Date and Time
Unsynchronized time and date of the system are one of the frequent causes of the message. Your connection is not private.
The reason is that secure websites use secure certificates, and these secure certificates have an expiration date, and if the date or time of the system is wrong, Google Chrome will assume that the certificate is expired and therefore prevents access to the website.
Simply check and fix, if necessary, the date and time of the system.
Method #3: Clean Google Chrome Cache
This may be another reason why you see this message because the cache tries to access the site faster and maybe it has an old certificate with which you will not have access.
To clean the cache in Google Chrome press the following keys: Ctrl + Shift + Del
Go to the advanced tab and check Cookies other site data & Cached images and files
Finally, click on Clear data to clear the cache.
Method #4: Disable Firewall Temporarily
Some quick fix when you wanna to access some website is to disable the Firewall.
To disable the Firewall in Windows follow these steps:
Open the Control Panel
Click on System and Security, then on Windows Defender Firewall
Now, try to access the website, when you finish, I highly recommend you to enable the firewall following the same steps.
Method #5: Disable Chrome Extensions
Sometimes one of your installed extensions can be the source of the Your connection is not private error. So you can disable all your extensions temporarily to see if that fix your error.
Click on the Google Chrome menu (three dots button)
Go to More tools > Extensions
Now, in the extensions page, click on all the switches to disable all your extensions

Finally, restart Google Chrome and try to access the website.
Method #6: Change DNS Servers
To change the DNS Servers follow these steps:
Open the Control Panel
Click on Network and Internet > Network and Sharing Center
Right-click on your Network Adapter and select Properties
Double click on Internet Protocol Version 4
Now type the following in Preferred: 8.8.8.8 & Alternate: 8.8.4.4
Click on OK
Those DNS Servers are Google DNS, so now try to reaccess the website.
Method #7: Access Unsafe Website
You see the following message: Attackers might be trying to steal your information from xxx.xxx.xxx.xxx (for example, passwords, messages, or credit cards).
If you are entirely sure that the website you are trying to access is safe, you can visit the website at your own risk besides the error message, for this click on Advanced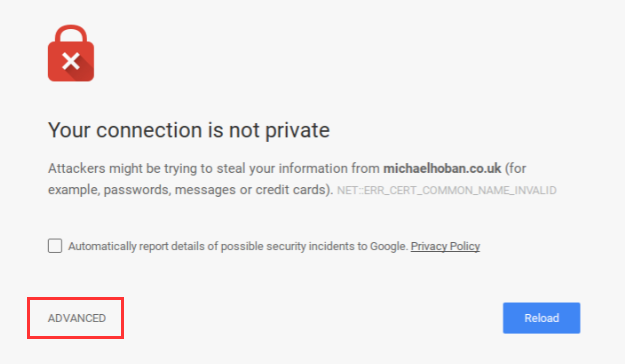 In the options displayed, click on Proceed to XXXXXX (unsafe) located at the bottom of the window:
In this way, you will access the website under your responsibility.
This same method can be implemented on Android devices.
Finally, if none of the above methods works for you, you can try reinstalling Google Chrome. For that uninstall Google Chrome and then download and run the installer from here.
As easy as that, you can access sites that you know are safe and reliable but that Google Chrome detects as dangerous and works in them in the usual way.