Do you want to update your Windows through commands? On this tutorial, I will show you can run Windows Update from Command Line (CMD) or Powershell.
To begin I will say that the Windows Update function is one of the most prominent and known Windows 10 since the system was launched, Microsoft itself offered this to its customers more as a service than as a product in yes.
Therefore, this is something that led to the updates of Windows 10 were enabled by default and no option for anyone to turn them off, at least in the first versions of the operating system. Although some criticized this measure from Microsoft, ultimately the firm considers that it is a step towards the good of the client, mostly for its safety.
Moreover, it is necessary to bear in mind that Windows Update helps users to be protected against all types of threats and provides them with the latest and best of Microsoft, so for those who appreciate this integrated service, I'm going right now to show another way of running these updates sometimes criticized as well as necessary.
For this, as it is easy to guess, you will have to use the Windows Powershell tools or the Command Prompt (CMD). So, in the case that you opted for Powershell to install these updates, first of all, you will need the manual installation of a Windows Update module for the download and installation of the new updates that are arriving.
By default, Windows 10 activates the updates automatically so that they are downloaded and installed within the active hours of use of the system, but as users, you also can download and install the updates manually navigating to Start Menu > Settings > Update & Security > Windows Update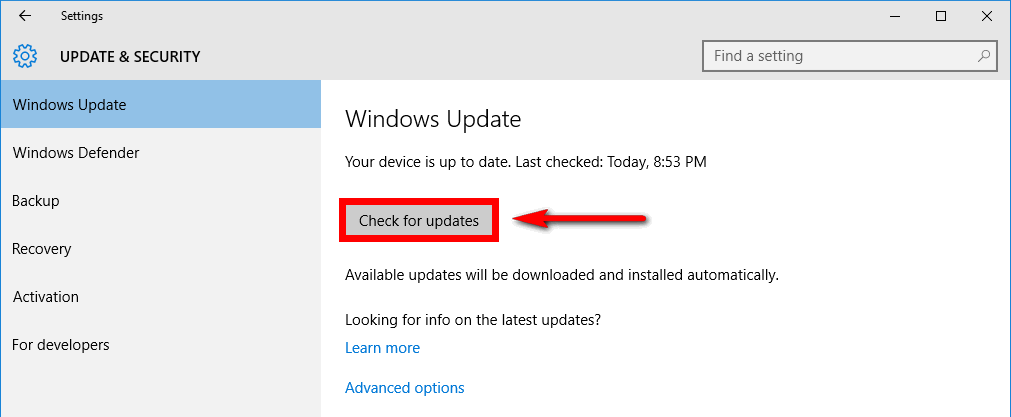 There you need to click on the Check for updates button to automatically run the process of analyzing new updates.
But on this post, I will how you can run Windows Update from the command line using PowerShell or Command Prompt.
Run Windows Update using PowerShell
PowerShell is the default management console in Windows 10 thanks to which you can manage and manage various system objects.
To use Windows PowerShell to find and download updates, you must open it as administrators and first run the following cmdlet: Install-Module PSWindowsUpdate
Pressing Enter will display a security question indicating if you want to install this repository. There type Yes and press Enter to continue, and you have installed the Windows Update module.
Now you need to run the following cmdlet to connect the computer with the Windows Update servers and validate if there are updates: Get-WindowsUpdate
Note: if you some errors about load scripts disable on this system, run the following command to enable running scripts: set-executionpolicy remotesigned
As a result, you will see the available updates with the following structure:
To carry out the installation process of these updates, you will have to run the following cmdlet: Install-WindowsUpdate
There you see that the process of installing the available updates starts once you type Y in the Powershell.
When this process is finished you can see what updates have been installed in Windows 10 through Windows PowerShell.
Windows Update from CMD in Windows 10
Command Prompt is a powerful tool offered by Windows 10 to carry out this process of updating, for this, you must open it as administrators, and first of all, you have to run the following commands:
Search for Updates: UsoClient StartScan
Download Updates: UsoClient StartDownload
Install Downloaded Updates: UsoClient StartInstall
Restart PC after Install Updates: UsoClient RestartDevice
Check, Download and Instal in one Command: UsoClient ScanInstallWait
Windows Update from CMD in Windows 7 and 8
These commands are only available for use in Windows 10. If you use a different version of Windows 10 you must run the following commands:
Search for Updates: wuauclt /detectnow
Install Updates: wuauclt /updatenow
Check, Download and Install in One Command: wuauclt /detectnow /updatenow
Wrapping Up: Run Windows Update from Command Line
With one of the methods described above, it will be possible to access the available updates of Windows 10. In this way, keep both the operating system and the updated applications and thus achieve better system performance, security improvements and new features that are available for use. Have you been able to run Windows Update from Command Line? Let me know in the comments section
Must Read: