Windows 10 start menu not working? On this post, I will show you how to fix this error using some easy methods.
With the new updates of Windows 10 and with so many users downloading this new software for their PCs, it is widespread for some errors to occur. One of the most common is that the Windows 10 Start button does not work. Not only do I refer to the virtual button, it is very likely that you give the physical Start button and also not perform its function correctly.
This happened to me when I installed Windows 10 for the first time on my laptop. My only solution was to install the entire Operating System again. But this was because I did not know exactly what to do. This is not going to happen to you, because today we bring you several different ways that you can use if your Windows 10 button does not work. Reinstall the entire system will be your last option, the last of this handy list of simple methods to fix the Windows 10 start menu not working error.
Method #1: Restart your Computer
This can be the easiest way to fix your Start Menu but sometimes work great.
So, make sure to restart your computer before going deep in the other methods.
Method #2: Check for Updates
In April of 2017, the Creators Update for Windows 10 was released. This should now be automatically on your PC. But, in case you have doubts, you can review and rule out the cause of the present problem with the Start button that you have now.
Open the Settings window. You can access it pressing the key combination Winkey + I
Then choose the Update and Security option that appears in the lower right part of the window. A window will open with the update options. Finally, click on the button Check for Updates.
This update will avoid some problems, one of them the failure of the start button.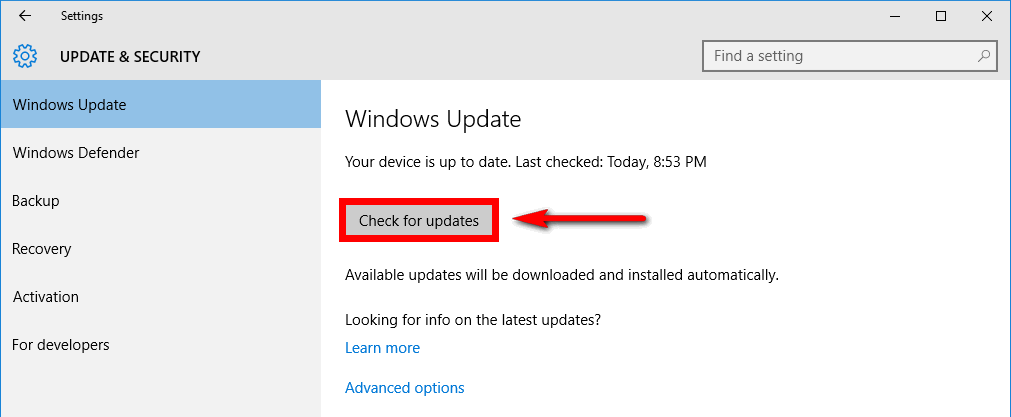 Method #3: Windows 10 Start Menu Not Working Troubleshooter
Right after Windows 10 came to our computers as a free update, some users complained about the start menu not working, the heart of the Microsoft operating system that has undergone a couple of redesigns in recent years.
The problems ranged from the late opening of the start menu or missing tiles to issues with updating its contents. The problem could perhaps be due to a wrong configuration of the user or a problem of operation, something of which Microsoft would have noticed and therefore has launched a Troubleshoot tool.
Said problem solver for Windows 10 is in charge of verifying that the start menu and Cortana are installed correctly and of finding problems in the permissions of the registry keys, in the database of the mosaics or of corruption in the manifest of the apps.
The user can decide if the troubleshooting tool will automatically or manually solve the problems it finds, limiting himself only to the revisions mentioned above. In the end, you can export a report with the details found, in case you require special attention.
Download the tool from here.
Run the app and follow the wizard clicking on Next.
This tool can automatically fix your Start Menu error.
Method #4: Create a New Local Administrator Account
If you use a Microsoft Account on your PC, first you need to remove it:
Press the keys Winkey + I to open Settings
Click on Accounts
Now, click on Sign in with a local account instead below your Microsoft Account

Type your password click on Next, choose your new account name, password and finally click on Finish and sign out
Now you create your local administrator account following these steps:
Reopen Settings pressing the keys Winkey + I
Click on Accounts
On the left click on Family & other people
In the Other People section, click on Add someone else to this PC

Type your user and password, click on Next
Select  I don't have this person's sign-in information (Windows 10 Enterprise)
Finally, click on Add a user without a Microsoft account.
Now, to make the user an administrator or if you have a user without Microsoft account already, follow these steps:
On Family & other people, click on your account and select Change account type
Select Administrator and click on Next

Sign out from your current account and sign in to the new administrator account, hopefully, your problem will be solved.
But if any of the above methods works, the last thing you can do is to Reset Windows
Method #5: Reset Windows
Reset your PC can fix several errors and leave your computer like new, keeping or not your files.
Go to Settings pressing the keys Winkey + I
Click on Update & Security
On the left, select Recovery
Now, click on Get Started under Reset this PC

Choose to keep your files or remove them entirely and follow the wizard clicking on Next

Method #6: Task Manager
In this method what we are going to do is to restart the Windows Explorer, so that the button works again:
Open the Task Manager by right-clicking on the Taskbar and selecting it. Or use the key combination Ctrl + Alt + Del
In the Processes tab, scroll down until you find a folder with the name of Windows Explorer and right click on it. Choose the Restart option.
Hopefully, this will help you to make the Start button work again.
Method #7: Scan Windows
This is like a manual scan that makes Windows to the entire Operating System that may be able to fix the Windows 10 start menu not working error.
First, you need to open the Command Prompt. For that, you search the word CMD on Windows search and right click on Command Prompt, then select Run as administrator.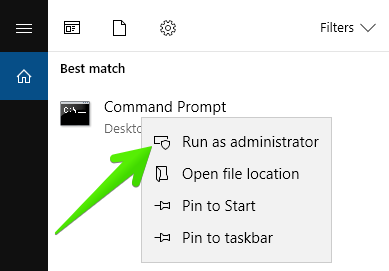 Copy and paste the following command into the Command Prompt and press Enter: sfc /scannow
This may take a while, but it will search, find and repair any problems Windows may have. Also, you may be notified that some errors could not be fixed, so do not worry.

Method #8: Batch File
This method uses a file that you leave on your desktop, and that will be useful every time the Windows 10 Start menu isn't working, either for any reason. Just create this file in notepad and double-click it when necessary to fix the problem. To create this file:
Copy the following lines in the notepad:
taskkill /f /IM explorer.exe
start explorer.exe
exit
Choose the File Option and then Save as. When you put the name to the file, write .bat at the end of this. Then select what type of file it will be, and choose All Files. Then save it, and that's it.
Wrapping Up: Windows 10 Start Menu Not Working
Like this, you can quickly fix your Start Menu problems, if you have any question about these methods, leave a comment below