We show you what the Runtime Broker process is and how to repair the error that appears due to high CPU usage in Windows 10.
What is Runtime Broker?
Runtime Broker (RuntimeBroker.exe) is a process that Microsoft introduced from Windows 8, and although it is a Windows process, unfortunately, it is more recognized for its negative impact on performance.
This process is always running, consuming around 8 MB of RAM and 0% of CPU, but when we run a universal application its consumption can reach 25% and even use 500 to 700 MB of RAM.
Now let's see a list of solutions for when Runtime Broker makes excessive use of our CPU or RAM.
Method #1: Kill Runtime Broker Process in Windows 10
We have said that we should not end it because it is a fundamental part of Windows processes, but if consumption is excessive, we can finish it to execute some administrative task.
To finish Runtime Broker, we will go to the task manager (CTRL + ALT + DEL)
Now, go to the "Processes" tab, right-click on Runtime Broker and select "End Task."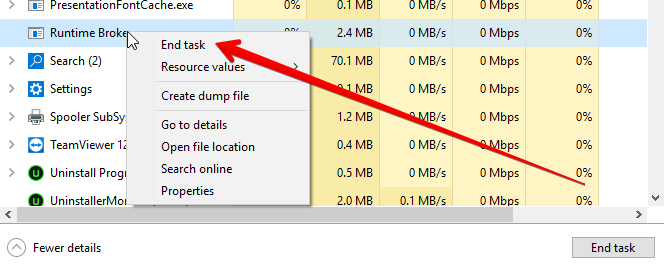 Method #2: Disable Tips, Tricks, and Suggestions on Windows 10
Remember that any Windows 10 feature that is based on a Universal Windows Application will activate the execution of the Runtime Broker process.
One of these features is the application responsible for showing tips and suggestions to Windows users regarding news and other things.
We can disable it from the system thus preventing it from activating Runtime Broker.
For this,  go to the Start Menu > Settings (WIN + I).
Go to the section "System," and in the new window, we go to "Notifications & actions" where we will see the following.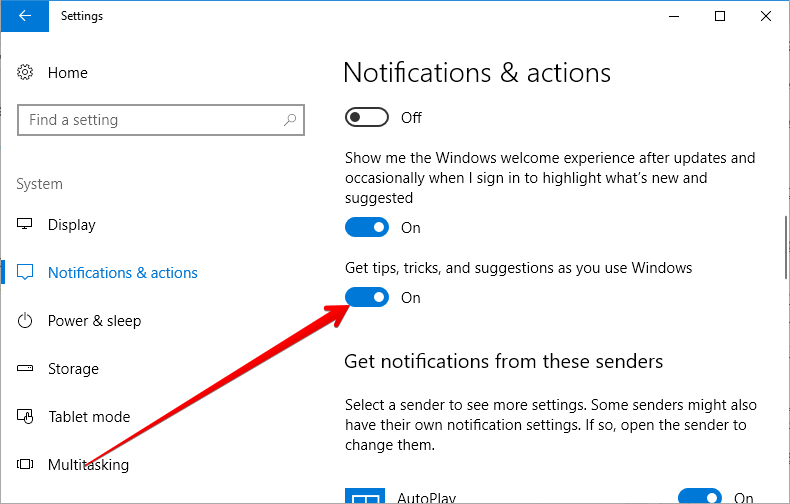 Click on the switch "Get tricks, tips, and recommendations as you use Windows" located in the "Notifications" section and in this way we have disabled it.
Method #3: Limit Background Apps Usage
By default, Windows 10 allows many applications, including universal ones, to be executed in the background and hence the reason why we receive constant notifications about new emails, weather conditions and more.
To watch which applications are running in the background, go to the Start > Settings > Privacy (WIN + I) and there go to the section "Background Apps."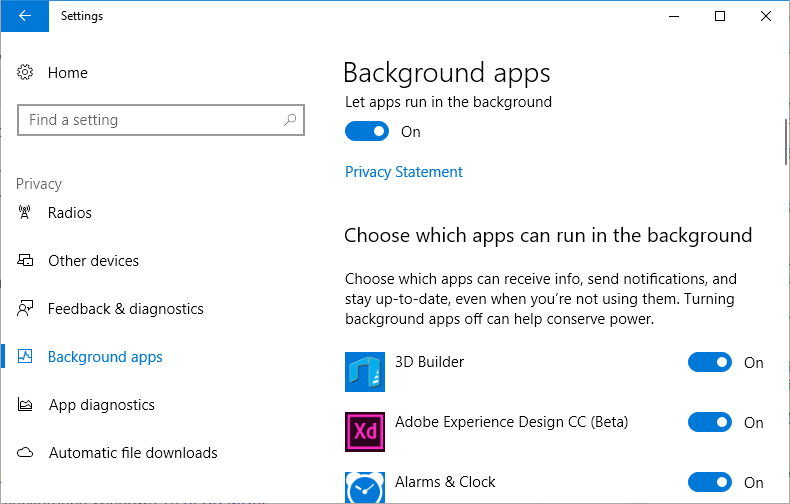 There is enough to click on each of the switches that we consider isn't necessary.
Method #4: Check For Viruses in the System
Unfortunately today many viruses or malware are camouflaged as normal Windows processes changing only a few letters to go unnoticed and this can significantly affect the security and performance of the system.
To check if Runtime Broker is a Virus, go to the task manager (CTRL + ALT + DEL), right click on the process and select the option "Open file location":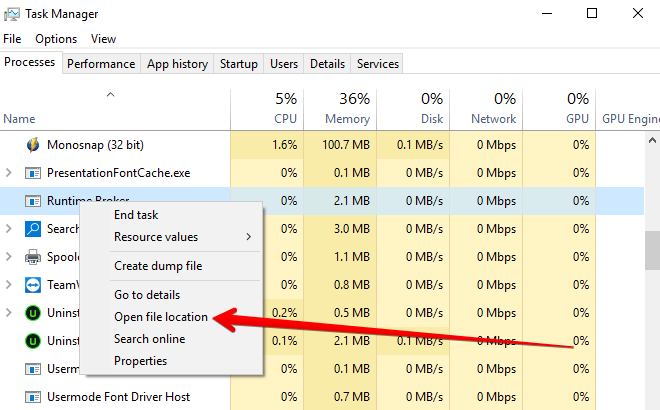 Now check if the file is on the next route:
C:\Windows\System32
If so, we can verify that the file is clean of viruses.
Method #5. Hacking Windows Registry
This option gives us the possibility to hack the registry where the Runtime Broker process is located
For this, run (WIN + R) the command regedit.
Now, go to:
HKEY_LOCAL_MACHINE\SYSTEM\CurrentControlSet\Services\TimeBrokerSvc
There we will double click on the DWORD Start and modify its value from 00000003 to 00000004.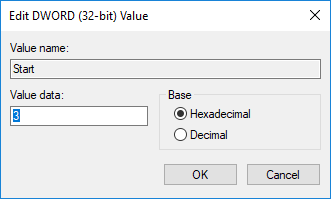 Click OK to save the changes.
Method #6: Remove OneDrive & Groove Music
Being two of the most used universal applications and in constant use, these activate Runtime Broken constantly affecting the performance of the system.
For Groove Music (Windows PowerShell):
Get-AppxPackage -name "Microsoft.ZuneMusic" | Remove-AppxPackage Get-AppxPackage -name "Microsoft.Music.Preview" | Remove-AppxPackage
For OneDrive (Command Prompt):
taskkill /f /im OneDrive.exe
%SystemRoot%System32OneDriveSetup.exe /uninstall (32 bits)
%SystemRoot%SysWOW64OneDriveSetup.exe /uninstall (64 bits)
With some of these solutions, it will be possible to restore the optimal functioning of the resources available in the equipment.
You may also like to know: What is Wsappx? Fix High CPU & Disk Usage in Windows 10