Do you want to password your USB drive? Check this list of the best USB password protection software.
USB memories are a nuisance if you have a bad memory. Who did not ever leave them plugged into the computer or forgotten at the bottom of a drawer?
Where will be the one where you kept the resumes when you were in search of work or the photos of that summer almost ten years ago?
If someone finds these pen drives or external disks, surely have no problem accessing the documents and personal images that you saved in them: connect them to a computer and the information will appear before your eyes.
But if you want to prevent that anyone sees the content of your USB drives without your permission?
On this post, I will show you some of the best USB password protection software to password protect your USB drive.
BitLocker
Windows 10, Microsoft's operating system, allows you to easily encrypt USB memories and external disks through a system called BitLocker To Go.
BitLocker puts encryption on your USB, so you can only access the contents if you type a password. To activate it, you must enter the pen drive in the computer, click with the right mouse button and then in Activate BitLocker.
Then choose your password. It will be the same one that you will have to enter every time you are going to use the USB on a computer. You can save a copy of your password in your Microsoft account, in a file or a Hotmail.
Then click on Encrypt. The next time you want to use the USB drive, you will need to enter the password.
Apple FileVault
If you are an Apple customer, you can use FileVault, a free USB password protection software that allows you to encrypt external drives and memories.
To activate it, you must open Finder and connect the USB to your Mac. Right-click and select the Encrypt option.
The external disk or USB will be encrypted when you enter your password.
VeraCrypt
VeraCrypt is an open source USB password protection software to encrypt files, folders, removable USB drives, entire hard drives, and even the hard drive where the operating system itself is installed.
VeraCrypt is cross-platform, it is currently compatible with Microsoft Windows operating systems, any Linux-based system, and it is also compatible with macOS. This software is based on the popular TrueCrypt 7.1a.
You must remember that the TrueCrypt project closed, and you will no longer have new updates of this software. However, VeraCrypt has taken the wand and incorporates all TrueCrypt features and many security and performance improvements.
Download VeraCrypt
USB SafeGuard
USB Safeguard is a portable USB password protection software, that is, you do not need to install it on the computer, but it runs on the USB drive. This facilitates its use regardless of where you connect the device. It only has the disadvantage that if you move in a heterogeneous computer system with different systems, the invention bothers us.
It works for Windows systems from 2000 to 7. The free version has a size restriction in the unit that can be installed 2 GB if you want to have units or larger encrypted partitions we have to move to the paid version.
Its use is straightforward since it has only two modes. Locked, when you have created the password and the device can not be accessed. If you open the memory and try to copy some data, a message will appear, saying that you do not have enough space. The size of the partition is hidden while the device is locked.
To unlock it, you will need to enter the password. In this case, you can copy or delete elements, and you see all the contents of the USB drive.
It should be remembered that the strength of the encryption will depend on the key you put, so if you want a little more security better combine uppercase and lowercase, numbers and signs plus a length of more than six characters that will help us to have a password with adequate strength.
Download USB Safeguard
Rohos Mini Drive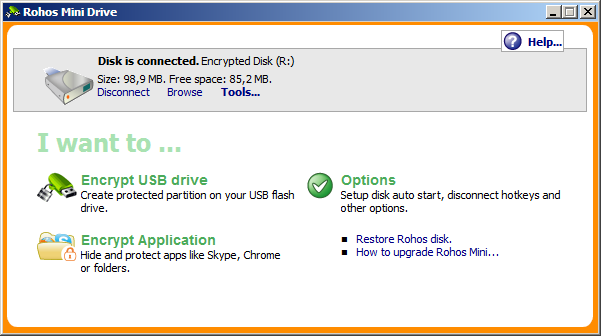 If you are one of those who usually carry sensitive data on your pen drive, you will probably be very careful that nobody takes it and that it does not get lost. If you want to be even quieter, you can secure your data thanks to Rohos Mini Drive.
Rohos Mini Drive is a USB password protection software for Windows that will allow you to create an invisible partition for the system, encrypted and with password on your pen drive. The data will be completely invisible to anyone, and whenever you want to access them, you will have to turn to the Rohos client.
The client consists of two versions, one that you can have installed in our usual computer and a small executable that you can carry in your pen drive or download it from the internet from which you can access such data as long as you know the password of the invisible partition.
Rohos does not create a real partition on the pen drive, but it does so virtually. Among other features is to use an on-screen keyboard to enter the password if we think there is a keylogger installed in the system.
Download Rohos Mini Drive
DiskCryptor
DiskCryptor is a free USB password protection software that will allow us to encrypt disk partitions in our Windows system. It is also capable of encrypting the entire disk with all partitions, including the partition where the Windows operating system is installed, in this way, everything you write on this disk will be encrypted to prevent anyone from reading it if it is stolen or physically made with our hard drive.
This software that is open source has been with us for several years. However, it is compatible with all new Microsoft operating systems, including Windows 10. The symmetric encryption algorithms it supports are AES with 256 bits, Twofish and also Serpent, including the combinations of all of them to give the system greater security.
This tool allows us to encrypt partitions and the entire disk in a completely transparent manner, and also supports the encryption of drives with a larger sector size than average.
This software supports AES acceleration, so if our computer incorporates an Intel or AMD processor that has the AES-NI instruction set, you can obtain performance similar to that of unencrypted disks if we use this symmetric encryption algorithm.
If you are going to encrypt the unit that contains the operating system, DiskCryptor recommends you to create a bootable LiveCD in case there are problems, and you must create it before encryption.
This software also supports multi-boot, that is, if you have a GRUB or LILO configured you can boot with them without any problem, Another exciting feature is that not only allows you to boot the system with a password but with a private cryptographic key that we can enter through a pen drive or other external means.
DiskCryptor also supports encryption of CDs and DVDs as well as external storage pen drives or external hard drives connected by USB.
Download DiskCryptor
Wrapping Up: Password Protect USB Drive
So far, those were the best USB password protection software that you can use to protect your USB drives with passwords so nobody will be able to see the content without your permission.
Also Read: 4 USB Checker Tools to Test Your Flash Drives Health