Email is still essential for most companies. Many of them still have accounts with very limited mailboxes. We are going to see 8 email clients that will make you forget about Outlook in your work.
Go ahead that Outlook seems to be a fantastic tool for mail management. What happens is that, sometimes, the version that many companies have is ancient, 2003 or 2007 and no longer responds to their needs.
This implies in many cases to acquire a new version of Microsoft Office when Word, Excel or PowerPoint are working correctly. Let's see what alternatives we have to replace it.
Top 8 Best Email Clients
eM Client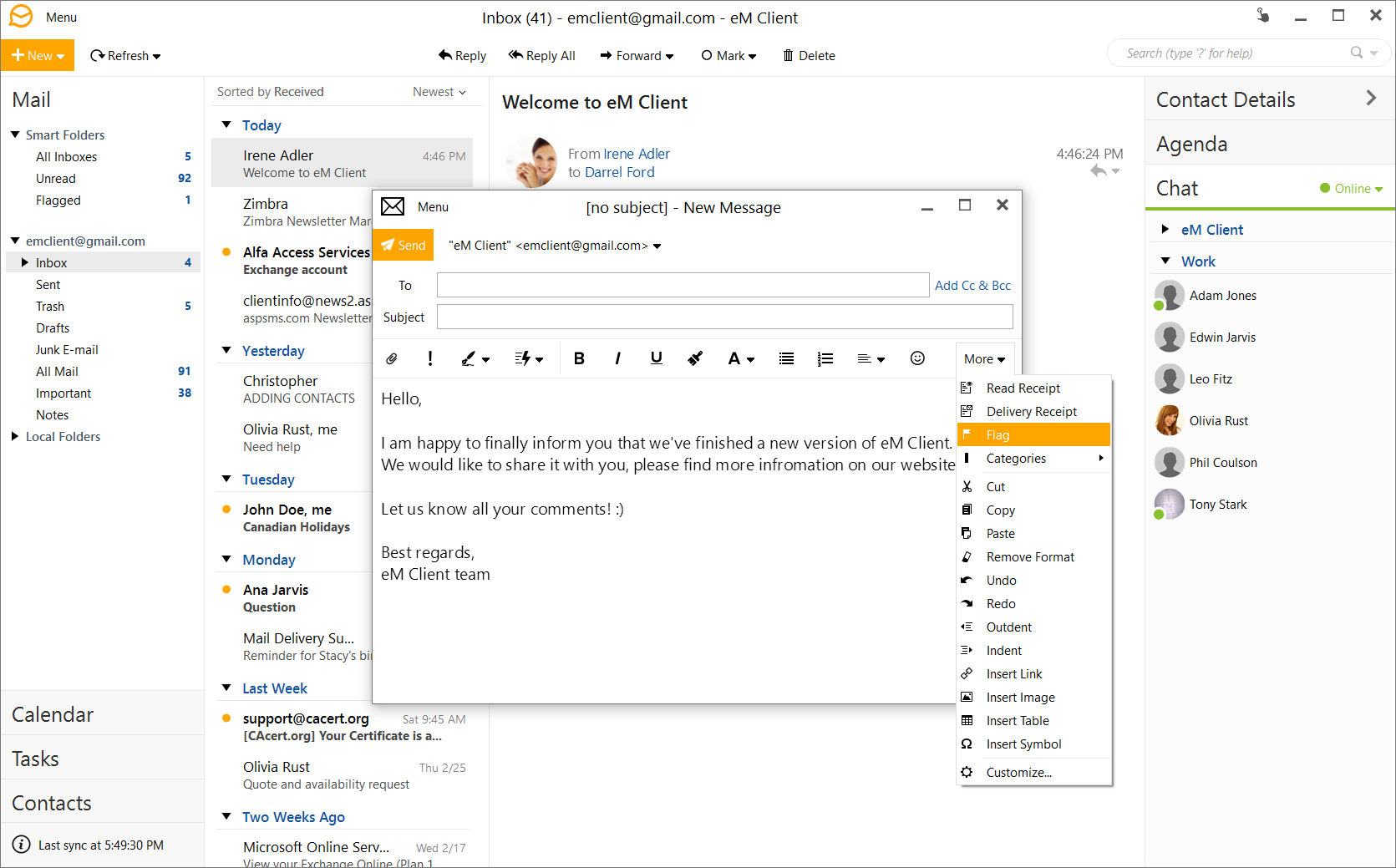 eM Client is a software for mail management, perhaps not so well known, but very effective. Its free for personal use, but for the company or professional use, it is necessary to buy a license.
The PRO version has support for multiple accounts, while in the freemium only two different accounts can be configured.
It includes the management of mail, contacts, calendar and a primary task manager, but sufficient for many users.
It supports  POP, IMAP, Exchange or Google Apps accounts.
Some of the most exciting features include a mail deduplication and easy to schedule a mail copy automatically.
You can also create templates, rules or have integration with a chat client and quick email search.
Importing from Outlook is something speedy and straightforward. In addition, it also has support for its use in a tactile way.
After using it for several months in my day to day, the truth is that I'm very happy with the change, being entirely more effective than Outlook 2016 that I had previously installed.
Thunderbird
For years Thunderbird has been the best free alternative to replace Outlook. It's also a free software.
The significant advantage it has is that there is enough documentation in this regard to take all our mail file from one program to another. The migration to Thunderbird is quite simple.
On the other hand, the main drawback is the lack of integration with a calendar, although we can add it as an extension, just as it is done with browsers.
This continues to be one of the great attractions of this mail client, being able to add extra features, such as improving privacy, managing contacts or topics that make it more visually attractive.
It has support for POP, IMAP and Exchange accounts, or Google Apps , all well documented and easy to configure.
Perhaps the worst of Thunderbird is the lack of development and improvements in recent times, where it doesn't seem to find its place within Mozilla, which has paralyzed its evolution a bit.
Mailbird
Mailbird is another of the email clients that want a piece of cake from the management of our inbox. It's specially designed to help us get the Inbox zero, or in other words, not having any unread mail and presume to be the best alternative to Thunderbird.
It has a free version that supports up to three accounts and has support for the main mail protocols. Perhaps you have one of your strengths in design and the way you personalize it.
The import process from Outlook or Thunderbird is another aspect very simple.
But, for me, its great value is the integration with other basic services , such as WhatsApp, Twitter, but also Asana or ToDoist or Evernote.
We can choose with what services we want to integrate it and with what not according to our needs.
On the other hand, maybe it is a bit slower than other options in the searches or when loading the mail, at least in its freemium version.
PostBox
PostBox is an email client specially designed for professionals. It aims to put an end to email as one of the time thieves that we have in companies and for this purpose, it proposes to put the focus on our contacts and tagging emails.
Integrates with Dropbox, Box or OneDrive or almost any other online service, from Wunderlist to MailChimp.
It includes advanced features such as automatic responses or an HTML editor to customize the email as much as desired.
Its powerful search engine is another of its highlights, to quickly find what you are looking for in your mail file.
Importing mail, at least from Outlook, is not as intuitive and simple as from other alternatives. It lacks a calendar and a greater facility to manage contacts.
Its a good alternative for professionals and freelancers, something less for companies and SMEs.
Nylas Mail
Another email client that has a free version that has support for POP, IMAP, Exchange or Google Apps accounts with Windows, Mac or Linux application.
It has a very careful aesthetics with the possibility of working with multiple accounts in a unified tray.
As interesting features, it allows undoing the sending of an email or scheduling its output at a specific time, see how the contacts interact with our messages, quick responses and instant translation or automatic responses where it allows some customization for the contacts.
As a point in favor is the speed in the management of mail and searches or the use of keyboard shortcuts , where it has its strong point.
Also how well it integrates with Gmail accounts. On the contrary, it doesn't support the POP protocol, does not have a calendar or contact management, where other clients have more intuitive options or a simple way to import a mail pst file from Outlook.
AltoMail
AltoMail is a somewhat different proposal, since it is not a client that is installed on our computers, but rather an online alternative.
Its a good alternative for those who have Exchange accounts, or Gmail, but not so much for those who use the mail client to store a history of their messages.
You cant therefore migrate a pst file with all the mail that we have stored in Outlook, however, its an excellent alternative to those who use online mail options.
Manage different accounts from AltoMail and its great advantage is the organization that proposes us in Pilas , which helps find faster the messages we are looking for.
You can create custom stacks for a contact or a distribution group.
The great advantage is that although we move from a computer, we always maintain the same interface. It also has clients available for Android and iPhone .
Inky
Inky is another alternative that emphasizes security. Encryption of mail so that there is no possibility of falsifying the recipient of a message that is received.
Phishing takes a back seat with this email client. It can be configured to digitally sign emails among employees of an organization.
It has support for IMAP and Exchange protocols, you can configure Gmail accounts or any other general type service.
Also, once our mail client is configured, it can be installed on another computer and it saves the configuration.
Mailpile
Mailpile is another free-form mail client , which means that companies do not have to pay for user licenses.
The mail is stored in each computer where it is configured, but access is made through the browser.
The import mail from a client such as Outlook can be performed without any problems. It supports POP, IMAP and Exchange protocols or Gmail Apps accounts, all well documented and simple to implement in companies.
Perhaps his biggest handicap is that it is not a software as mature as Thunderbird can be.