One of the most used browsers for its versatility and modernity is Google Chrome which offers us a series of functionalities focused on optimizing the user experience and one of them is the possibility of accessing most visited websites much more quickly using the thumbnails every time we open a new tab in Google Chrome.
By default you will see 8 thumbnails of your most visited websites: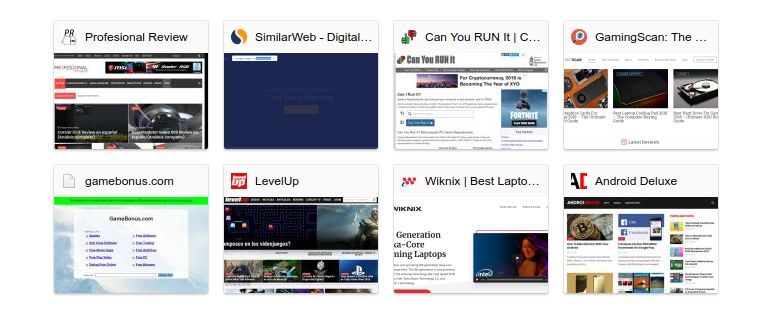 This can be useful or not, depending on the situation.
The problem is that you cant remove these thumbnails with any Chrome option. So today we will give a series of tips on how to delete these thumbnails from the browser.
Delete One Thumbnail in Chrome
This process is quite simple; you must pass the mouse pointer over the thumbnail to delete and automatically the X icon displays with the caption "Don't show on this page":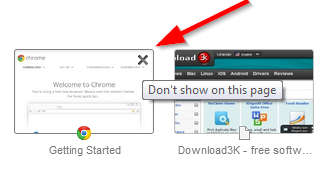 Once you click on the X icon, at the bottom, you can undo the action.
Delete All Time Browsing History in Chrome
The next alternative is to delete all time browsing history in Google Chrome who also removes the most visited thumbnails.
For this, press the following keys Ctrl + Shift + Del
Now select the option "All Time" and click on the "Clear data" button:

Change New Tab Settings Chrome
Using the above methods, you delete the thumbnail but remains an empty box.
Google Chrome doesn't allow to remove these empty boxes entirely; the objective is to configure a new blank tab and prevent the display of these boxes.
To achieve this, go to the address bar of the browser and execute the following: chrome://settings
Go to the section "On startup" and check the box "Open a specific page or a set of pages."
Now, click on "Add a new page" and enter the following: about://blank

. Click on the "Add" button to complete the action and  restart the browser, now you will see a blank page instead of the most visited thumbnails.
Open New Tab Completely Empty with Extension
This option will use an extension, and every time a page is opened in Google Chrome shows a blank page without the default thumbnails.
For this, go to the following website: Empty New Tab Page
Click on the "Add to Chrome" button and install the extension:

Now, every time you open a New Tab, you will see a blank page.
These are the various options available to manage Google Chrome New Tab Page Most Visited Thumbnails.